But of course
. And
this one
pairs so nicely--though it's lacking in all the lovely vintage/Monty Pythonesque details--with the first.
At any rate...ragtag collection of oddities.
First up: Miss Neome is stranger than I am.
No, it's true. Just
look
at all those teeth!
This avatar lives
somewhere
at Grendel's in Avaria. I have no idea what it
is
even.
And damn it all, I thought we were over this! Welcome to vision relocation, again...I
hate
this bug!
That, and I'll be honest with you. It's deadly dull to hang out on the seabed below Mayfair. It
truly
is.
As you might be able to see behind me (click the picture for the larger version), that's Penzance. Or part of it. As seen through a mountain range, part of the ocean, and whatever odd little corner I'm tucked into at the moment.
You should have seen me earlier, I was folded into a rather poky little ball.
Then our resident shop Timelord Mr. Glineux stopped by, and after a patch of hair-sniffing (don't ask, we're not entirely sure we want to know), he changed into his gargoyle form.
Err, mostly. It was...odd.
Then it got worse: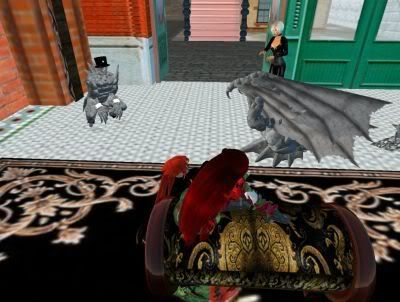 I think...I need...an
upgrade
. To...
something
. The visual distorts are starting to affect my sanity!