Follow the tragic history of five of the
shortest-lived MMOs
, with an update for the latest--APB.
There are other meanings for
wau
! I had no idea. So this actually means when I'm impressed by something, I'm saying
"Kite!"
? Weird.
Now, more Hair Fair stuph.
First.
this
from the official Hair Fair blog--it's not active SLUrls (for that you have to go
here
) but between the top-down map pics and the SLUrls, you should be able to find anything you need at Hair Fair quickly and easily.
Second, I covered Gwendolyn Cassini Designs, and she was pointed
to the blog
:
[10:31] Gwendolyn Cassini: Hey there Emilly, I just found your blog post about my Hair Fair hairs. Thank you so much for posting them. And doing a great job in posing in the demo's :) Let me send you a bloggers pack of my hair fair hairs :D"
So I logged into world a tad bit earlier than planned. Back to the white box we go!
So this is Abigail in Autumn: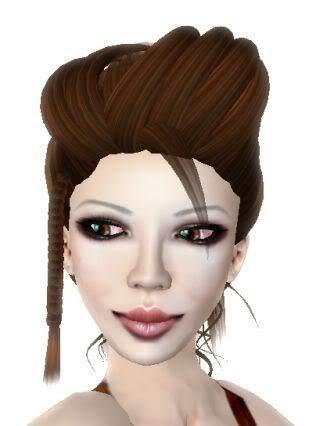 As you can see, out of the box it was nearly perfect.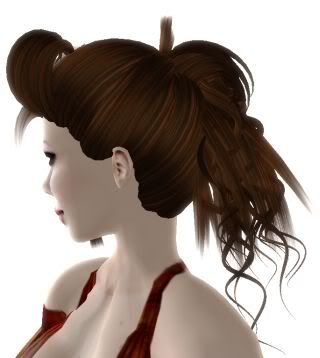 I adjusted all of five prims, all over the ears (two on one side, three on the other). It modifies easily (and yes, this was by Edit, not scripting).
Abigail clocks in at 105 prims; not low-lag hair, but reasonable enough.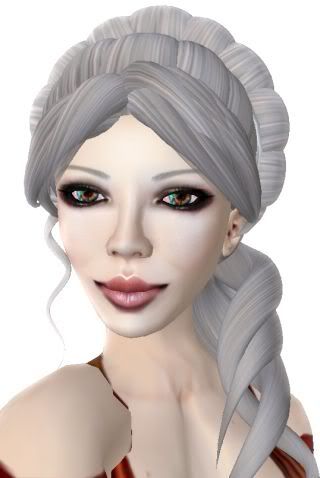 Here's Beatrice in Granny Grey (I can't help it; I LIKE grey hair!). I adjusted four prims--two in Edit, over the ears (one on each side), one side of the headband, and I expanded and drew forward one of the ringlets on the right. And that is ALL I did.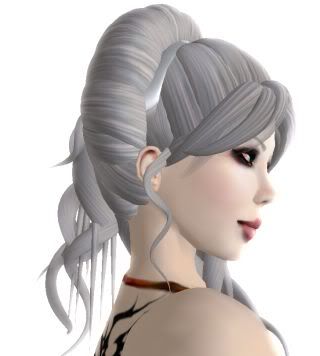 The side where I moved the ringlet--that one ringlet
might
need to come forward a bit more, but for a quick-fire adjustment, it's not bad and absolutely wearable.
Purchases of Beatrice donate half of all received funds to Wigs for Kids. The hair itself clocks in at 65; significantly less primmy and (as I said in the first entry) easily worn in more vintage/ancient sims.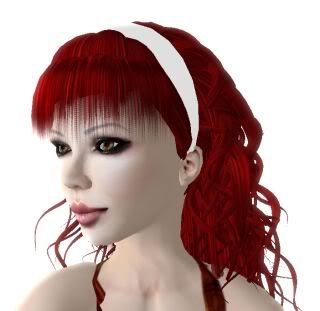 This is Cadence in Burgundy (and yes, I know; from this angle my shoulder's eating my dress. Hush), and I tried Black and Platinum before this to verify--Cadence
does
move (and now that I'm thinking about it, Beatrice might as well).
At this point, Cadence is unadjusted. Note, out of the box (for my head), there's a little ear bleedover.
And here's after adjusting five prims by a small amount. Ear perfectly exposed, neck bared slightly, no visible hair oddity.
Cadence clocks in at 168 prims; on the higher side, but it's also perfect for doll skins/looks, and who doesn't go high-prim for doll attachments? All those lace and ruffles, after all...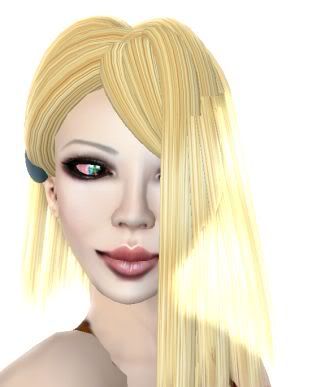 Dakota in Goldilocks. (Do not ask me why I'm staring at my bangs. I do not know.) Dakota alphas terribly against the all-glow all-the-time skybox. But around this time I tracked down the Colour Picker HUD, also included in the review pack. The HUD handily changes the color of any attachments on the hair--in Dakota's case, it changed the barrette to an amazing variety of colors. From there you could pull it into Edit, make it shine, make it glow--whatever. Very nice touch.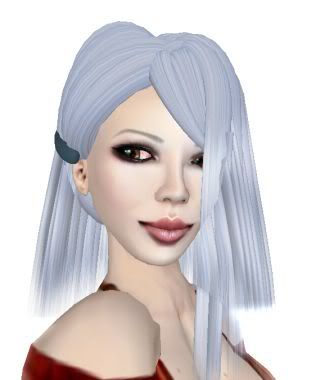 This is Dakota in Blue Wash, with a slightly different angle. If one is careful, this would barely alpha at all, and I'm still bemused by the gradations in length. It's flexi hair, it does move, and beautifully. It also clocks in at 98 prims, which is again in the reasonable-for-detailed-hair range.
Ella in Aubergine was next. Straight out of the box, no adjustments. The bouffant-like bang frill is...odd, but the rest is a charming relaxed bun.
Ella is only 40 prims. Very nearly Hair Fair hair. :)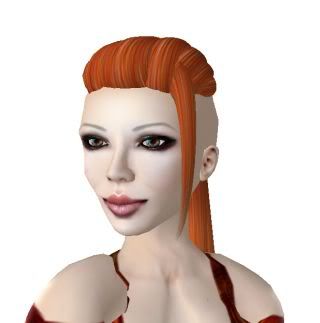 And then there's the unisex shaved-side pony, Zahari. I think I wore the copper demo in the first run, but I really like that shade. So here it is (maybe again). I also wondered about something...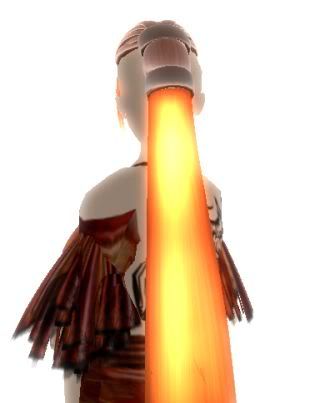 Now, I'm not saying anyone needs to do this, but here is future hair! Metallic strands (to cover the robotic brain between maintenance sessions), and power-reading bang strand and back ponytail, fiber-optically lined as a) external light source b) indication of system health c) heat venting system.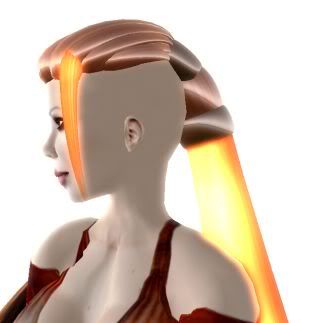 You pick. :)
(And yes, I made a back-up copy of this hair.)
Zahari is 28 prims. 28 prims is very nearly
negative
hair, and I mean that in good ways--28 prims is lower than some skirts, some cloaks,
most
shoes. And it still looks this good. I'm impressed.
Additional comment from Miss Cassini:
I also put in my husbands latest free version of the well known *SRU* Resizer scripts. This one will only use 2 scripts in the root prim instead of in all prims. So that will safe you from lots of lag :)
Now that is very smart. That way, with only two scripts in one prim, there's no distinct need to strip the resizing options out and hope and pray you don't develop a yen for an avatar with a vastly bigger (or smaller) head. This could be a very good thing indeed.
And
she doesn't script her hair and then send it out--these are mod/copy versions, no trans, but if you unpack the SRU scripting box, you will GET no-mod scripts that make the hair no-mod once they're installed, BUT will allow you to resize the hair--and, as she said, with only two scripts in the root prim to do it! This is a
very
good thing.
Thank you, Miss Cassini! I hope I did the non-demo versions justice.

And, because I'm trying to get in the habit:

Skin: Heartsick Illusion in Platinum (from the Platinum hunt).
Eyes: Miasnow Eyes, Soul Window set, in Rainbow (think the set of seven are still in her MM at her main store).
Dress: SD Vestige Dress in Sun, a lovely autumnal shade (not free).