What's broken is beautiful
. Lovely tribute to not just a beautiful build, but on how the world changed when sculpts arrived. As much as many of us resented their introduction at the time, the world
has
been bettered by the addition of sculpted prims--
when
they're used right.
The Bible's now
in beta
! (Yeah. I'm not making this up. But read all the way down to the comments, because they are
priceless.)
Next up for Hair Fair demos:
Bliss Couture Hair
.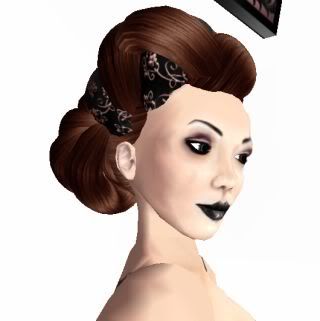 So, first off, I thought my magnificent concept of an all-black photobooth--
especially
for all-black hair--kind of tanked. So we swing to the other extreme, and do the all-WHITE photobooth (which has its own inherent problems, but hey.)
First up, Bliss Hair's "Betty" in Bordeaux. I have to check out Bliss Hair when I can--every demo she did feels very vintage, and by 'vintage' here, I mean
1940's hair
, not
1840's
. Not that I do that much 1940's, but often, finding period hair is harder than finding period
fashion
, honestly.
This is the "Betty" in Cannelle, and yes, it did take me this long to realize that it wasn't a scarf wrapped through the hair, it was just demo-stranded prims. Still. Good, strong colors, nothing looked washed out, and--had I anything to wear this
with
--I would wear this hair.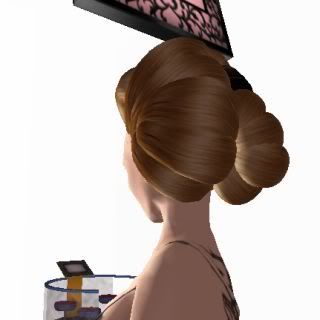 This is a shot of the "Betty" hair in back. I'm hoping it's maybe just the lighting? But the loops in back look really odd. Otherwise, it's attractive hair.
This is the "Catherine" hair in Caviar; I tried other shades, but I couldn't figure out if the wrap around the hair was a demo insert, or a length of sheer scarf. Turned out to be a logo insert.
Still, barring that, if you really
need
an expressive, intense updo for 1940-1960 vintage parties...this is your hair.
This is the "Elaine" hair in Miel; and if you thought the "Catherine" was an updo...this is Elsa Lancaster's
debutante
party hair. Still, the colors are attractive, as said; it's a limited range, and all naturals, no offbeat colors, but it's well done.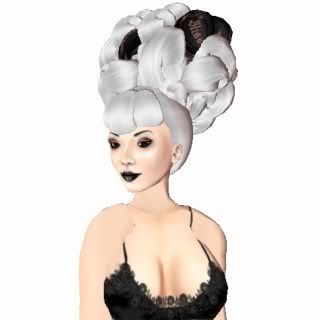 This is the "Elaine" in Vanille; and I'll be honest; when I get around to looking through the Bliss booth, I'm going to be looking for styles in this shade. This is a pure, crystalline pale shade; and while I have little interest in having floor-length hair looped and bound in swirls on my head, it
is
a stunning, powerful style for women who can carry it off.
The "May" in Marron Glace; I took several pictures of this style, and none of them looked right. This one? Doesn't either, but I think it's the hair, not the low graphics. There is just something
odd
about the construction on this one.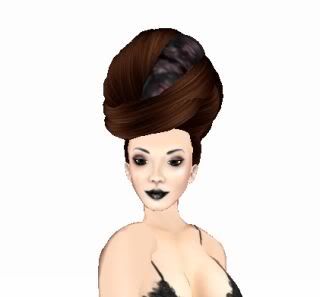 The "Queen" hair in Chianti, another very lofty, loopy style. And I think in utter honesty--if this is what you're looking for? You've found it, with Bliss.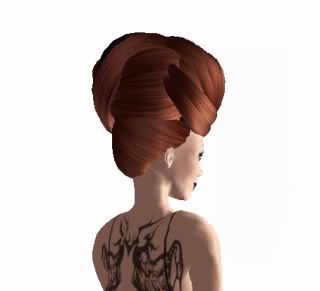 The "Queen" hair in Pomegranate, to show you the back of the style. I'm thinking also you could change up the look a bit, because--with perhaps a little adjustment--most
kanzashi
sets for geisha hair could be slotted in. The hair by itself, or with flowers, ornate combs, or beadwork--it is a very impressive style.
They are found on
Hair Fair 1
. Next up: OhMai.