But the tug between open and closed systems, between hierarchy and bottom-up decision-making, between "platforms" and tools will continue.
Incredibly dense, but informative article on the difference between open and closed systems, transmedia, and augmented humanity. Well worth the time it will take to read (which is my way of saying yes, it's long.)
Next up,
LoQ
Hair: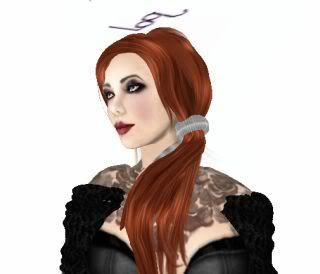 Cafe Misto in Auburn. It's entirely sculpted, so there's nothing to move, and certain animations would drag the draped ponytail through the shoulder. Still, it's pretty enough.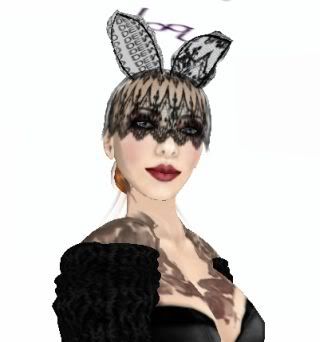 Cafe Corretto in Light Red. I tried this in three different shades, and it didn't make any more sense in any of them. It's a lovely lace texture, but I just don't grasp the point of mask plus bunny ears plus shaved skull plus hair bun. This is the front, and..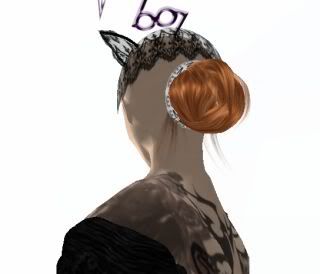 This is the back. Now, maybe these are sculpts that are
really
slow to rez, but I just don't get it.
Why
the lace cap over the hair?
Why
the bunny ears on top of the lace?
Why
is the rest of the head shaved?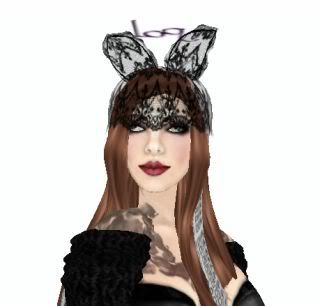 Hot Chocolate in Sienna. This is when I realized that the little bunny cap is some sort of...I don't know...reinforcement that it's a demo? Seriously, do people
need
that kind of special help? If the huge big white box over the head, and the monochromatic strands marked "DEMO" in large repeating letters don't give it away, the little lace bunny cap will? People are
that
dim?
And also, this is that 'punishment of one means punishment of all' thing in
spades
--or at least in lace bunny ears: frankly,
I am not the problem
on the grid where copying hair designs is concerned. But
treating
me as if I am--by either giving me ugly demos with face shields, lace masks, or all-over demo detailing so that it's hard to even
make out
the hair (or the skin, or the outfit, or the shoes)...it ruins the point of
making
demos available, and makes me
never
want to spend money in that store.
This hair? I won't be buying.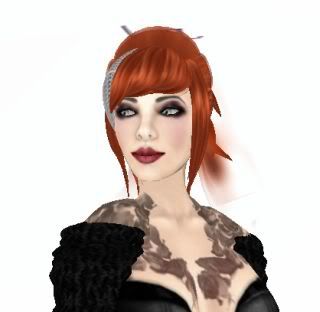 Turkish Coffee in Fiery Red. Never got the last bit to rez in, but at least there are no bunny ears.
Their booth is in
Hair Fair 2
.
"Even if you're on the right track, you'll get run over if you just stand there." ~Will Rogers
Never a bad thing to remember.
And, because I wanted to change:

Eyes: Miriel Standard eyes in Platinum (sadly, no longer available)
Skin: Nomine Virgin Valentine skin, in Red Rose 1 (I think this was from a special sale, but she might still have this skin in her Specialty Skins vendor)
Outfit: Pixeldolls Tilt dress in Noir (first sold in 2007; no longer sure if it's still offered for sale)