"Everything's amazing, and nobody's happy".
He's so right. He said that back when Conan O'Brien had the show
before
he had the show he was fired from, but it's no less true now than it was then.
I even have a virtual equivalency--right now, at any hour that I'm awake, I can double-tap a little icon and have my computer process me into a completely digitized world. Where I can do
anything
. Where
any of us
can do anything.
And we bitch about lag and problems in group chat.
We can talk to people three thousand
MILES
from us, as if they were sitting next to our chairs!
We just don't get it. We're surprisingly spoiled as a culture.
[06:17 PM] Emilly Orr: Oh, you're kidding me
[06:17 PM] Sphynx Soleil laughs
[06:17 PM] Sphynx Soleil: as if the GIANT BOX OF DOOM wasn't enough of a clue...
[06:17 PM] Emilly Orr: Do we really need to be able to see the demo box from SPACE?
Up next,
Gwendolyn Cassini Creations
:
This is Abigail in Charcoal. Standard (by now) messy updo, but Gwendolyn Cassini's strength is in the details, like the addition of the warrior braid down one side.
(Well, that, and she's a dab hand at Disney hair. But we move on.)
She also does asymetry nicely, as you can see by the other side of Abigail.
And Beatrice in Wine, which, if it's truly wine, is a blush Zinfandel at best. Possibly a pink champagne. But again, nicely done, interesting, and could fulfill an updo need, along with a vintage hair need (ish, but you could likely get away from this Roman to Victorian...in a different shade).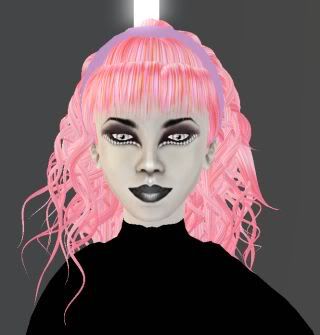 And Cadence in Pink. This is a fun, fun shade, and the hair's also a fun style; I like the feel of the ringlets, and even though they're frozen in place, they
look
like they should move. Perfect for anything from perky sidekick to ditzy secretary to precise doll.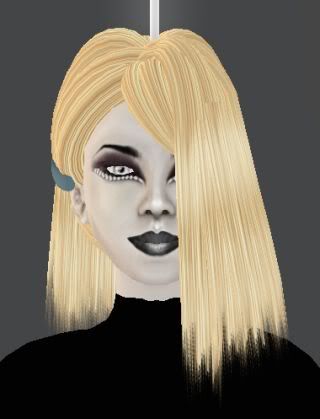 >Dakota in Sunshine. Eh, it doesn't do tons for me, but the shine is impressive as hell.
And Zahari (unisex) in Charcoal. Miss Cassini doesn't make many mens' styles, and even fewer styles with shaved sides. But this looks good.
They can be found in
Hair Fair 3
.