[***WARNING*** Comments on this post are being monitored, and not by me. If you are a member of the ADA Texture group on InWorldz--whatever name it's going by this second--then you may be evicted from the group due to Adaarye Shikami's noting of your name as commenter here. If you feel the urge to say something anyway, I would recommend you post anonymously. I will remove my restrictions on anonymous posting after I update this and the current post.]
From the
Soulless Productions
group notice:
"Okay, so with SL being fucked lately, it has been nearly impossible to make any new shit. Between the crashing, not being able to upload, and the damn lag we don't have many releases atm."
Ordinarily, I do try to temper the cursing on this blog--not because I don't particularly curse, m'self (though I'm getting better), but because this is a
blog
--it conceivably has eyes from many cultures and many temperaments. (I do run the odd NSFW item, but I
do
try to warn folks, and after all, it is
my
concept of NSFW in the first place.)
That having been said, how'ver, this just seemed a perfect capsule description of Life in SL This Week: crashing is up, partial logins (where one logs in, but doesn't get full access to Lindens, group notices, or group chat, or cannot change skin/outfit/hair/eyes until 'shape has fully loaded'--most of you have had this happen) are up, lag is excessive,
chat lag
is even
more
noticeable, and we now have several reports of rubberbanding for builders (when you build something, and move it, and it moves back to the starting location, or you build something, and suddenly it moves several feet to several hundred meters away).
It's turning out to be a grinding September.
And Mr. Telling mentions an (all things considered) unsurprising change related to
the July rant on ADA Textures
mentioned only yesterday. He quotes their in-world (in InWorldz) group charter:
We no longer sell textures and sculpts .. sorry! We can't afford to sell them as low as some expect us to as we'd have many from other worlds coming here, buying them on the cheap, and returning to the other worlds to upload them. We have to charge a consistent USD value =(. Sorry!
What we are doing is selling the things we make with our collection CHEAP=) Dirt CHEAP! So the silver lining is, if you saw it over there, and you want it over here, chances are you can get it already built & for a song YAY
Fascinating. (And formatting and spacing exactly as given.) So let me get this straight:
ADA stopped allowing people to alter their fabric textures while at the same time stopping their sales of fabric textures.
ADA moved to InWorldz to set up a shop there, because they tired of people buying things in SL and importing them into InWorldz to build with.
ADA then stopped selling textures and sculpts in InWorldz, and only sold premade items--for fire-sale prices.
Do I have it right? A + B = going out of business soon?
Contrast this with Twisted Thorn Textures:
Nighty Goodspeed works for TRU.
She decides she wants her own store.
With the profits from that store, she buys her own sim.
She starts hosting half-off Fridays; people turn out in DROVES to buy textures (both full-price and sale-price).
She hosts a new event--which gradually becomes the nearly-weekly Courtyard Gift Exchange--where people who use her textures build things and offer them free for group members. People show up in droves. Some of these people start businesses, thus adding to SL's economy and diversity. Some others buy their own sims for those businesses to operate from, thus strengthening SL's infrastructure.
Other texture artists join her, and a second sim is added for furniture textures and premade furniture items (and amazing ones, at that).
A sculpt artist (who owns her own set of sims) and a sound artist (who makes textures herself) join her, and she makes room for them, and several others, making those two sims pretty much, for many purposes, one-stop shopping for everything but scripts.
She gathers the several artists together while they ponder rewriting their Terms of Service to allow what they can allow, to be used in InWorldz and other virtual worlds. Rather than react with fear and derision, she's doing what she can to embrace new virtual spaces.
Embrace your customers, get them involved, find out what they like and market
to
that, and you've got a winning solution. And that doesn't mean you can't create things that are tailored to your design aesthetic.
But of course,
obviously
other texture houses are doing the
wrong
thing and ADA's got the right answer. Pardon my unladylike snickercackling at that concept.
From Sanura Snowpaw, who's quite overwhelmed:
WOW
Wear Gray is being featured on the Second Life Destinations

http://secondlife.com/destination/wear-gray-day



It was also posted on the main Second Life facebook page.

http://www.facebook.com/secondlife



Our current totals are L$212,407

Thank you all, Sanura

♥
She encourages you all to
attend Wear Gray
if you can. In addition to the vendors on the donated sim, she's got a L$20 hunt for skins, outfits, and items--each L$20 purchase gets you the hunt item,
and
drops 100% of the hunt price into Wear Gray's coffers, which, at the end of things, are entirely turned over to
the American Brain Tumor Association.
Next up,
Darker Side
, but two brief notes before that. First, I have found a way to lower my productivity! (I'm so good at that.) The pic runs I'm having to download on the main keys because they're too big for the netbook's drive. (
*coughs*
)
Second, everyone remembers the sea of green, right? The Emerald takeover of the grid? I'm noticing just over the past few days it's becoming a sea of purple for all the new Imprudence users...
Wonder what colors Phoenix and Emergence have picked to identify under?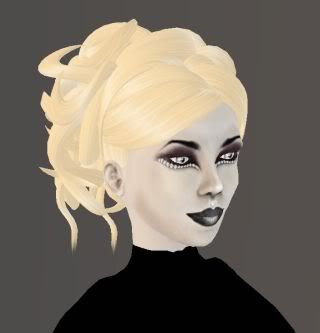 But anyway, back to Hair Far. This is Entwined in Blonde, a sculpted, messy updo. No movement; no interest; moving on.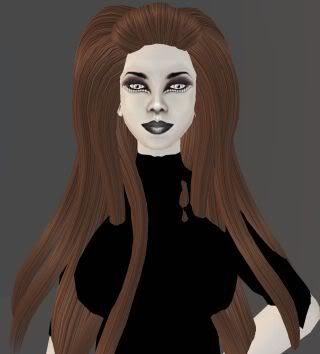 [05:52 PM] Emilly Orr: Whoa
[05:53 PM] Emilly Orr: More sculpted tentacle hair


[05:53 PM] Sphynx Soleil: Snakes! Why'd it have to be snakes! oh wait, wrong movie... :)
This is Flow, in brown. And does it. The
problem
is, it flows like a glacier, frozen, immobile, and clips through the entire avatar doing it. This isn't even good
photo
hair.
This is Victory in Auburn and...have we learned nothing, yet? All-sculpted hair is BORING unless it's a particular type of style that would be completely immobile on the head. And sure, I suppose a 1940's retro do would be that hairstyle, but...we've seen this already, long before now. Move on.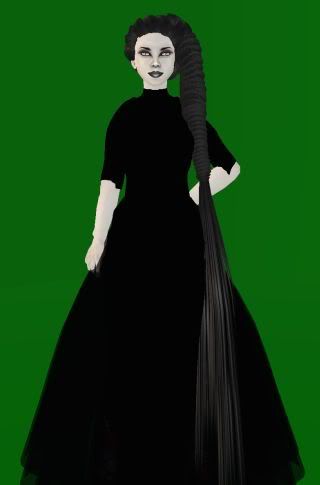 And finally, Weave in Black. I seem not to have the larger of the full-length images uploaded (no idea what happened), but here, have a side shot:
The length is nice, don't get me wrong. And I am not against braids, even though they don't move--made well, they work.
This is not made well. Worse, it looks disturbingly organic from the side, like the braid is unsubtly swelling somehow, and about to give birth to angry hair young.
This is the definition of DO NOT WANT.
They can be found in
Hair Fair 4
.
Eyes: Miriel Standard eyes in Platinum (no longer available)
Skin: Deviant Kitties Voodoo 08 in Monochrome
Outfit: Draconic Kiss Lolita Black Pearl (top); Skye Qi Vintage Emporium's "Anytime" Black Skirt, Floor-length (go here to see if she still has it, it's been INVALUABLE at times!)


Thanks, Sphynx, for all your help!