Mouseworld
is gone.
A direct port to the former center of Disney tribute on the grid now lands you in the middle of the ocean next to
Tikvah
, the "Jewish Island".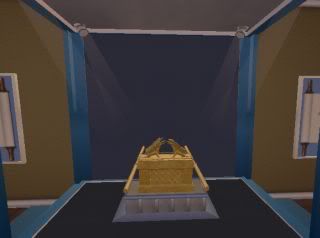 To either side of the virtual Ark of the Covenant (and one can only hope they built it in place, rather than moving it) is a notecard dispenser for more information on the appearance of the Ark.
[Note from the Editrix: Per creator request, detailed below, I've removed the text of the notecard. Granted, I don't entirely understand why, but I was asked, so it's gone. You'll just have to go to Tikvah and read the notecard for yourselves.]
Why did Honda Enoch give up? Why was the sim sold? I don't know yet. Hopefully, I'll be able to find out.
[Update: Back in Aprille of this year, SLU covered the cease-and-desist letter (supposedly) received by Enoch. At that time his in-world group confirmed this, and that a closing party would be held. I wasn't a member of the in-world group, so it could have happened, but...the entire thing is still odd. Because Disney usually doesn't send out C&D letters; in fact, as the Doombuggies site proves, Disney does--and has, in the past--authorized extremely detailed fan tributes.

[What's even stranger, is I'm fairly sure I visited Mouseworld after Aprille, so I'm more than a bit confused. That, and the news seemed to hit with a splash today, and not six months ago...]