Poison Apple, the next art show from my artist, will occur sometime this upcoming Saturday. She does not yet know when; she's awaiting images from two of her muses, and then the frenzy of edit. Check
her journal
for more details.
[[UPDATE: It should, I stress, SHOULD, be this Saturday, September 9, 2007 at both 2pm and 5pm SLT (to account for domestic and international traffic). Check back for updates, this is a mature (NOT child-appropriate!) show.]]
I promised pictures of Taupo; I want to get more, but for now, this is what I have.
The view from my front door, showing part of one island, and allll that ocean.
View of the second island. There was a third within view, but it sank this morning. :)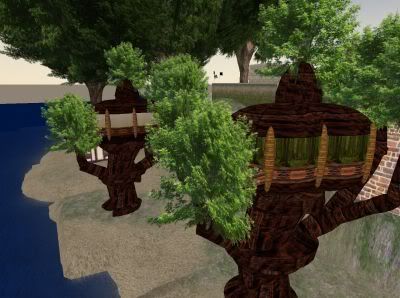 The two maneaters, side by side.
And the arena, where fighters go to practice combat skills.
I'll take more later, when I'm not so tired. :)