Potentially? I'm going to get in trouble for this one.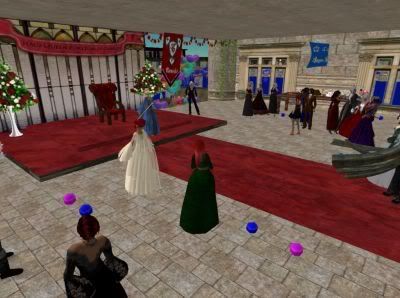 I attended a coronation today for a Queen...who is only Queen in
Tiny Empires
...which is a game played
within
the world, on its own little HUD.
Yeah.
Don't get me wrong, the coronation was lovely, and I
do
think it took a concerted, unified effort on the part of those people who are
interested
in this game to make sure who they wanted--as a whole--ascended to the throne of her line.
That? That's kind of cool.
How'ver, there's the rest of it...
This is the HUD device, fully expanded. It's a turn-based game, so for the most part, it's a lot of hang out and wait, followed by clicking yes-no buttons. Buy land...sell land...answer surveys...have random events.
It's slightly less boring, for me personally, than watching paint dry. Though depending on the color of paint...
See, here's the thing I don't get, and I can't
find
a way to get. The King of Taupo advocated his subjects play. And then
warned
us all, that this game had destroyed friendships, destroyed marriages, that we should be
careful
and remember it's a game.
Personally? I can't see
how
this game has destroyed friendships. I leave my liege and go to one who pays better. Okay, it's a
game
. I have three subjects under me, two of them leave for another liege?
It's still a game
.
This is the HUD device closed. It doesn't take up
that
much space. Certainly much less than the Hybrid hud that controls ears and tails of any of my Hybrid avatars.
Beyond the fact that it's a game within a game? Is the fact that apparently, some part of the roleplay in Taupo is hinging around Tiny Empires. That, to whatever extent, the interaction that goes on in the kingdom, is being decided in a small...very
boring
...turn-based HUD game.
...Yeah.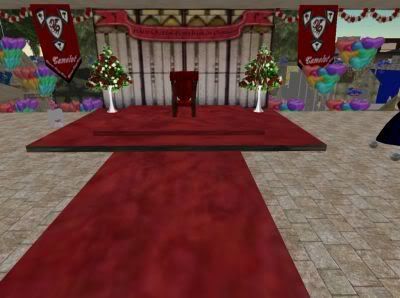 See, this is why I said this is going to get me in trouble. If Taupo is going to revolve around the events in a HUD-based game...I think they're welcome to it.
Problem is, where do I put my tree now?
Maybe it goes back into storage until the next place...but it's definitely an issue to bring up at Friday's meeting.
Well, they were saying they needed a bad guy. Maybe I'm it. Because I really
don't
understand what the draw is, I don't
care
about any of the outcomes, and while I'm sure Queen FoxyKim will be a wonderful liege for the subjects under her...I can't find it in my heart to get enthused about it.
*sighs*
And
another angle
on gambling and Second Life. Can't say I disagree...