Random thoughts of a morning.
Went to Glass Earth recently; it's been a goal of mine to track down every branch of Kin hair (Kin Keiko. She makes hair. Very Asian, very Anime--cannot be beat. Most for 100 Linden a color. Check her out) I can find. I've found three so far. Glass Earth has the fourth.
How'ver, there's also a branch of AV Puli Animations in Glass Earth, and in that little animations shop is one of the single most disturbing things I've seen on the grid. It looks so innocuous: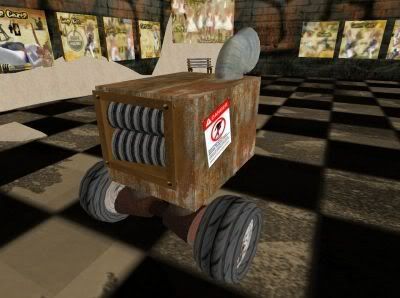 This is a wood chipper. This is an
evil
wood chipper. This is a
possessed
wood chipper that, when clicked in, will suck you in and make you mulch. Plus? It makes a really,
really
horrible sound. And showers the floor with your blood.
Don't do it.
*shudders*
Sometimes animation shopping gets odd. Sometimes you test out a couples-walk set of poseballs and everything's fine: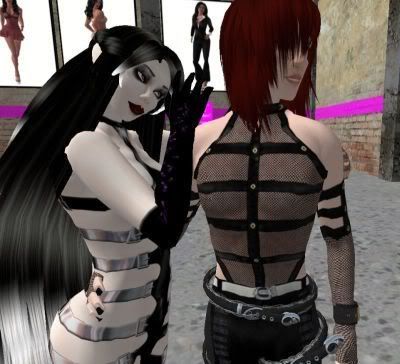 On the other hand, sometimes you're trapped in the arms of a mad scientist who figures out if he runs fast enough he can escape the enclosure created to demo the animation...
with the animation intact: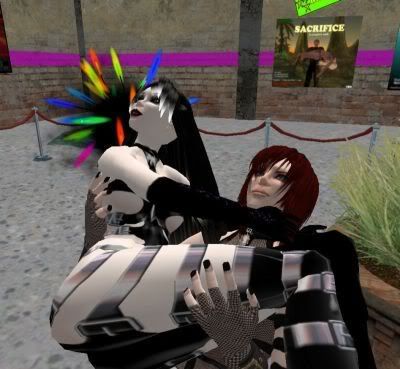 You want to know something else?
It worked
. One of the rooms in Animation Island. It can be done. It's very strange.
Lastly, I was taken on a tour of the Gaiety Theatre in Alice, being built for the new Caledon sim, Penzance (a concept, I will admit to you, that finally made me approach the Guvnah to put me on the waiting list to move to Caledon). I don't know if Miss Persephone Gallindo, owner of the texture shop Architextura, wanted tons of pictures flipped up of her magnificently realized vision, so I only felt comfortable in capturing one.
That would be backstage, this image:
She has, backstage at the Gaiety,
guy lines
. And sandbags. In a world where a touch is enough to open curtains and things are fixed in place until they need to be moved...she's weighed down her backdrops traditionally, and rigged the curtains for effective pulling capacity.
Once she's finished with this, I do hope she offers tours, as well. We walked in the front door and, from the carved cranberry glass gas lamps, to the richly detailed painted-tin ceilings, there's not a single thing we saw that didn't enchant and amaze the eye.
She hopes to pull together an acting troupe. I'm fascinated by the concept. Whether or not I end up in Penzance...I know I'm going to visit.
My reborn princeling visited last night. He was bored, he said. He stood in the heart of my living space, silver hair pouring over his shoulders, pale skin gleaming, and I introduced him to my new loves.
He left soon after. Apparently replacing the vampiric love of your life with a mad creator and the gothic Marlene Dietrich? Threatens him, somewhat.
Hope it wasn't anything I said...
I have several ideas for things to build, I swear, I'm getting mad Spark headaches. Save I'm an
artist
, I'm not a Spark. I wouldn't know a left-handed turning calibration wrench from an avocado...assuming the avocado was also metal and somewhat wrench-shaped.
But I have too many ideas right now for dresses and rugs and beds and chairs and homes and skyboxen and...and...and...
Current build: Everything. But concentrating, right now, on a model of a potental floating Victorian whimsy. Hee.