A lovely
cyborg avatar
was seen on the Not Possible in Real Life blog. I must remember to link that in the blogroll somewhere...and take Miss Neome to see the av.
Miss Oriana Pooley sent out a missive to more than one of the groups to which I belong, giving out a SLUrl along with the staggering "information" that the Red Hot Chili Peppers were playing, live, at the Gothic Fair.
As Fawkes is a fan, and couldn't be in world, I set off to find out what this was, and exactly what she meant when she said "live in world".
What I found? A mall. And above that mall was the convention center where the so-called "Gothic Fair" was exhibiting.
Queen was playing on the land stream. And all I found was lag.
I was understandably irked:
[19:29] Emilly Orr: Oriana, that was a very crude marketing ploy, in addition to being very annoying. I'm not impressed, and I'm not happy about the loss of fifteen minutes' build time to run down something that was lagged into the next century, featuring a music stream that was not only

*not*

live, but nothing remotely "gothic" in nature. I'm disappointed.
Some few hours later, her response arrived:
[20:42] Oriana Pooley: (Saved Fri May 08 20:33:39 2009) ok.. sorry
I want to storm back to the IM box and say that's not good enough, but, as I get the marked feeling she has no idea what she did wrong, it would be a waste of pixilated outrage, at the least.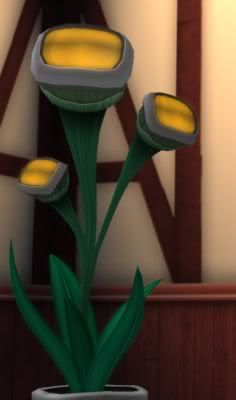 Caught at Herbalys, or at least their satellite store in the
Red Queen
sim, the curious specimen of
Narcissus Cathodis
. I'm fascinated by how this plant developed; I may have to purchase a seedling and look into its care and feeding.
Mr. Albert Beerbaum is quite the botanist with previously unknown grid-based plants; you can find his main store in
Ratin
, with examples shown of his entire botanical line. (Also a few candles and mad science flasks to round things out.)
I had a feeling I should organize, as the dress was not, in any way, ceasing to fight me. I turned to my tags as a--I thought--handy distraction.
I soon realized, how'ver, that as much as I may have
wanted
to kill every tag with five or fewer entries, some of those really
fit
that category. So I dropped my sights to four. Then three. Then two.
Absinthe
was a category that had two, and I sighed, admitting defeat. All right, let's target posts that, after all this time, just have
one
entry they tag.
Surely that will work, right?
Bling
for example. The
one entry
under that title fit equally well under "
shopping
and
offensive
so I let it go.
Duchamp
only had one entry as well,
this one
. As Duchamp has been renamed at this point, I'm removing it, and letting
love
and
loss
guide as tags.
In
this mostly photographic entry
, I realized I could replace
Burning Life
with
art
and
build
, with no effort whatsoever.
The
Edison tag
I'm keeping; ditto the one for
Evocative
--not the least of which is I need to go back and edit that post, but also, I want to add in more trips to the Evocative sim at some point.
Fishing
also will likely get more entries. I miss fishing.
I removed
Lovelace
as a tag because I couldn't figure out where, exactly, I
mentioned
Lovelace in the
post that used to reference it
.
Lunitarium
is going to be added to; and I can't think of a better descriptive tag for the one
Mondserrat
tag than...Mondserrat. And the post on
orbiting
really
needs
an
orbiting
tag...in fact, I still need to answer that question.
I am fail at tag organizing.
I managed to remove
poetry
;
Sector 7
stays but will likely only ever have that one post; and I want to do more
shoes
posts because they're fun.
I took out
Sleepy Hollow
, even though it really deserves at least two of the haunted-house posts at this point.
I took out
Southend
,
Tombstone
(I replaced it with the
roleplay
tag), I want to keep the
Tusk
tag, but I eliminated
updates
.
Oh, and the
cookies
tag? Damn it, I have to keep that one. Because it relates back to
this entry
, which is important for me to read back on, if only once in a while.
So I can at least make it two: here's another recipe.
Pumpkin Cookies Recipe



These cookies are soft and moist. Be sure to let them cool completely and to store them in single layers separated by wax paper, or they will stick together in one large cookie mound.



Ingredients:



* 1 cup butter, room temperature (225 grams)
* 1 cup packed brown sugar (225 grams)
* 1 cup granulated sugar (225 grams)
* 1 cup pumpkin puree (225 grams)
* 1 large egg
* 1 teaspoon vanilla extract (5 ml)
* 2 cups all-purpose flour (450 grams)
* 1 1/3 cups quick or old-fashioned oats (275 grams)
* 1 teaspoon baking soda
* 1 teaspoon ground cinnamon
* 1 teaspoon ground cardamom
* 1/2 teaspoon salt
* 1 cup of pumpkin seeds (225 grams)
* 1 cup dried currants (225 grams)



Instructions:



1 Preheat the oven to 350° F. (Gas mark 4, 180 C, Circotherm 160--pick what works for you.)

2 Beat the butter and sugars together until light and fluffy, about 3 minutes.

3 Add the egg, vanilla, and pumpkin puree and beat for another 3 minutes.

4 In a separate bowl combine the flour, oats, baking soda, salt, cardamom and cinnamon and whisk together. Slowly add it to the butter mixture until just combined, being sure to scrape down the sides and bottom once or twice to ensure even mixing.

5 Fold in the pumpkin seeds and currants. Drop spoonfuls of dough on cookie sheets lined with parchment paper. Bake for 13-15 minutes. Allow to cool on the tray for a minute or two to set, then move to a wire rack to finish cooling.



Makes 4 dozen cookies.
You're welcome.
All in all, after a few hours, I managed to only eliminate nine tags. Still...it's a start.