So, some may know of my long-standing love affair with Evocative, the home of Paul Lapointe and Bastchild Lotus, designers of drop-dead gothic
couture
for both sexes through LaPointe Designs.
Well, they've finally opened Evocative Magick, the second sim, and they've got a
neko shop
there.
There's good and bad in this.
First, they do have a couple of non-neko offerings here, one Drow, and looks like one demoness. (They also have male nekos, I didn't check on other offerings.) The Drow they nearly get
*completely*
right: white eyebrows and white hair lower, which for nearly
*all*
Drow skins out there? Just
*isn't seen*
. Also, these skins are
*dark*
without being
*stern*
--that's another very good thing, because I am sick until death of seeing pale blue skins offered up as Drow.
I'm not sold on the dark red nipples and lips. They seem jarring somehow.
I do like that their neko skins, while they come in packs of four, come in three face variants--'plain', then striped or spotted, then full-on neko, with the cleft upper lip and the
*much*
more obvious kitten features. I do like that, it's a selling point. And Miss Lotus, she's not picking up and running with neko 'standard' shades--blue, pink, green, et cetera. She has two strong whites, a strong red, a
really
interesting gold tone in stripes and spots, a grey, a black, and at least one completely unspotted/striped blue.
[Late insert: Actually--as seen in the comments--it's Paul LaPointe doing the skins here. Well, I've already said they're both phenomenal, they are. Now I can point out Paul's the lead designer for their neko line.]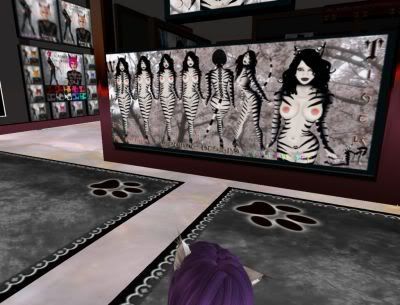 Now the down side--for me, at least. I think the little touch on the white tiger, of the pawprint on the lower belly? Unnecessarily twee. And the fact that
*all*
these skins have dinner-plate nipples--yes, I
*know*
, some women have 'em, but
*not*
everyone, and
*certainly*
not all cats!
It bugs me on freebie skins, it bugs me even more seeing them as the default on otherwise really
*gorgeous*
skins for L$1100 to L$1200 a set!
Still. Worth checking out. And most of 'em have demos. Which you really
should
use, more than usual, because...well. First of all, if you've never dealt with actual cat-face nekos, they can be startling. These are the best I've seen, very realistic, very realistic dark around the eyes, start to finish--if they get more than the few bare colors I see in the stripes, I might well be tempted to convert from Temenos.
However, the blue "Ice Queen" is, as far as I can tell,
not
neko in the least, and the pink leopard "Ice Queen" is almost saccharine in its twee--bright pink skin, abstract pale rose shapes over it, with glittery pink seventies-style
flowers
scattered across face, limbs and torso.
Shoot me now. (The blue "Ice Leopard" skin? Same thing as the pink. Only in baby blue. Shoot me
twice.)
The red "Neko Flame" also seems neko only by virtue of the name, but it's a precious conceit--a smoothly red skin, with 'devil girl' fifties-style flames on limbs and torso. Some poses cut across the flames oddly, but it's something I can put up with without clothes, and with 'em, few will notice.
By contrast, the "Red Lust" leopard looks like a skin made of exploded blood cells. But then, to be fair, Nomine's Aether "Red Constellation" skin has always looked like that to me, too. Could be my graphics card.
Then there was the pink leopard...and my brain cringing up and DYING for the night. Pale bubblegum pink, with DEEP pink spots ringed in black. Make the hurting stop...
Thankfully, the White Tiger more than made up for things. This one--all of them, actually--seem much less 'furry' than I usually wear neko, in fact the White Tiger in particular seems
*very*
smooth-skinned with heavy dark stripes tattooed on. But it's cute as hell, and I'm tempted to pick that one up if none of the rest.
On
all
of them, the faces are
exquisite
--detailed, definitely made up and stylized, but gorgeously so, beautiful to look at.
If the color choices improve beyond the white, and the rich gold? I'll be very tempted to invest. Smooth skin or not.