(RP--mostly)
And somewhen soon after the darkened moon tells me there is attraction, and more liking than I knew, I suddenly realized my typed words were no longer going out over the wire.
And there Comcast ate the minstrel.
This is the frustrating thing about my cable service--most nights, at some random point between 1:50 and 3:10 am, it takes our net down. Some sort of service update, the point-and-reflect reset, whatever.
But if I'm up, and if I'm talking with people...it's
annoying.
And the Sigil folks are going to be problematic. Last night, after my demon lover and I finished the lovely eternal spin on the red carpet in the Grand Hotel, we went to the preview of Tombstone, to see how it was shaping up. Not twenty minutes in, people started arguing in the main street. My love and I pulled over to the fireside, cuddling in a chair while shots rang out.
It was the Sigillians, killing each other over and over again. Idiots.
"In myths, legends, scripture and folklore, the category naga comprises all kinds of serpentine beings. Under this rubric are snakes, usually of the python kind (despite the fact that naga is usually taken literally to refer to a cobra,) deities of the primal ocean and of mountain springs; also spirits of earth and the realm beneath it, and finally, dragons.

"In Indian mythology, Nagas are primarily serpent-beings living under the sea. However, Varuna, the Vedic god of storms, is viewed as the King of the Nagas, ie. Nagarajah."
(from
this page
)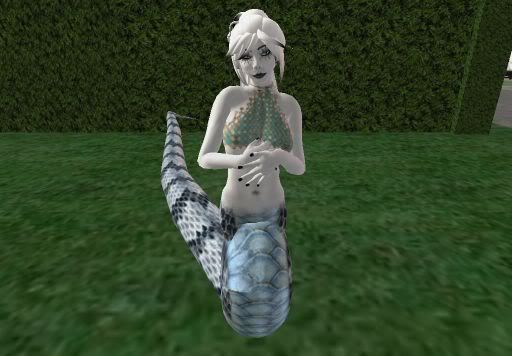 This morning...the Naga arrived.
This should be fun.
I just have to remember to change before I go to Steelhead, because...there is not a Naga fan club there. Hmm.
...oh dear God, Hellboy's back.