This is just breathtaking
. Ms. Siyu Suen is selling the Odocoleinae antlers for a scant few more days, before taking this limited holiday release off the market.
You can find Ms. Suen's blog entry
here
, or simply port
directly to her store in-world
.
In other news...Last night, we 'waked' another part of Caledon history, Caledon Loch Avie, Duchess Eva Bellambi's home on the grid. Several dozen of us gathered to dance in the Conservatory and out on the snow-covered lawn, to share hope and memories, song and stories, and dance until the sun fell and misty dawn emerged.
There were tears and laughter, promises of good changes to come, as well as mourning the loss of the past, and the final announcement that Duchess Eva will be moving to Winterfell.
Dancing as day turned to dusk.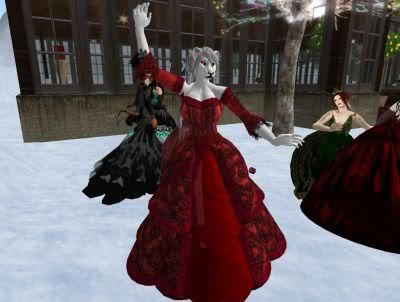 Her Lyonesse, the Vicereine, Kamilah Hauptmann, dancing as the music played.
Sadly, I have very few pictures; for over an hour of this gathering, there were so many people (we topped sixty at one point) dancing and sharing memories of Loch Avie's place in Caledon's history, that I had to turn all my graphics settings down to avoid crashing!
The Lyonesse chose, midway through the event, to don attire more suiting to her
beladi
movements; she contemplated (and then discarded) a rich scarlet number, a royal blue set, and finally arrived on the seasonally appropriate red and green set seen here.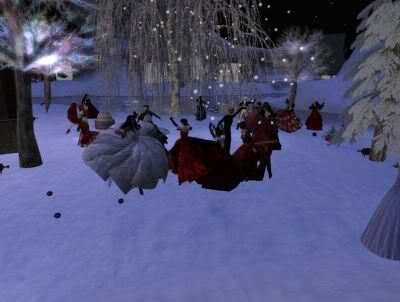 The dancers
en masse
spin and dip in the menuet.
An overhead shot, as the Aurora Borealis comes in over Loch Avie.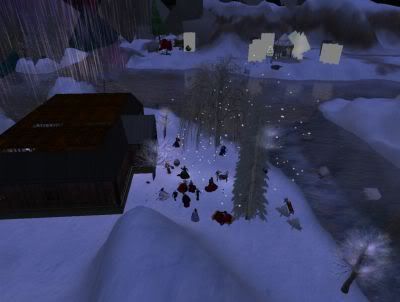 Another overhead shot; snow falls as the evening draws to a close.
This makes three members of the Caledon peerage, by the way, that are moving from Caledon. We are now losing more than OpenSpace sims, with Linden Labs's stunningly short-sighted decision; we are losing the hearts and minds that make Caledon great.
The loss of touchstone points, for many, as well as the maritime sims; Caledon-that-was is passing, irrevocably. Will the flurry of new titles and new lands borne from such privation improve, or detract, from Caledon's future?
I can't properly answer that--yet--though I will say the direction Caledon is going, in some respects, is becoming a shocking one. There is more of mainland than of majesty, in these latter days.
But the loss of the peerage...Duchess Eva moves to Winterfell Anodyne; Duchess Gabrielle has already moved to Edison; Lord Bardhaven is in the process of relocating to Winterfell, as well. This can only be a bad thing, in my opinion. Am I the only one who sees this? Unfortunately, whether I am or not, the world will go as it will, and I am not a Linden to make these decisions.
Our revels now are ended. These our actors,
As I foretold you, were all spirits and
Are melted into air, into thin air:
And, like the baseless fabric of this vision,
The cloud-capp'd towers, the gorgeous palaces,
The solemn temples, the great globe itself,
Yea, all which it inherit, shall dissolve
And, like this insubstantial pageant faded,
Leave not a rack behind. We are such stuff
As dreams are made on, and our little life
Is rounded with a sleep.
--William Shakespeare,
The Tempest
The year turns, the new year rises, the old one passes away. If we carry anything from the past year, at least we retain our memories of glories and successes, the pageantry and charity that made Caledon great. Here's to Caledon remaining strong throughout the new year to come.
But I begin to have my doubts...