((New tag--"haunted houses". If you just want to see the haunted house posts as the month goes by, click that link.))
Next up:
Stay Alive
in Readux.
Not so much fun.
Don't get me wrong, it's a great
concept
. You're given two things upon entering the property--a notecard, and a rose. If at any time, the card says, you feel threatened, there is a spell to intone and you are to drop the rose! It will be your one shot to get out alive!
Also, they go into the history--the
actual
history--of Erzsébet Báthory, Hungarian countess--and murderess. They postulate that this house, her spirit haunts. That if you go up to the very top floor, you will find her, staring down.
But do you want to do that?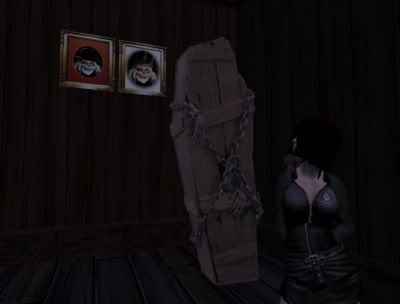 So much hype, so little delivery. Mainly the trick to this house? Lots of blind rooms--black unrelieved by anything but flashes, but so small on the build, we could barely turn around to see the spooky before we decided it was a better idea to leave the room!
There were two genuine moments of unease. First, the way the house is structured, it's apparently
over
the ground level by a significant amount, and at least one of the sections of 'lawn' was left phantomed:
Having Lili yell "HALP!" and not being able to find her...losing Neome, and having her pop out of the ground like toast--and then running to their sides only to fall somehow
under
the grass myself?
Very unnerving
.
Also, this: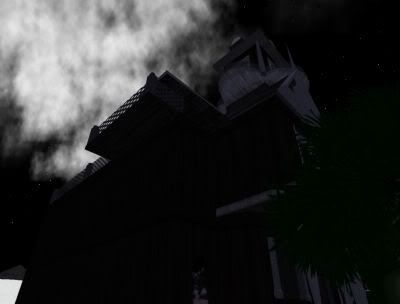 is the house. Spooky, right? But
this: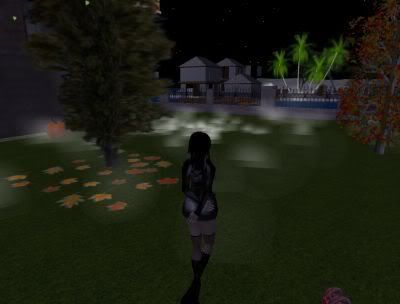 is the rest of the sim!
Palm trees and haunted mansions! SPOOOOOKY!
At the very least, on the far side of the property is a small graveyard. With dances. It's a lovely setting, and a lovely way to spend an evening, if nothing else.
Hmm...that gives me...ideas...