((New tag--"haunted houses". If you just want to see the haunted house posts as the month goes by, click that link.))
In our continual search for cool haunted houses, let me introduce you to
Grimworx
. First, the store is
beyond
nifty. (That's the store, that first link.)
This? Is a toy that may well show up on my Rivula property. It's motion-activated--it's a little open-front room that
exactly
reproduces the hallway from
The Shining
.
Oh
, yeah. You can see why it had to be mine, right? It goes through the
entire scene
from the movie.
"Come play with us, Danny....come play with us..."
Hee hee hee.
Okay, but after you're done with all the nifties to be found
there
--and there
are
a
lot
of media-based horror nifties--go to
Liquid Heat
, their Halloween venture this year.
But a
WARNING
--do
NOT GO
unless your connection to the world is strong and true! Kicked young Lili into limbo once, and kept lagging me out to the point where I couldn't
move
for
minutes
at a time.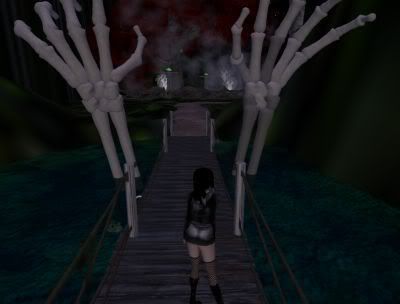 Why? At a guess, a preponderance of sculpted objects (Lindens, you say they do not cause lag but they DOOOO), a plethora of scripts, animations beyond the wildest dream--it's
cool
, don't get me wrong, but it's
laggy as all get-out
.
If you have the strength of connection, though, go and wander--first just the lower levels (you can ascend to the haunted house up the hill, but really, it's two levels of blah), and just stand in amazement at the images.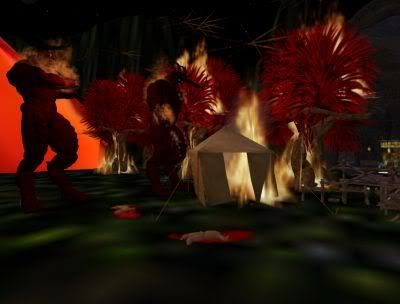 (Diablo and his twin brother torture a campsite.)
(Image from their haunted house.)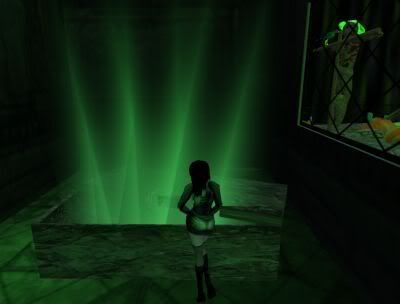 (Another from the side room.)
But then, down the path, after you've seen everything on the main level...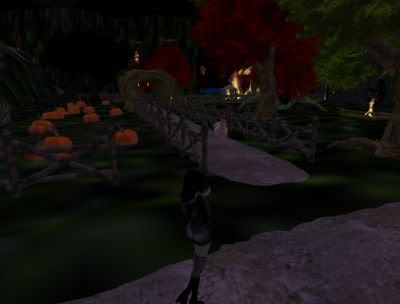 ...keep going until you find the Haunted Caverns. There are no images saved from the Haunted Caverns. Why? I was having too much sheer, unadulterated
FUN!
Walk in to the Caverns--get in the coal cart--ride down the rickety rail system--hope you don't FALL....
Hee. It's grand carnival joy. Very much old-school, very much eek-around-the-corners--oh, just go.
Trust
me, if you're into haunted house
rides?
You'll have fun.