October Country
! The Haunting Hour.
Lovecraft and Horror Island?
Bring it on.
Coming into the sim, the first thing one sees is a scattered selection of crypts and barren trees, floating haunts and windblown leaves.
Turning around, I saw what looked like a wonderful campfire set-up, in front of several signs. One of them said to be sure to turn on my audio.
I've been listening to old radio shows ever since; the sim runs a Mystery Theatre stream, just wonderfully resonant performances.
I kept wandering, and found my way to the top of the bluff, and the hotel.
Apparently it's not quite done. But it certainly
looks
impressive enough.
I kept wandering, noting all the places where it seemed designed for people
en masse
--the dance pavilion, the park benches, another campfire, a hayride wagon.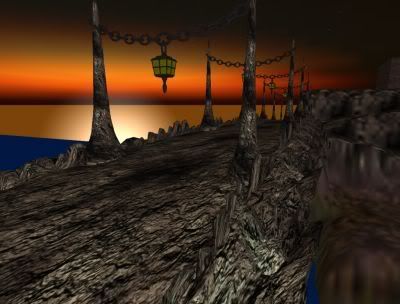 There are some truly lovely, atmospheric touches to this build, I have to admit. Above and beyond the radio melodrama. One of the crypts contains snippets of stories read out by an SL resident, original works and the works of Edgar Allan Poe. I wonder if the plan is for
all
of the crypts to contain spoken-word productions.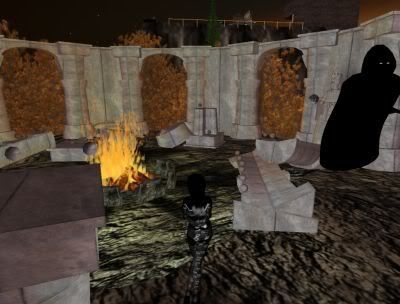 Finally, Weathertop. There's a box of intriguing and useful freebies up here, and more importantly, every day at 5 pm SLT, during the month of October, at least, the Weathertop location will play the Lord of the Rings audio show.
For that? For the mystery radio, if nothing else? It's well worth a visit.
For everything else....well, I plan to come back and check out the hotel, once it's finished!