(As always, click the small images for larger ones...)
The Elder Gods are seen in Tanglewood!
Run! Run for your miserable LIIIIVES!
We must propitiate them by sacrifices!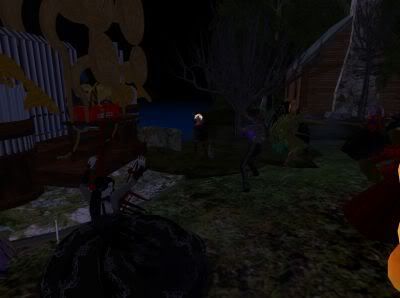 And by dancing in the ways our people now only dimly remember, ways that make our very souls writhe in terror!
I know that it was dark...then it was light...the orange clouds tormented me, I cowered before their strange coloration...
This was just before the fellow in the dark suit pounced me and threw me to the ground! The Elder Gods whispered in his head, I know it!
I thrashed my tentacles to little avail, I was trapped!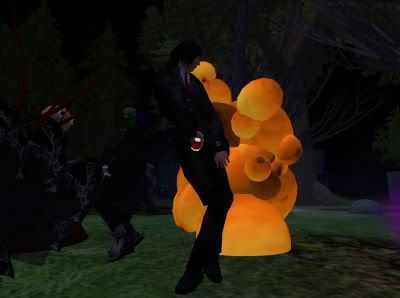 Thankfully, he was soon distracted by the radiant terror in orange, creeping behind him. Amazing that something of that mass can be so stealthy.
It was also good that then, the unnatural surge of daylight left my eyen, for I would have been driven
QUITE MAD
had I seen this apparition in the full unwavering light of day!
We danced frantically, desperation in our hearts, for the dread presence spinning dire notes into the shrieking air would not release us!
I managed to take only one image of the DJ out of space before my courage failed utterly and I swooned to the ground!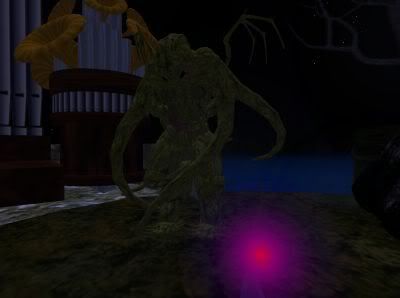 The night dripped with febrile horrors, too loathsome to be borne! I felt my sanity begin to leave me!
The evil presence crept nearer! I had to stifle my hysterical screams! I saw...ngaa..nyar...the
HORROR! THE UNSPEAKABLE! TOO TERRIFYING TO BE BORNE! I...I...AAAAAAGH!!!
All in all, we had a grand time. You should have been there. Edward spun the most bleak of playlists, and the attendants were a who's who of the morbid and quirky on the grid...which means I happily know most of them.
*grins*
It's true, I don't remember all the names, I wish I did. Professor Avalanche was the great glowing
thing
, Mr. Puck Goodliffe, I believe, was the wee Chibithulhu, Hotspur O'Tentacle...errr, I mean, O'Toole was the dread Cthulhu himself.
I'm hoping others will fill in the rest of the details, because I kept crashing and losing images!
Plus, the place was
packed
, it's amazing we were able to move at
all!
Oh, and Miss Darkling Elytis was in the straitjacket. Muahahaha....