There is a hunt ongoing, throughout the grid, celebrating the SLCC convention. There are glowing mushrooms containing work of top SL designers, squirreled away in diverse locations. They look like this:
Go find them.
*grins*
(Oh--the ladies, in the picture? Ah, well, the one on the left is me, in my rarely-seen Arctic fox form, and the one on the right with the world's known allocation of straps is Miss Neome Graves. She doesn't get badly anonymized in these pages because I'm going to be doing my best to drag her to things. She knows little about Victoriana, but is fascinated by the concept of steampunk. So I'm hoping to bring her 'round and about and introduce her to some of my favorite Caledonians. Which--to be honest--is most of them.)
In other news, today--well, yesterday, more precisely--was Lady Christine McAllister-Pearse's rez day! So her friends threw her a party.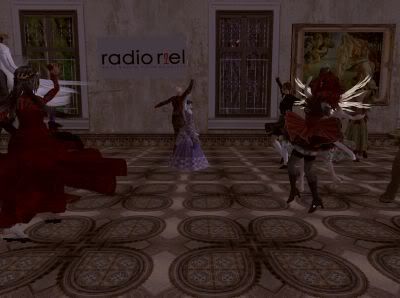 Of
course
Radio Riel sponsored the event, it was held in Carntaigh.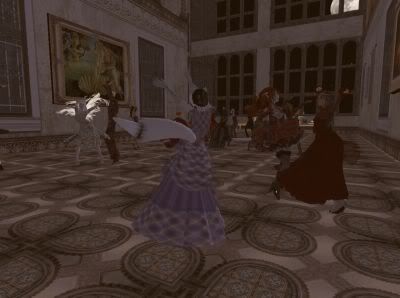 Very nearly everyone was there--at least, that I know, or have heard of. So many people came, even if they could only come briefly, to wish Lady Christine well. Lady Amber, Duchess Gabrielle, Colonels Hotspur O'Toole and Exrex Somme, Lord Bardhaven, Miss Terry Lightfoot, Miss Hypatia Callisto. Mr. Telemachus Dean, Sir JJ Drinkwater, Mr. Nix Sands, Mr. Puck Goodliffe, Mr. TotalLunar Eclipse, Miss Tensai Hilra, Miss Addison Barrymore...Mr. Trevor Rowlands, Mr. Mavromichali Szondi...I
know
I'm forgetting people,
hordes
of people came.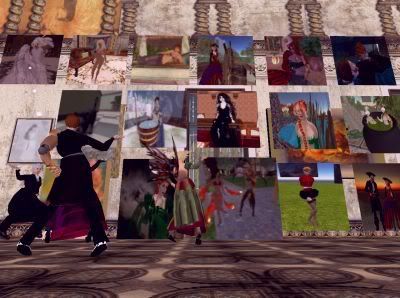 Sir Edward was having great fun poring through his collection of photographs of Lady Christine, salacious and otherwise. I briefly turned on the sun, hoping no one would notice, so I could get a better photograph myself!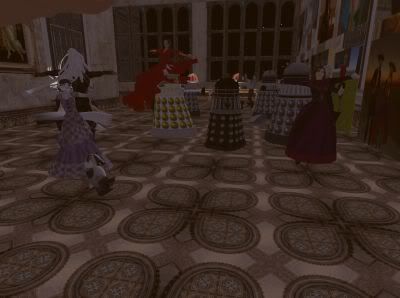 And then...the Daleks invaded.
Don't ask me why this sort of thing keeps happening in Caledon. All I know is, I got caught in the crossfire one too many times, and am
very
glad I'm a shapeshifter, all things considered!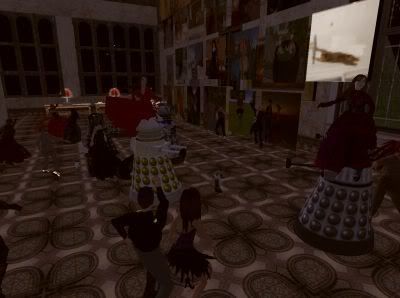 The brave ladies of Caledon soon figured out that if they perched atop the Daleks, their voluminous skirts prevented the firing of their forward lasers, and seemed to impair their servos, besides.
Soon, it was a rout--Daleks, 0, Caledonians 1! HUZZAH!
All in all, it was a lovely party, full of high spirits and conviviality, and I do believe our one purpose--to show Lady Christine how much she is appreciated, and by how many--was well and ably served. Happy Rez Day, Christine!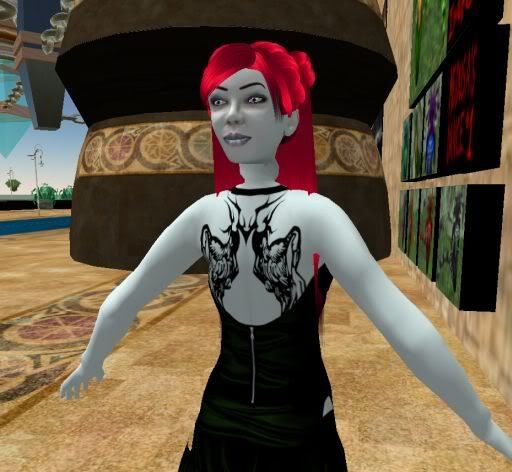 Then, I went shopping with friends afterwards in Avaria Tor, and...this happened.
You know, this just isn't the sort of thing you see every day. Unless you're
me
.
*sighs*