So, I hit
post
on this too soon; I had some bad edits, and it erased the top half of my entry. So I've had to do a bit of reconstructing.
Edited more or less back in place, this is what I wanted to say:
So there's a bit of controversy brewing around the
Sleepy Hollow Gothic Bridge
--which, when I acquired it, was set as a freebie; now it has the fun dodge of "Pay L$500 for it, and I'll fully refund your purchase price!"
Right.
That's
going to work.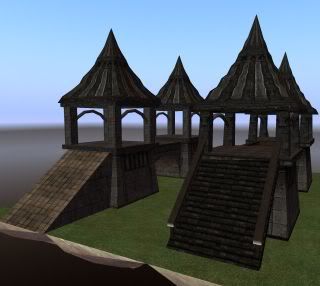 Here's both bridges, side by side. They are roughly the same height, though Vryl Valkyrie's is a bit longer than forty meters, and
Abel Dreamscape
's is hovering around the thirty-five meter mark. They
look
similar on the surface.
Why this is a big deal: a while ago, Valkyrie became one of the hydra heads of the makers' rights movement. Now, many of us are in this fight, to greater or lesser extent; but Vryl Valkyrie, at least once, wrangled
some screen time
out of her anti-Copybot stance.
Here's the stanchion on the Troubled Bridge. They're angled--at least on visual inspection--with remarkably similar inclines and build types. I suppose this
might
be dismissed as this style of bridge, but this style of bridge
already existed
.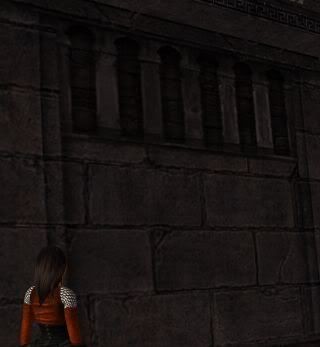 Here's the stanchion on the same side of the Sleepy Hollow Gothic Bridge. They
appear
to be the same texture.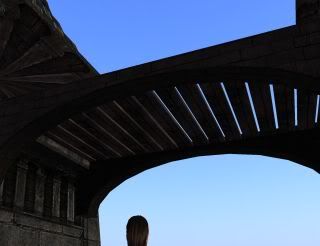 The underside of the Troubled Bridge. The span is formed of wooden slats; there's a greater 'lived-in' feel to Dreamscape's work.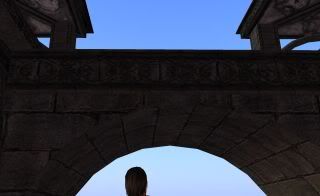 The Sleepy Hollow bridge, on the other hand, uses a simple hollowed megaprim tiled in seamless stone--possibly part of the same set that was used on the stanchions of (it seems, at least visually) both bridges.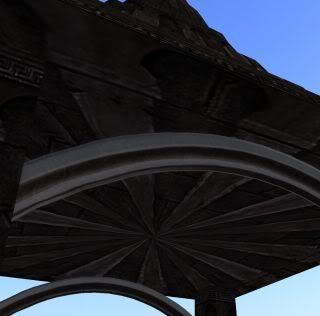 The underside of the cupola roof on the Troubled Bridge. Made a few years back, when sculpts were first introduced, it was textured as a whole. The cupola itself was made by
e-Tek
--it's "Pyramid #1". The spans under the cupola roof section have mid-level shine on them, and are also curved sculpts.
By contrast, the curved sections of the Sleepy Hollow bridge seem to be simple toruses, cut and positioned. Also, Valkyrie's cupola is textured on the bottom, unlike Dreamscape's. While the cupola roof also comes from
e-Tek
(and is also "Pyramid #1"), there is a separate prim added underneath, that is textured differently, but with the edges matching the roof texture. (The cupola roof itself, when viewed, is textured in the exact same pattern as the roof on Dreamscape's bridge.)
(She
claims
these are all original textures; if you scroll to the bottom of her Marketplace entry for this bridge, you'll find a link to a L$5000 texture package. Save...at least
some
of these textures either come from the same
place
, or were made by the same person. Could it have been web lifting? Sure. Is it? I don't know.)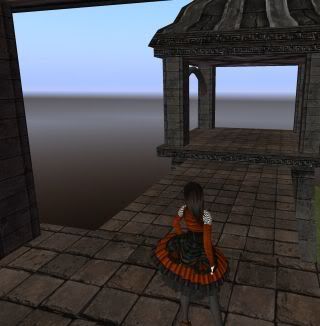 My conclusion? While
incredibly
similar, they are
not
the same bridge.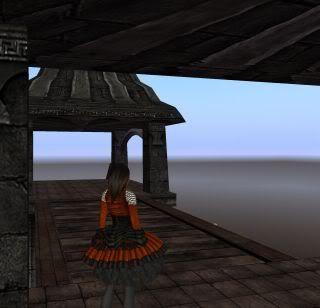 But even the tiling on the walking sections nearly matches--and if you didn't catch it, let me point it out. This:
is Dreamscape's Troubled bridge tiling. And this: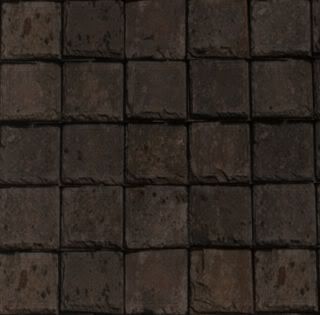 is Valkyrie's Sleepy Hollow bridge tiling. It's not the same texture--it looks like it's based on a photographic texture, whereas Dreamscape's may or may not be photo-based--but it's so close it nearly makes no difference.
I have no actual, admitted
proof
of this, but I will go on record now as saying Vryl Valkyrie may not have
directly
ripped off Abel Dreamscape's work, but she did her very level best to
recreate it
on every level.
Dreamscape is not new to the grid. Neither, for that matter, is Valkyrie (though she's younger than Dreamscape). Why is this happening? This is blatant, and seems to fly in the face of
every
bit of protesting Valkyrie has done against copyright infringement.
Frankly, this move by Valkyrie tarnishes the makers' rights movement--of which I do think I am a part--
just
as much as Marianne McCann traipsing her little child butt around Zindra, opening day. It's
that
damning to me.
I'd love to hear whatever explanation she has for this, I really would. (Not Miss McCann; she's already given her explanations, and I didn't put faith in them then, so I don't need to hear them now. I mean Miss Valkyrie.)
Why
would a proponent of makers' rights copy
anyone
else's work?
Why
would a
known
activist against Copybot programs, and other aids to copying prims, textures and scripting,
ever
put something like this up as a
freebie?
Moreover,
why
would that selfsame person,
when confronted with direct evidence
, become shrill and offended and blame
Dreamscape
of all people?
When his bridge was clearly built first, and put on the Marketplace before it
was
the Marketplace? It's insane.
More on the Linden-level destruction of SL-based education.
Mr. Telling pointed me towards
Ignatius Onomatopoeia's blog
, who's been in education in Second Life for quite some time. He pointed me towards
Tateru Nino's comments
on the topic. Which are somewhat confusing--not
her
comments, mind;
she's
very very clear. But it's who she's quoting--apparently Jack Linden, the hated and despised--who's saying that this is all to make the grid
better
. This is just one of--one presumes,
many
, and more to come--the changes to level the playing field. Or
something
.
Here's my problem with all of this. Apart from
Jack Linden
himself (my loathing of him goes clear back to the popping up of
Zindra as the adult continent
, shortly after renaming it from Ursula), this one goes all the way up to Philip Rosedale-aka-Linden. I tend to agree with the contention that he's either:
a)
incredibly distant from, and contemptuous of, his userbase, and literally could care less what any of us think;
or
b)
grooming the company and its affiliations for a sale to someone as yet unmentioned (obviously not Microsoft, who turned them down).
I'm wondering which it is. Anyone know?