see more
Lolcats and funny pictures
I have seen that face on my cats. That "I am telling the truth. You WILL believe me" face. (I think they practice looking in the mirror.)
see more
Lolcats and funny pictures
And then, there is the understanding of why those odd hu-mans are cutting into vegetables...
End of Samhain, the ghosts departing for home...I think overall, this year, I just didn't have the
time
I wanted to go visit a hundred different haunts. I missed a lot of hunting, a lot of parties, a lot of...everything. The Other Life is starting to intrude, and frankly, SL is still palling.
More to the point, there just didn't seem to be as
many
haunted houses this year--even with the Labs pimping them on the Destination Guide. I went to several and left in under a minute--they just weren't...
good
.
How'ver, I did make room for Le Dome's haunted house. It was somewhat different. First of all,
Salem Manor
is billed as a "Death Exhibition".
The first big difference is that, on arrival, there is an animated figure that throws a pumpkin at all guests. I had to look away to take a call, and when my attention returned, I had been efficiently relocated to the
other
side of the front porch! It's very effective. I found myself yelling at the screen to the figure
just
to get in to the front door!
Once there, though, I found the front room over-cluttered with props and effects. Originally, I dismissed it, and then, later, I had time to go back, and I discovered I was quite wrong.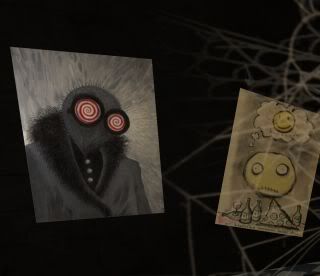 Don't misunderstand me--there's still
far
too much going on in that front room. But in the back rooms are some very odd pictures, and some odd items in the corners, and upstairs, there's a zombie spawner (thankfully, on non-damage-enabled land, or we'd all be in trouble).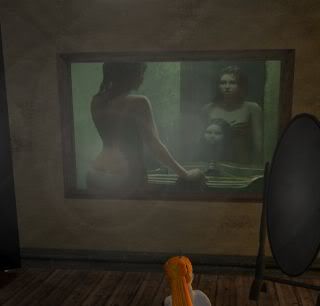 There are some things I'd seen before, of course, but they worked within the context of the house. Busy, sure, cluttered, absolutely--but effort was made.
And then I found the attic.
(From here on all the picture links are direct--some of the images may well be triggering, or upsetting to some. You have been warned.)
At first, I wasn't sure what I was seeing. There are particle effects--pale glowing orbs emitting from simple trees--but what was odd was the rotating cubes in midair.
Some
reflected traditional movie scares. Others...
didn't
.
Can I say with absolute surety that every image I saw related to an actual death? No, of course not. And some aren't--they're still captures from
The Exorcist
or other films, or just horror art.
Still...
some are
. Even odder, some have the
police dating
on them--and that image, I
swear
I've seen before, too.
Were they taken off some serial killer afficionado's website? No clue. Are they mock-ups--
even the ones that look real
? No clue.
All I know is, the "Death Exhibition"
took things to a whole new level
.
see more
Lolcats and funny pictures
But happy Samhain! Hope everyone had fun. Now into November, and...the slow, steady death of SL. And everything that follows.
There's still
nothing
out there that matches what SL does. But even SL isn't SL anymore. So...what's left?