[20:08] Easy Spirt: just got back from a tour of Porntopia ... very pretty sims all rated Adult, OMY the children there
[20:08] Emilly Orr: .....children?
[20:09] Arisha Zenovka: O.o
[20:09] Easy Spirt: I saw at least 5 child avies
[20:09] Eleanor Ocheis: Where is Porntopia? Got a LM?
[20:09] Lindal Kidd: sure...they're all adults, and verified.
[20:09] Emilly Orr facepalms
[20:09] Emilly Orr: Of COURSE they are!
And
that
in a nutshell is what we all feared would happen. They can't
stop
people--adults on the other side of their screens--from verifying that they
are
adult, then putting on a child avatar and romping around Pervistan. They could ban all child avatars from the grid...but then, there would be (and I do believe legitimately so) complaints on those who use child avatars to recapture a better childhood, to play freely without having to worry about adult matters, to simply exist again in a world without so many pressures surrounding their adult selves.
[22:22] Alexandri Ashbourne: I have to admit, the Lindens were quite intelligent in this strategy. Get all the currious in one place so they begine to like the idea, even if only from seeing so many appealing others of like minds.
[22:22] Dale Innis: Yeah, I'm definitely going to want to at least rent a little shack.
[22:22] Lat Lovenkraft: this is wll be the New Amsterdam
(No, I corrected nothing in that quote.)
I'm so happy for them.
*snarls and bares teeth*
All right, fine, I've come close to these statements before, but now, I really
must
ask, I think: the Lindens were quite intelligent
when
, precisely?
When they decided to cave to the whinings of petty moralists who will not be satisfied until everyone with a shred of style, verve, independence, sensuality and humor is crushed underfoot?
When they came up with the lamentably idiotic name of Ursula for the continent?
When, with no explanation but oh, a metric ton of
perky
, they announced the bright new name for the continent of "Zindra"--likely carefully chosen for its utter lack of ties to
any
known meaning?!?
Or when they decided that the best and greatest build they could put on the central telehub for the new landmass was a
Greyhound bus station from 1949?!?
Oh, yes! Let's embrace the wild exotic reaches of Those Practices We Dare Not Name! Let us show them we understand their need for such icky and inconceivable virtual ventures! Let's give them...a
strip mall!
From the
fifties
, back when life was still
wild and exciting!
WHO THE HELL ARE THESE PEOPLE?!?
It gets better. Jack Linden showed up, just a few moments ago. I'm not actually sure he
said
anything, at least in open chat. But someone did ask him something I'm wishing I knew the answer to, myself:
[22:46] Yoshi Zhangsun: jack will child avatars be allowed on this land?
And right after that? Jack Linden ported away.
Coward.
So, I admit, I had to see it for myself. But I wasn't necessarily up for the intense
!GLAMOUR!
and
!EXCITEMENT!
of...the mall....so I ported in to Bronlen.
Which is on the adult continent.
Which is rated
Mature
, not adult.
Which is...an industrial park.
Don't get me wrong, it's a lovely industrial park, but...huh? I am not of the understanding.
I'm told by friends in the know that, until I upgrade to 1.23, I won't actually
see
the new classifications; so, to me, all the land is rated Mature because that's as far out as my classifications set goes. I guess...which doesn't make sense when I can click a button in Search and get--or not get--Adult content...Maybe that's always been confusing.
Oh, look! In addition to the perma-glow streets and the weirdly radiant benches and trees, they have scripted traffic lights at the intersections!
That's
helpful!
That
won't add any additional script lag to the existing potential scriptdeath of things...
*coughs*
What the hell is this? Sim borders now show office art from 1962?? WTF? PEOPLE!
SNAP OUT OF IT!
Is it just me? Is this the most singularly boring build in existence??
And hello, corporate widgets, did you announce how the land swap was going to work yet? Did you announce to
everyone
who needs a parcel that they're going to get one,
LIKE YOU SAID YOU WOULD?!?
*sighs*
Yes, because the Sydney Opera House is
such
an innovative, fresh build...
Night fell while I stood there, depressed, in the Bus Station of the Bland, and I had literally no idea what would happen from here.
But whatever happens, it's likely to be more entertaining than watching paint dry. Which would be more entertaining than being
in
Zindra right now.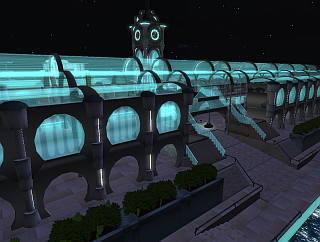 It's big, it's bland, and it's cyan; it's not even an
interesting
color, it's just one of the basics.
So much promise. So much chance for independent thinking, moving forward, not backwards, dealing with this issue as adults, fully aware beings...
...and we get this. Glowing streets.
Scripted
goddamn traffic lights. Everything glowing pale blue.
*sighs*
It's so depressing.
Do vote on
this JIRA item
, it's becoming a problem. Today was the first time I've ever participated to help kill a sim--completely unintentionally!--with less than twenty avatars in the sim, total.
Why? Because every time an avatar ports in, the sim
stops functioning
for three to ten seconds. Maybe longer. So within the space of ten minutes, we dropped FPS to one, and the sim died. That just is
not
supposed to happen.