There are occasional
distinct disadvantages
to being the Perky Sidekick. On the other hand, once the lab really gets going? I think far more research sessions than my Primventor thinks are going to end up like
this
...
And
Catnip Clockwork the Mouse
is now out at Autogenic!
Grid outage coming up on the
11th of December
--make no plans.
On the heels of that, Mr. Allen tipped me
this bit
--it seems one of the things the new 'Age Verification' service offered through the new release candidate asks for is a Social Security number. Now, put aside my natural reservations about giving out such information, but what does this do to internationals who don't *have* one?
Or take a more obvious example--I had an account (which shall not be named) wherein I had tried to access the password so very often, the Labs had flagged it. (Well, I am scattered.) So I had to call them, and did so. They asked a series of questions, all the questions I had to answer when I set up the account. Not
once
did they ask for my Social Security number. And after, they gave me a new password. Simple, easy, effective, no fuss, no muss, and open at 10:30 pm SLT on a Thursday night.
Gods forbid SL becomes WoW-like, but why can't we just go down to our local game center, show picture ID to the clerk behind the counter, and lay down five dollars or so for a one-use 'verification card'--scratch the number off, next time you come in, use it, a computer marks that number off and you're age-verified? Why wouldn't
that
work, damn it??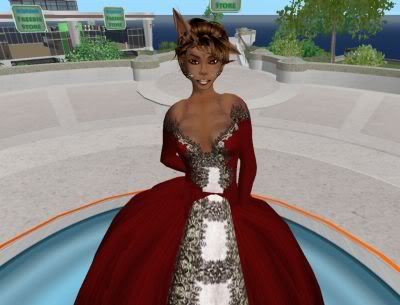 Some days, I dress quirky, some days I dress traditionally, some days I troll through my rather endless store of mainland minis (though not so often, these days). Some days? Rarely, but....I feel like dressing to the nines and being perfectly, impeccably attired.
Then the Powers that Linden, in their infinite...something...drop me in the middle of a fountain on Help Island Public and I have to figure out why everything around me is screaming
FREEBIE HERE
.
Bah.
I suppose at least it wasn't on a crate, at the bottom of some ocean. It's something, at least.
*She pulls back from the typewriter, connected to machinery she hasn't yet figured out yet in the back of the lab, and goes to the high tower window. Turbulence in the water, she thinks, ripples of the greater relationship, and ever more of the lesser ones keep washing ashore. Her neko lad contacted her out of the blue, from the far distance, informing her he was fine, and having the time of his life, and twitched when she touched him. New interests manifest and she watches them like others would watch the mad, wondering if medication to sedate or therapy to stun is the best treatment.

*She sets her hand on the leaded glass, her hand slowly melting the frost on the other side of the window, closing her eyes. She can feel the new-melt water run down the glass like movement, over her skin. Last night she bent, if not outright broke, one of her guidelines, never to completely savage one she loves, and it's far from the first time, and it's a bad, bad pattern she has. She's only killed the once, and that, thankfully, wasn't permanent, but still...she has it in her, this need to strike out, this rage. It doesn't help her, but she doesn't know how to let it go.

*She sighs, finally, and goes back to the typewriter, rubbing her eyes. She turns up the flame on the small gas lamp, blinking, and resumes typing.*
Also, apparently I'm now an
attaché
of some sort with the Consulate of Europa. The Baron's informed me I don't, so much, have a position, but that does make me twitch a tad--at the least, he's not paying me, but I haven't even been
inside
any Embassy building--
*blinks*
Well, maybe that's the first thing I need to correct. As soon as I have time.
*She watches Catnip Clockwork wobble into the room and shivers. It stops, gears whirring, nudging her shoe. She picks it up, looks left, looks right, and winds the key furtively.

*A burst of catnip scent fills the air and she purrs, just as she hears the house doors greeting someone downstairs. She jumps, and the clockwork mouse falls to the floor.*
Err, I have to go. I have to--err--be somewhere else.
Right now.
You'll pardon me.