Under your spell again.
I can't say no to you.
Crave my heart and it's bleeding in your hand.
I can't say no to you.
She tells me wait, and taunts me. With lips and tongue and teeth and hips, but she says wait. She says wait, and teeth gritted, I'm waiting. It's never half so hard
not
doing something until one is told not to do it.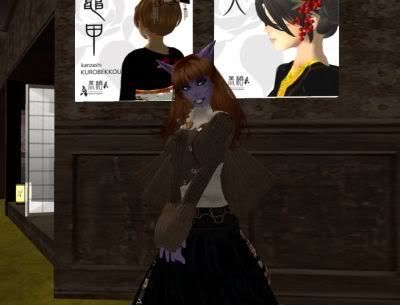 Before we begin, I want to bring up a new designer I've discovered. Well, probably not new, but as
*I*
hadn't seen her on anyone before...This is a shot taken in the store
Kurotsubaki
, where Miss sato Yifu creates kimonos and more 'Westernized' clothing...only, it's not, not really.
For one, the curve on the sweater. I mean, you
can't
line all the buttons up to button it up, they just
don't
line up, and that's the
point!
But it's gorgeous, and so comfortable, with big cable-knit sleeves that fall over the hands and separate sleeves for flutter one wears around the upper arms.
She tends to sell separates, though--for example, this outfit? Works out to four pieces. The oatmeal turtleneck (which comes in a pack with two other shades); the black flowered skirt; the brown sweater-jacket; and I decided to throw in a pack of over-the-knee knit socks, because the brown matched the rest of the outfit.
Total for these several pieces? L$500.
You heard me
. Yes, she prices
beyond
reasonably.
Shouldn't have let you torture me so sweetly.
Now I can't let go of this dream.
I can't breathe but I feel...

Good enough,
I feel good enough for you.
Anyway. Since I couldn't do anything
else
--
wants me to wait, FINE, I'll wait, I can wait, I'M WAITING
--I thought I'd check out Steelhead Harborside.
If one is not accustomed to Steelhead, the relevance of this will escape. Let me put it in simple terms. If I had stood exactly here--before Harborside arrived--I would have been looking at the end of the pier, and ocean.
Nothing else.
Now, there's else. I'm immensely thrilled by this.
Drink up sweet decadence.
I can't say no to you,
And I've completely lost myself, and I don't mind.
I can't say no to you.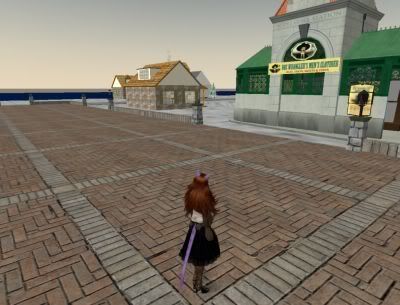 Already the first shop has gone in. I know for a fact there will be more. But it's nice to see the thriving jostling of commerce come in, too, with the first residents.
Place looks HUGE.
Shouldn't let you conquer me completely.
Now I can't let go of this dream.
Can't believe that I feel...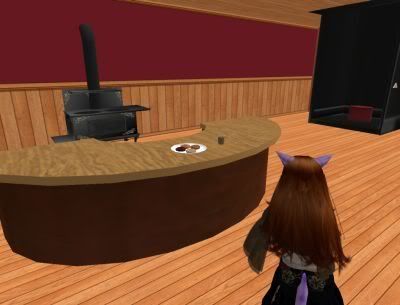 I'm not entirely sure what the point of Myfi's Doughnut Shop is. Four doughnuts for a building this large seems...excessive. Plus the black box in the corner scares me.
Still, the cider's fresh-pressed, and the doughnuts are good, so maybe that's enough.
Good enough,
I feel good enough.
It's been such a long time coming, but I feel good.
One of the bridges I've been hearing about. A great deal of effort went into this. It's gorgeous, frankly. Very detailed, and obviously built to withstand much foot traffic, and wide enough for motorized as well.
Another shot from the bridge, this one of Steelhead at large, both the city and the side of Harborside adjoining it. This...is an accomplishment, indeed.
And I'm still waiting for the rain to fall.
Pour real life down on me.
'Cause I can't hold on to anything this good enough.
Am I good enough for you to love me too?
f
I'm rather amused seeing gypsy tents in Steelhead,
any
part of Steelhead, old or new, but...what's that by the blue one...?
So take care what you ask of me,
'cause I can't say no.
Ah, Steelhead, how I've missed you. It's good to know that
all
of the weird didn't leave when the new sim arrived. Great news, indeed!
Do come visit. I don't know if there are any parcels left, should you wish to live there, but dropping a notecard to Mr. TotalLunar Eclipse will at least answer that question. It's coming along nicely.
Apparently next up? Steelhead Boomtown. With mine carts!
(Lyrics from Evanescence, Good Enough.)