Miss Magdalena Kamenev has begun making machinimas. Not only is she getting very good, but now I must bug her for the
baladi dances
!
Next up: they're remaking
The Prisoner
. No, I mean, in
November
it hits AMC. They've already released
the trailer
. (I have not yet decided if this is good or bad.)
As with other occasional terrors, it started over on Lord Bardhaven's
blog
, with a flip of a
frilly skirt and some mad power wheels
.
But then I went to the
Dandy Dwarves site
, maker of this lunacy, and while they have equally frightening "ads" in their viral section--one even sponsored by Betty Crocker!--for the most part I
think
they're just reaching for a break. Though they've gotten some small ones--there's the Betty Crocker tap, for instance, they've done a few commercials for Doritos, and "Pencil Face", one of their short films, received a nod at this year's Sundance Festival.
Flip over to the video section. The Kylie Minogue video is compelling, and disturbing. The Summerbirds in the Cellar video is strangely beautiful, and oddly hopeful, in a mass-destruction sort of way. They seem to be eternally caught in that middle ground between dehumanization and humanity. (Aren't we all.)
Good luck, guys
.
In other news, I went to Deadwood, South Dakota, last night. Well...I can't say
I
went...
I
, in most of my manifestations, are prohibited from Deadwood:
(The rules. Specific and enforced.)
So I was playing lady's maid to Lady Argylle, Christine McAllister-Pearse, accompanied by Lord Argylle, Edward Pearse. Had a last-minute problem when the fellow they'd tapped as valet couldn't come in; one of the Jagers threw on a human (ish) skin quick and subbed in until the fellow finally showed; then he crashed due to lag. All in a day's work, serving nobility?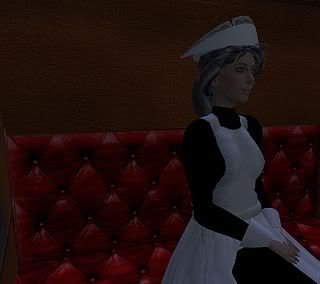 (Riding in the coach to town.)
(at request, larger picture lightened) (and now corrected, eep)
The main area I've linked is an OOC zone; it's mainly for people to pick up a combat meter, some basics on the sim, and look around vendors for clothing options and such. When you're done walking around--and you have an idea of what to expect--you can walk down the main area between vendors to the covered wagon. That's your teleport down.
Then, nothing would serve but that we ride by wagon to our hotel. The lag was
insane;
I couldn't figure it out, they had
plenty
of prim space, it was a full sim, not a homestead, scripting didn't seem
that
high...I was wearing a low-lag AO and low-prim hair, I took off my starched uniform collar, I changed to lower-prim shoes, and I was human, so no extra additions of scripted tail/ears, flex whiskers,
et cetera
....it drove me bats all night, trying to figure it out.
The lag did cause some oddity now and again--severe lag can do that. I suppose it was only fair that it was severe oddity: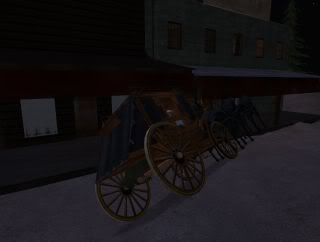 (Three avs in a coach stand up: coach tips over. Physics at work!)
(at request, larger picture lightened) (and now corrected)
Did I mention this is an RP sim? Not like, hang around and have fun romping through the woods RP. Not Steelhead or Caledon RP. Not even the slightly more stringent Babbage RP.
No, this is
serious
RP,
reenactment
RP. Deadwood, South Dakota, 1876: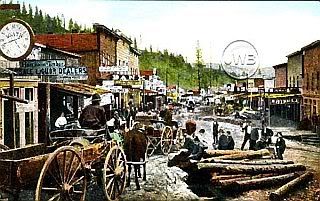 (Main Street in Deadwood, recolored original photograph dated 1876, from a Deadwood genealogy site)
Deadwood, South Dakota, 1876 (Phoenix Pass sim):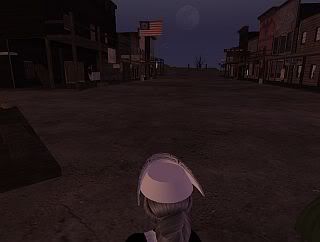 (Main Street in Deadwood, in world; far as I can tell the street's even the same width.)
(at request, larger picture lightened)
Note the very
marked
resemblance; I swear, these people pored over existing photographs and rebuilt Deadwood timber by timber. Walk down the main street, and look at even
modern
photographs of the town, and you'll see a
stunning
resemblance.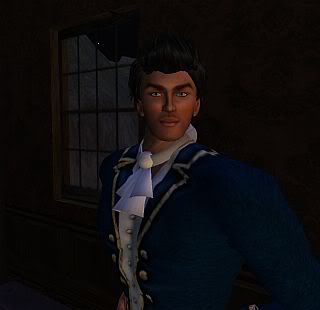 (A handsome stranger we met in the Phoenix Hotel.)
(picture not lightened; come on, he was a Mysterious Stranger!)
After getting registered for the evening--and I mean that; coach to the hotel, some polite conversation with the proprietor, confirmation of our registration, being led up to the hotel room; did I mention
serious
reenacting?--we departed again with our guide, one of the owners of the Phoenix Hotel, to meet with the Mayor of Deadwood.
In a saloon.
Lady Argylle had a mild fit of swooning.
(We later found out the town apparently has seventy-five public houses; I believe Lady Argylle nearly fell over!)
I admit, I wasn't entirely sure of the character I was supposed to play; of course I had generalities in mind, and in most sims that would have been enough.
But the Deadwood people? They know what their late husbands did in the War Between the States. They know how their late husbands
died
. They know how Wild Bill Hickok died. They remember the fall of
Custer
.
Serious
reenactors. I felt vastly out of my depth.
[20:30] Christine McAllister: I was wondering when your town was established?
[20:31] Edward Pearse: "Very charming"
[20:31] Claytanic Kungler smiles, "In '76 was when the first men came in with carts and tents to rush up to the hills to establish claims."
[20:31] Christine McAllister: Ah
[20:31] Christine McAllister: Very new
[20:31] Ernst Osterham: Before my time, of course
[20:32] Edward Pearse: Still relatively new. That would explain the absence of brick buildings
[20:33] Christine McAllister: The town has quite a few buildings for being so new though
[20:33] Claytanic Kungler: This all was Indian land before a famous General named Custer lead troops into here.... they found gold in the hills... sadly the injuns killed General Custer and his men but it was already too late and word got out about the gold and folks flocked here and thus this town.
[20:33] Edward Pearse: Oh yes I've heard of Custer
[20:33] Christine McAllister: How fascinating
[20:34] Ernst Osterham nods, "A tragic end to a great man"
[20:34] Edward Pearse: Are there any of the Noble Savages still living in the areas about?
[20:34] Claytanic Kungler: Most of the savages have went North to Canada or are no longer [amoung] the living.
They're good people; don't mistake me. They're good people and good characters, good
reenactors
. But when we visited another hotel to see about dinner, the proprietress
apologized
to me that they didn't have flatware to carry out and set on the table.
I mean, these people are detail-
obsessed
.
(Led to the mines, moments before the ladies departed the gathering, in search of a seamstress in town)
Let me tell you, it put Caledon in an entirely different light for me. We were sent to wander the main street, the Lady and I, when the Lord went to tour the mines--they proclaim much of safety, but there have been several mine accidents of late--because the air was deemed too "challenging" for our delicate female constitutions. We were cautioned against roaming too far, in case we came across some minor upset, because the upset generally involved getting shot.
Several of the women in the town were having a brief lie-down from the rigors of the day; various apologies from various sources came on their behalf. Meanwhile, I'm casting back on various days I've hosted three dances in one day, then went home and designed two dresses and built a skybox. Or planted a garden. Corsets must be looser in the Realm of the Roses...or something.
Deadwood, South Dakota, was a land of spare harsh beauty, clapboard painted-front buildings leading out onto a dry dusty street, populated by a group of
very
committed residents. I would tell you to go if you're:
a) human
b)
seriously
into post-Civil War-era Western Americana;
c) willing to assume the
mores
of the time; namely, accepting mysterious deaths of "Celestial" (aka "Chinee") residents (likely along with "black Irish" and "coloreds") as just par for the course of "those folk" trying to fit in.
[I'd add d) since I'm thinking about it, while this post is in edit: willing to accept female frailty as an everyday fact of life, save for daily evidence of hard-working pioneering women digging post holes, working cattle ranches, tending to wounded men, unloading barrels, boxes and crates, doing mass laundry for hotels and homes...again, all part of the inconsistencies of frontier life.]
They really are trying to set up some serious roleplay settings dealing with daily life in South Dakota; serving drinks, serving food, booking people into hotels, dodging stray bullets, celebrating funerals, weddings, mining, panning for gold, and average daily town life.
I should mention one last thing. Miss Astolat Dufaux has a lovely branch store on
Main Street
:
(The advertising signboard on the elevated wooden sidewalk.)
I mention this for two reasons: first, she has a
lovely
set of four mourning gowns with bonnets, expressly made to represent mourning from distinct eras. Each dress/
chapeau
combination goes for L$250, or you can buy all four (hint, drop, thud to the Caledon Widows) for a special price of L$800.
Second, she has three items for free, just for walking in to her store, and they are all very useful for life in this sim: first, the Lady Settler (simple calico and cotton 1878 western wear) frock, the Western Settler outfit as well (simple braces, trousers, shirt, all in period fabrics for men), and the 'modesty' white collar and neckliner freebie. But, as with everything else, there are codicils:
1. Remember, 100% RP sim, 100% of the time. While you
can
port directly in, they do not allow modern attire or bling (you can be banned from the sim for either), and yes, that includes shoes.
2. No immodest tags, attire, or shoes unless you're trying to be labeled as a "soiled dove". I think most of you can work out what that means.
[And again, while I'm thinking over it, I'd flash you back to the rules of the sim and add 3. Remember, no presence on the sim is allowed unless one is a) a member of the Road to Deadwood group, or b) specifically invited onto the sim.]
I'll be honest, I'm not sure I'd go back; the insane lag was terrifying, and I had to close down nearly every program I had open (including Firefox, which normally sits fine in the background, and also many active links that remain for ready access along my taskbar just to stay connected); in addition, I'm just not sure what the shapeshifter-about-town would
do
there.
But this is
far
from your typical dark-fantasy romp with glowing trees, or dark-SF romp through destroyed space stations. It's even far from other vintage roleplay opportunities. For that, at least, it deserves some support. I'm sure its audience is somewhere on the grid.
Colonel Hotspur O'toole springs to mind...