Because, if all goes well, my children's children, too, will have their tomorrows thickly sliced and sweetly scented, studded with memory, and appled with hope
.
It's a good wish.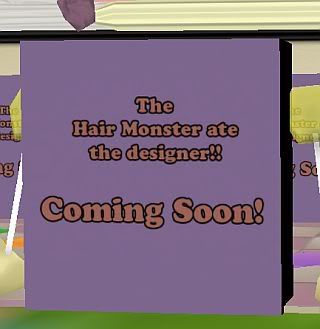 With only a week or so left to go on the Hair Fair? I think Nushru is out of luck. "Coming Soon!" is rather optimistic at this point.
And on not infrequent occasion, the Japanese
deeply, deeply confuse me
. Forget the question of why would anyone want a motorcycle made out of two women; that's actually self-answering. It's the deeper question of why would you want the motorcycle made out of two women to be positioned in such a bafflingly
useless
fashion.
I'm with one respondent on the mention--the fan art from this is either going to be horrendous, or fantastically confusing...
In Americamura sim, Hani
just opened: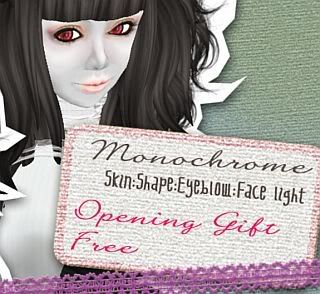 Note: "eyeblow". Um, I'm fairly sure I don't want that ever to happen.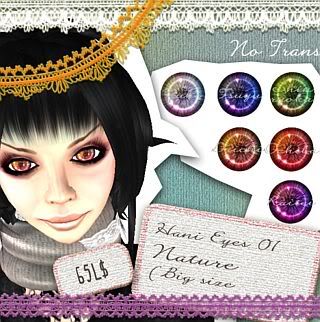 Also, if these are the "eyeblows" in question? Wau, do they make her look demonic.
Still, that could have an up side--all of the wicked fun with the nineteen yards of angst on the side; no horn headaches!
The other up side? Everything's half off for the opening, so this eye set, and the "nomal" (yes, that's how she spelled it) size ones are both L$32 a set.
In other news, life continues downhill. I shouldn't be surprised at this anymore...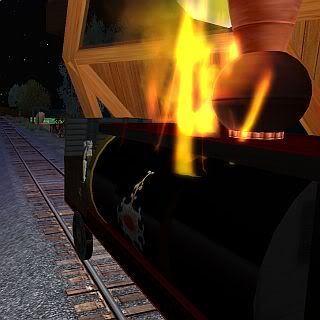 I rather figured this would happen, actually. The nature of things being as they are, the train wreck couldn't be peaceful forever.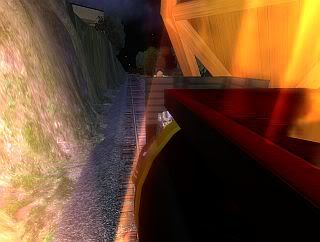 On the
plus
side, the train's mobile, and only
slightly
on fire. This is actually good news.
Now I just need to find the
rest
of the train...
Honestly, going back to Hair Fair for a moment? It kills me that people are still screaming about ARC. It's
so
flawed, it's
so
unreliable, yet so many people have seized it as the Source of All SL Evil; even I fall into that thinking on occasion.
ARC really only lags me; I
do
understand that; my best option for not lagging trying to rez in someone with over 3000 ARC is just to face the other way.
In Hair Fair, this becomes problematic, though; my choices seem to be 1) face the 3000 ARC idiots with overprimmed backpacks and belts, legwarmers and fluffy neko tails (and yes, it's
tragic
how many avatars that describes), or 2) face the sculpted 150-prim madness that is each individual vendor booth at Hair Fair.
There's no way to win.
On the plus side, Mr. Drinkwater's rez day party was yesterday, though his
actual
rez day is the 24th (I think...when last checked, that's the date I remember).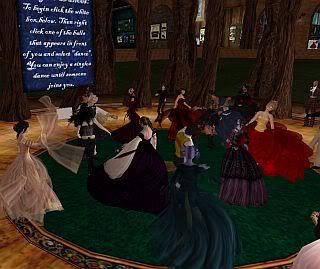 So of course a party was thrown!
I'm usually the one detailing who was whom in the photo, but I have
no
clue. I know Duchess Gabi was the DJ in peach; I know Mr. Drinkwater was tattooed in the kilt; everyone (and it seemed like everyone I knew and then some popped in!) else sort of all blurred together. Just about everyone who
could
make it, did.
Pretty nice accomplishment for a fellow who walked into a grid with no libraries at
all
. Three years later, he's the standard everyone wants to emulate. That's just damned keen. And the best benchmark for excellence any of us could hope for.
Kudos, Mr. Drinkwater, and may you have many more rez days to come.
Lastly, before I tie this up, I've gotten into video-making...sort of.
One True Media
has a service whereby one loads pictures or video clips, then uploads music, and the service pairs them and presents them. You can then upload them to a blog, a web page, or my personal favorite, YouTube.
I started with one of my favorite movie soundtrack songs, paired with images of Harley Quinn and the Joker in various forms--
Too Bad You're Crazy
. Then I got introspective--the train wreck on the rails again does that--and turned out over the last four days
Sleep
and
We Walk the Same Line
.
I'm getting the hang of this, I think. I just need to not freak out so much on proper attribution of
everything
...