This scares me deeply
.
News from Grand Tour III was surprisingly positive, in spite of the grid falling in shreds around the participants. Some animosities were cemented, some drama was created, though few want to talk about it and after this morning's
contretemps
at the last stop, I'm just going to keep my head down and not ask people questions.
(Actually...no. I can't let this sit here, though I really, deeply want to.
(But I'm finding I'm getting upset at Caledon all over again. What gives anyone the right to label anyone else--much less someone who's not even present--as "racist" simply because they don't favor the style of roleplay? Which in Caledon has always,
always
been voluntary? Or perhaps no other Wulfenbach staffer has had to put out fires of "Nazi roleplayers" but me? [And yes, it's happened.]
(People really need to think before they speak. And I'm including me in that, but I'm not the only one in this.)
Apparently the Duchess Sandwich over at SteamSky City really
was a sandwich
, too, which still hurts my head. But onward.
Spent the last few moments of the Fantasy Faire, wandering around. Not best pleased with this year, both in terms of personal poverty (Hair Fair's going to
KILL
me, and what
IS
it with everything happening at the same time?!?), and in terms of script usage.
What peabrain told the Fantasy Faire folk that excess scripted rotating objects decrease lag? Because I swear, they were EVERYWHERE--floating fish, floating PLANETS, swirling petals--every single sim had at least one inanely horrifying example of Why This Sim is Lagged; and they had
nine sims
this year.
One vendor had set out that lovely swirling seafoam texture...on
grass
. With a
dolphin
leaping up. Talk about creepy.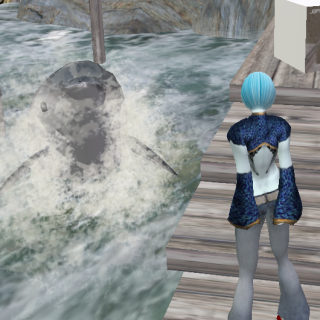 A view from three steps up on the 'pier' from the grass. Looks
slightly
more normal from this angle, but still...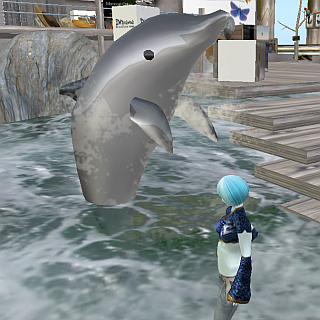 Apparently they
did
sink the land, a little, as witness by my standing in 'water' that was knee-deep. Even so, knee-deep is not dolphin-leaping deep in the least.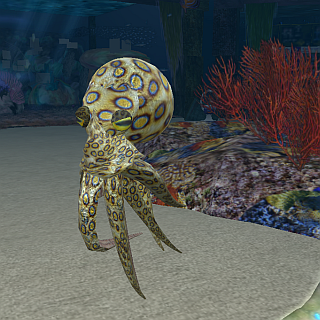 One of the floating, flexi, scripted octopi at the Mer Market. Lovely, but...flexi. Scripted. Moving on its own.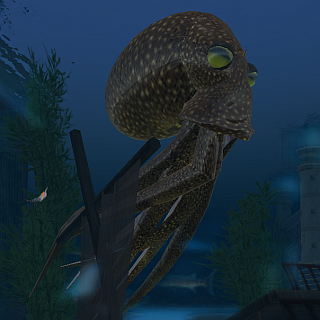 The Scripted Water Guardian Octopus...in the larger version, he's swimming over an entire primmed-out sunken
ship
.
And the first trip into Hair Fair 2009...wherein the wisdom learned from Fantasy Faire was put into play.
....
Are these people ON CRACK?!? I mean, SERIOUSLY now. First of all, it's going to be several sims of candyland to see the hair; secondly, it's several sims of big sculpted objects to rez in! They've lost their MINDS.
So, okay, fine, we'll cope, or not, as it is, and get through what we can, and if it doesn't work--or we go made from sugar-prim overdose--well, it's only what they deserve.
Remember, Radio Riel Steampunk premieres Monday! We're still gathering music as fast as we can, but we're going to add to it and present what we have still on Monday, and keep things moving. Orchestral, industrial, early techno, goth, darkwave, dark cabaret, worldpop--whatever our DJs think fits. And we
all
have different definitions of what does, so it should be fun.
These are the direct-access codes you'll need, keep them in mind:
Now, very few people knew beyond "music" and "music2"; on rare opportunities we advertised events happening on Graceful or someone else's permastream. But this is now all in-house, both to bring great variety to what we play, and also, because Duchess Gabi really felt New Toulouse and New Babbage needed their own soundtrack.
Which may have been a very good thing; since Dr. Obolensky has kidnapped the Clockwinder away, Radio Riel will be the voice of the resistance in New Babbage!
Can't stop the signal.