I'd Blow Guys Away: BLOWING SO MANY DUDES
I'd Blow Guys Away has changed their name to Stiv.
Stiv is now Offline.
I'm going to just assume God meant, "blowing
away
so many dudes"...because past that the visuals start to scare me.
Miss friskie Quintessa: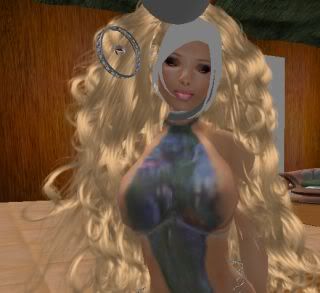 And her eye collar. Unfort these are two really quick pics, she was still rezzing in (as you can see), but the first glimpse I had of her, her collar was circling around her
eye
. I may be wrong in this, but I'm
fairly
sure collars go around the
neck
.
And, while it's very attractive as hair jewelry, I really don't think it's supposed to go
there
, either.
I am glad for one thing, though--I pulled her profile to see who I was dealing with, and found this line:
"Sometimes one puts up walls, not to keep people out, but to see who cares enough to knock them down."
A very good point, indeed.
Shifting topics, why are some freebie blogs starting to blog...well...non-freebie items? I know we're all feeling the pinch,
and
we're trying to encourage grid economics despite the big, flaming spiked socket wrenches the Lindens throw in from time to time, but still...it seems odd.
Case in point:
FabFree's coverage of the Platinum hunt
. (Which is annoying on another level, because now I want/need/crave some of the hunt dresses! So irritating...) It's a freebie blog--it's one of the longest-running freebie blogs--but it's covering a 10L hunt.
This behavior isn't new;
a lot of the free blogs
are doing it, and
it's happening more and more often
. Why?
More on the
Golden Wrench
controversy over at Valve. First, between
eight and ten people
have now stepped up to formally destroy their Golden Wrenches, a once-in-a-lifetime acquisition, to benefit the charity
Child's Play
. While I laud the concept of the giveaway, the push behind the donation raising should be something Valve should be paying attention to, and I really don't think they are. To wit:
The Steam community has seen a bevy of bad emotions resulting from this distribution (and, in some cases, from hacking-related fallout), and as an owner of the Wrench, I've also experienced a bit of its curse. While it's certainly fun to wield this magical weapon, it's also served as a source of constant inquiry, hate, jealousy, and unwanted negative attention. It's a shame that such a fun item was so limited; it has ultimately made Team Fortress 2 less fun, not more.
He's not wrong. Again, he's doing everything he can to make this tragedy benefit
someone
, but this has resulted in more animosity, bitter resentment, and actual
account hacking
than I'd ever heard of in
any
video game feud.
All for love of the game...but that's not why Valve did this. I honestly think they mishandled this situation, and Valve being Valve--generally speaking, they make Linden Labs look like shiny happy people who are effusively in contact with their user base--they're not going to apologize.
Which is a pity. But on the plus side, more than $20,000 US has been raised to benefit children in need. That
is
a very good thing indeed, and there's still time to donate.
Help the cause if you can. Or just trip by Child's Play directly--it's never a bad time to drop off spare change, and that change
always
goes to good places.