Readers, writers, you are welcome to peruse
the index of banned words
. Sadly, several words I like using are on that list. Even more tragically--for my readers at least--I'm not going to stop using them.
After some small amount of personal consideration, and a fair bit of worry and hand-wringing, I have decided to allow only registered users (Google accounts and/or OpenID accounts) to comment, with an additional Captcha setting (those odd words you have to type in additionally on certain blogs to send your comment). I may lift the registered users restriction in a while, but today was the absolute last straw in Anonymous commenting.
On
this entry
, Anonymous Whomever sent this:
chicago pornstars
xposed chicks
anatuer chick
paris hilton and blowjob
black ob blonde redtube
which
started
his comment (and yes, typos and all, that's how I received it), followed by a
very
long list of porn URLs, all tracing back to a specific fly-by-night site.
I am not anti-sex; far from it, and anyone who knows me
knows
that. What I
am
against is having people decide my blog is a great place to park their spam. This is not that forum; move on. Hopefully a few weeks of not being
allowed
to spam my blog will convince them to cruise on to the next hapless service.
Sphynx, I apologize in advance, I know you have problems with Captcha, and they are understood ones. But I've hit the end of my ability to tolerate the spammers with a smile.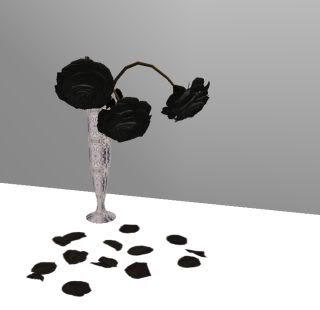 Just so you know? These are lovelier in person.
In person, they're also 81 prims. Complete with slowly falling black rose petals, a charming cut crystal vase, containing three drooping blooms on withered stems. A small drift of fallen petals curves around the base of the vase.
Loveliness incarnate, truly;
excellent
work. And all for L$200 at
Belle Amie
.
But...81 prims. Ouch. You pay for pretty.
"Already the writers are complaining that there is too much freedom. They need some pressure. The worse your daily life, the better your art. If you have to be careful because of oppression and censorship, this pressure produces diamonds."
Tatyana Tolstoya wrote that. Is it surprising to anyone that she's a writer--a Russian writer, at that? (Though
Tolstoya
as a last name is a giveaway. Tatyana, for that matter, also.)
More oddity from Blizzard:
From: wowaccountadmin@blizzard.com

Sent: 2:56 AM (GMT+08:00).
To: emilly.orr@gmail.com
Date: Sun, Aug 15, 2010; 2:56 AM
Subject: Survey of World of Warcraft account
Mailed-by: hotmail.com

Hello dear players

Your account by other players reported using illegal plug-ins, that is, robots! If not, you use the robot, I hope you work with our survey! Here we need to verify your account information, please visit:
battle.net/login
leave your phone number, we will contact you the first time! Solve the problem!

World of Warcraft Support
Blizzard Entertainment
At least this one
sounds
like spam on the face of it. (Note the actual send-from stamp of "Hotmail" on the missive, f'rinstance.) Still...so odd. And again, I exchanged the words in blue for what they
actually
wanted me to visit to "confirm" this mysterious account I do not possess--namely, wow-account-battle.dipns.com. (I don't recommend anyone goes, by the way. Just putting it up for reference.)
I mean, I'm all for people trying to make a living, but spamming people who don't even have the accounts they're trying to hack to gain...what? WoW gold? Can you
get
WoW gold from someone who doesn't have it? I just don't get it.
It's like all the spammers infesting Runes of Magic. Runes has now made it impossible to buy diamonds and use them to transfer gifts
or
purchase things in the Auction House; and they auto-ban anyone who happens to follow one of the spammer's screamed chats for whatever website they're top-hawking this week, so...what's the point? How are they making money?
Seriously, I'm starting to think all spam websites are codes by secret government organizations. Like, every time you see an advertisement for that simple/easy/effective/ teeth whitening formula, it's actually a CIA agent checking in with their field office, or something.
Hey, it makes more sense than the alternative of people actually
buying
the "cheap and simple" tooth whitening formula--whatever it is
this
week--over, and
over,
and
over
again...Doesn't it?