The night wore on, and I was getting quite tired of climbing mountain after mountain, through Caledon's fair lands, cataloguing the new mineral deposits. I thought my oddest experience as the night advanced to early morning hours would be climbing to the base of Wellsian's abandoned mine shaft, carefully sifting the ocean sands, breathing slowly through new gills, digging up odd chunks of coal and silver.
Coal and silver, tin and copper, gold, sulfur, iron, uranium...and cavorite, now and again, floating away into the slowly lightening sky if I didn't grab it soon enough.
Then...I heard tell that Mr. Allen had discovered a new mushroom ring...
and
minerals were found
nearby
.
I came in at his behest to look around, just as he had to leave to attend a business matter. And thus, I was alone in the odd, cavernous space.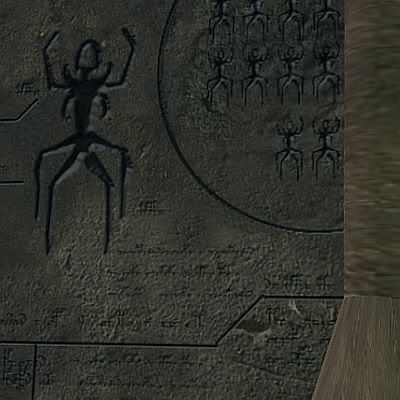 At first, I tried to puzzle out the odd markings on the walls. They seemed to be everywhere--walls, ceiling, floor...
Including an odd circular raised portion of the floor, that held a pedestal with an oddly flickering, greenish light.
(Miss Acker, who arrived later, and I, staring at the platform.)
I found out, completely by accident, some of these...odd structures...were still active.
It took a bit before I figured out how to escape from the odd, pulsating enclosure. But it took Miss Acker getting captured before we discovered one of the odd dome's secrets: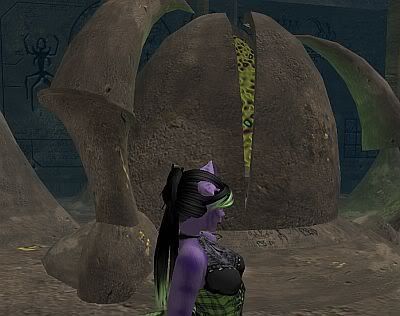 (Miss Acker trapped under the dome, searching for the button, finding something else instead...)
Wind whistled through the space, odd chiming tones were heard, clickings and activations along the edges; I began to get somewhat nervous.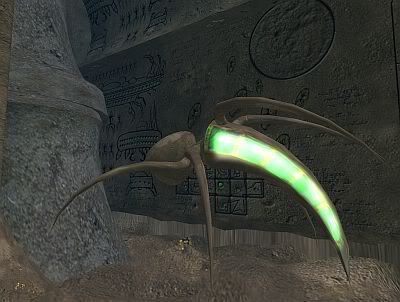 I watched as odd structures I'd taken as carved stone activated, began to glow. I began to move to the back of the cavern, looking for a good, defensible place to hide.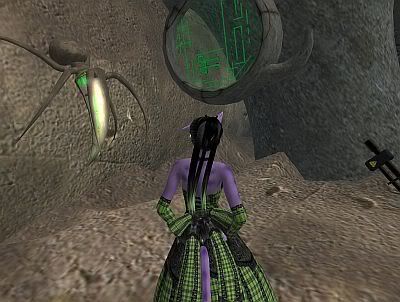 (Control panel? Abandoned machinery from beyond space and time?)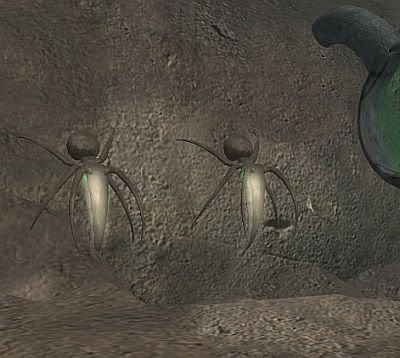 (And what are those odd spiderlike things beginning to glow on the back cavern wall?)
Miss Acker found out one more thing, entirely by accident. Searching for another button at the base of the platform, she looked up, just as
old machinery activated
, and she was drawn up: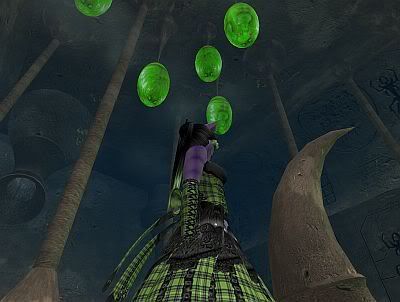 Note to self: touch
nothing
in the cavern, but the endless profusion of Horgidae mushrooms, and the odd bits of copper, tin and uranium ore that seem to be scattered about quite liberally.
But no cavorite. In a space that has cavorite ore fragments decorating the very
walls
, there's no cavorite ore to be found, with the rest of the minerals. I find that odd. I find that
very
odd.
We'll keep researching.