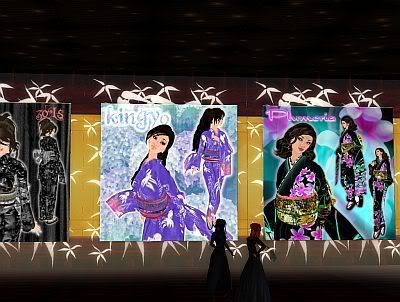 Milk Latte
is closing soon. I don't know why, I do know it's sad. I really liked this little place.
Same sim, maybe different owner, had a whole warehouse full of low-prim Asian furniture. Now there was a fun concept, too.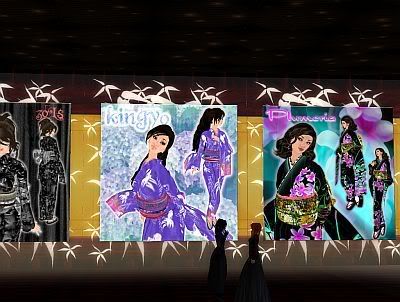 I had intended to come back and pay full price for the kimonos I wanted, and their full price, on many of these? Averaged between thirty and eighty Linden to
begin
with.
But at five Linden per kimono--and with her having such vibrant designs--how can I pass it up?
Anyway.
I got a chance to walk about SL5B at long last today. Some things were just phenomenal; some things were baffling as hell.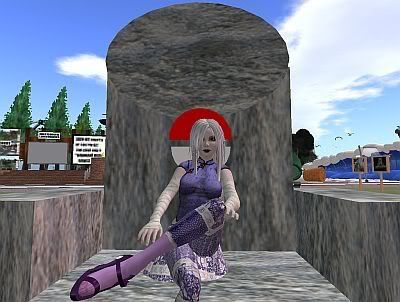 Like...why did YuriLover Nightfire build a chair? Just a
chair?
Approved application, 100-200 prims depending on build parcel size, and...no. Just a chair.
Just one chair.
And the sharks. OMG Maxx Flyer's sharks.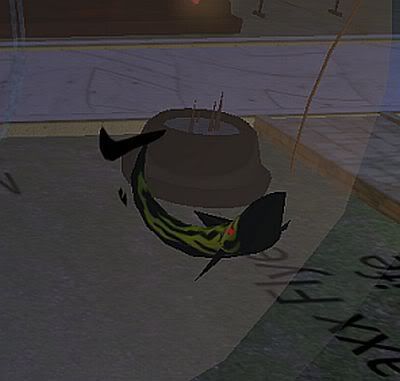 (Click for a larger version.)
Unfort, this is not the best picture, but these things are amazing--they actually
react
to the bubble--swimming around the center and pressing up against the bubble before swimming off. They're color-changing too, and they're in the bubble with two jellyfish, but forget all that--they are
aware of the bubble
.
That's...just...
astounding
, frankly.
Also, how is CodeBastard Redgrave's work--lovely as it is--PG? Is it
just
that it shows no genitalia?
Maybe it's just that the rules are being applied so inconsistently. One artist had to airbrush nipples off a classical painting to exhibit it. Another artist was allowed to put up a full sculpted version of Michaelangelo's
David
, in three dimensions, complete with male genitalia. A third artist was told breasts cannot be exhibited
at all
.
Is it just that there's too many organizers and not enough definitions of what "PG"
really
is supposed to mean? Then why
have
it PG at all?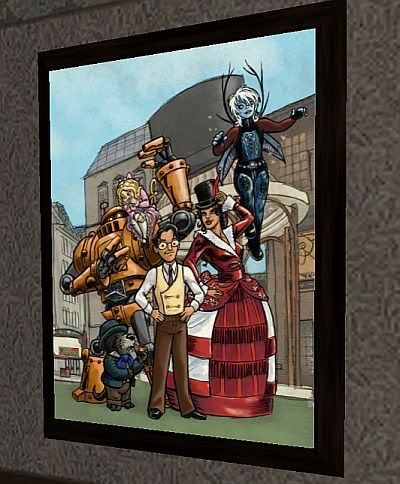 And this is the picture that got the Caledon build in trouble.
I know. It's so very
beyond
innocuous in every way. It was banned because--and this still baffles to this very moment--Miss Cornelia Rothschild (seen on Iason Hassanov's metal shoulder) was seen in a picture beside Desmond Shang, an adult male.
Right.
That
picture is going to give people sexual thoughts of adults and children.
That
portrayal.
Gryffin Hax would roll over in his grave, I'm sure. Well, if he were dead. Thankfully, he's very much alive.
And just as baffled.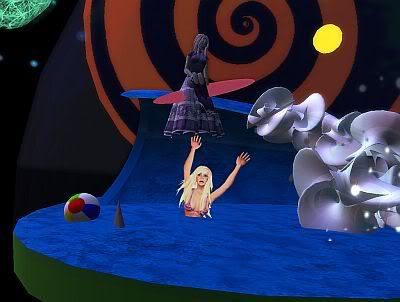 And I will admit, the tribute to Callie Cline's ego display Grim Babies put up was...something. I won't say
art
, per se, but it
was
something.
I'll give it another walk-through tomorrow, see what else pops up. But for the most part? SL5B, for all the hype, is beset by lag and texture meltdown, far too many sculpted objects, and far too many stores and modeling agencies determined to get new customers.
Next year it'd be nice to fix most of these issues, but frankly? I don't see it happening.