This is truly a day for melancholy and reflection. Today, the
last processor
in the
world
for Kodachrome-processed film stock
closed
to processing that particular film.
Now, was this closure avoidable? Not at all; back in June of 2009, Kodak stock labs had long since started closing, and the company itself stopped making the chemicals needed to develop the film.
Though digital photography and cameras have largely replaced actual photography, many say the colors are not as rich, as warm, as
close
to real life as Kodachrome. But, just like vinyl records, and analog's depth and richness of tone, the world rolls on, and it will roll on without Kodachrome film.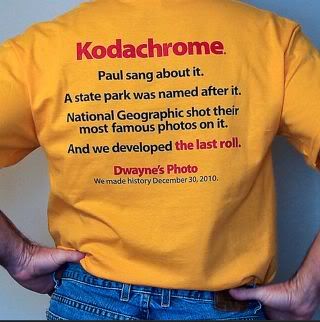 Dwayne Steinle, the owner of Dwayne's Photos (the last processing lab) actually opened their last processing chemicals last week. But he's a careful man. They lasted until Thursday.
The last picture on the last roll of film developed, by the way? Is the employees of Dwayne's Photos standing in front of the lab, in commemorative attire--which you can buy on the
site
. Never let it be said that Dwayne Steinle doesn't have a sense of style.
[07:17 PM] Entering chat range: Oonariannabelladavoratrelundara Resident
Come on now, people. You've gone straight to comedy at this point.
She's forty-three days old, and she has red hair. Beyond that, no one knows anything else--because there's
nothing else on her profile
. Phht.
The one thing she
does
have, with that improbable and ridiculous name? A name that is the maxed allowable, as far as I know, for characters. And to date the only
other
person with such a mouth-filling nominative is SheOfTheSourSnailSuckers Sellery.
Sorry, Snails; I won't say you've been beaten, but you've been equalled--in length of name, anyway, if nothing else.
Also, while we're here, meet Lieutenant Newey.
[04:28 PM] Emilly Orr: Hello, Lieutenant! If I can help, just ask.
[04:29 PM] Lieutenant Newey: http://slurl.com/secondlife/Tranquility%20Lake/114/224/21/
[04:30 PM] Emilly Orr: That's what you want info on, or that's where you're planning on going next?
[04:30 PM] Lieutenant Newey: you a bot
[04:30 PM] Lieutenant Newey: ?
[04:30 PM] Emilly Orr: Not as far as I know.
[04:30 PM] Emilly Orr: Why would you think I'm a bot?
[04:30 PM] Lieutenant Newey: Your grammer
[04:31 PM] Emilly Orr: Because I can spell? Please.
[04:31 PM] Emilly Orr: That just means my brain works.
[04:31 PM] Lieutenant Newey: seems like the kinda place you would find a bot
[04:31 PM] Emilly Orr: Ah.
[04:31 PM] Emilly Orr: Well, if you say so.
[04:31 PM] Lieutenant Newey: i didn't say spelling i said grammer
[04:31 PM] Lieutenant Newey: but yeh
[04:31 PM] Lieutenant Newey: thanks lol
According to her profile, she's twenty-three, and works in "Web Design & Developeloperment" (that is a direct quote, I'm not making that up--look up her profile).
Apparently, these days, if you can speak with any accuracy whatsoever, you are considered a computer program. Some days I loathe the human race, I really do.
Alas, poor Rudolph...Someone beheaded a reindeer at
Bare Rose
! Nooo! June, that is
not
the spirit of Christmas!
Gentlemen, ladies...may I present to you Fatality: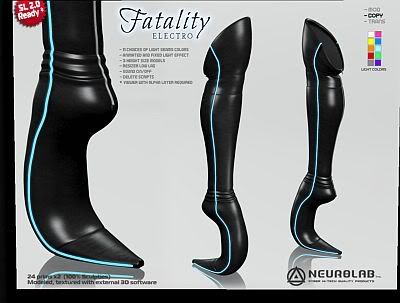 L$799 a pair, available in four colors (Electro shown on the small image, all four on the large), viewer 2 programming
required
. Found at
Neurolab
. I have no idea where I would wear them, but they are quirky and they may be a shoe NEED.
They also have some fairly extreme 'normal' heels, if height's your thing, that run between L$500 and L$700 on average. But seriously--if you have any technolust at all, you need to explore this store.
Going back to idle ranting, this was caught randomly from a friend. I have no avatar name, but truly, do I need one for something this ridiculous? This is the next big fad sweeping the grid anyway:
"ALL CHAT LOGGED AND RECORDED IN SL

By you IMing me, You do hereby AGREE AND RELEASE ALL RIGHTS TO ME BEING LIABLE WITHIN THE TOS AGREEMENT AND RIGHTS TO YOUR PRIVACY CONSENTING FOR ME TO USE YOUR CHAT LOGS AS I WANT TOO MAY IT BE COPY AND PASTE TO OTHERS IN SL.IF YOU DO NOT AGREE THEN DO NOT IM ME..YOU HAVE BEEN WARNED THIS IS HAPPENING AND LINDEN LABS STATES I HAVE TO WARN YOU AND HAVE..AND AGREE WITH THE SAID INSTANT MESSAGE YOU SEND TO ME YOU AGREE AND CONSENT, YOU DO NOT HOLD ANY LEGAL RIGHT TO TURN A REPORT TO lINDEN LABS FOR THIS MATTER AND AGREE I AM NOT ACCOUNTABLE FOR THIS ACTION WHEN I DO IT AND YOU ARE CONSENTING FOR ME TO DO WITH YOUR INSTANT MESSSAGE WHAT I WISH
- CONSIDER THIS A LEGAL CONTRACT BETWEEN US...

OFcourse if you violate it and are really rich or really hot
I'm sure we can work something out......"
Because these stupid things are
catching on
. (And yes, that's verbatim from the gnat-brained avatar in question, typos and all.)
Here's a tip, children: THIS IS NOT VALID. Let me say that again, because it's vaguely important:
THIS IS, IN EVERY WAY IMAGINABLE, LEGALLY UNENFORCEABLE, AND YOU WILL BE LAUGHED AT FOR TRYING
. Just
stop
already. It's meaningless and makes you look like you're leaking brain matter
by choice
.
Friend of mine retorted what
they
considered to be the height of stupidity as an answer:
"NOTICE! Unless you notify me when we being an instant message that you have some sort of EULA or CLICK-THRU agreement, your agreement is not agreed to and is therefore null and void. This agreement preceeds your agreement."
Sadly, the first friend? Said he'd seen one like that...
*facepalms and weeps for our educational system again*
Anyway.
Y'know,
these
are cool and all, but what I really want?
Modded
Minecraft magnets. Or at least one 'normal' set, and one Painterly pack variant.
I know, I know, and probably egg in my beer as well. (Seriously--does that even
taste
good? Because the only egg and beer recipes I know of lead to either a) battered food, or b) hair conditioner.)
And I've been thinking about
this
, and, having put some thought into it, the whole concept kind of creeps me out. It seems like yet another step towards not accepting death as a process.
Look--forget the whole question of 'is there a soul' for the moment. Whether or not "Island Girl" is "real", under any application of the world. Let's just talk meatspace for a bit.
People used to be a part of the process. They would lay the bodies out. They undressed them, bathed them, wrapped them, anointed them...if they were part of a culture that burned their dead, the entire village gathered to watch the body go up. These were not uninvolved people.

Now? Embalming; caskets purportedly able to survive nuclear strikes; burial liners to keep anything even potentially organic from getting 'in'; hells, the entire field of cryogenics, which is still in its infancy, yet still maintains an amazing amount of invested time, energy, and estate monies. We're so separate from our death and dying. At least in the industrialized world, we seem to want death to be something that only happens to other people, and then only when we're not looking.

It's not healthy. It needs to change. And, whether or not I think transferring personalities into the net is a good idea, in any measure--we need to be more connected to the fact that people die, and that's how the process is supposed to work.
Or maybe that's the bottom line, in any realm: we need to be more connected. And not in immaterial surface ways.