Oh, the irony
.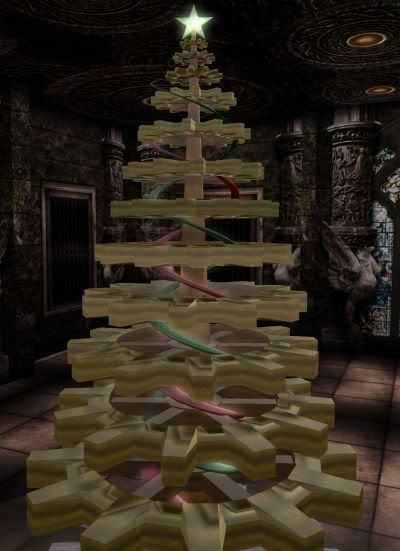 DV8 Designs is selling a steampunk holiday tree. It's copyable, modifiable (I made it bigger, and changed the colors), no transfer--and only L$75. What's more, it
moves--
each gear rotates, independently. And, as it's a modifiable thingy, you could likely easily toss a sound generator or a particle set-up in it. (I'm thinking of importing a handful of little silver gears and making it poof quietly.)
Go get it
.
[07:16 PM] Paracelsus Schonberg: The piano, however, was unexpected.
[07:18 PM] Eclectric Breitman: No one expects the Pianish Acquisition!
[07:20 PM] Emilly Orr facepalms and moves on.

There's some really scary
Krampus pictures
on the Etsy blog. Still seems like such an odd tradition: instead of coal in their stocking, children who misbehave get whipped! And lo, the holiday fetish was born...
More from Adam & Eve (they've released new fantasy eyes!) and spots around and about soon. But for now, go nab that steampunk tree! It's a steal at twice the price, for all you can do with it.