We made it on the wall!
Fifty-five book pages. One hundred clues. Ten apples. Solving the murder in the maze. Surviving the haunted house.
WEMADEITOMGWEMADEITWE'REDONE...
*falls down twitching*
Okay, next?
Welcome to
St. Jude's School for Girls
. Welcome to "Cutting Class".
The (still, in my opinion, unfortunately named) business called SN@TCH boasts an owner, and several models, who are horror fans. Not only does this lead to intriguing fashion designs, every now and again, but an absolutely top-notch horror attraction this year.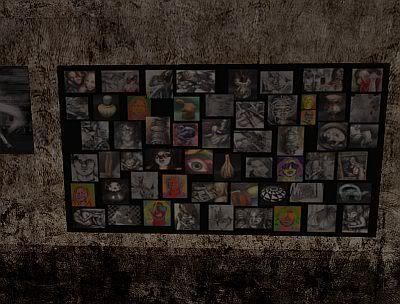 "Cutting Class" is something of a murder mystery. Who killed the six girls lost, so long ago, at the all-girls' school? Why? And what's happened in the meantime to the rest of the school?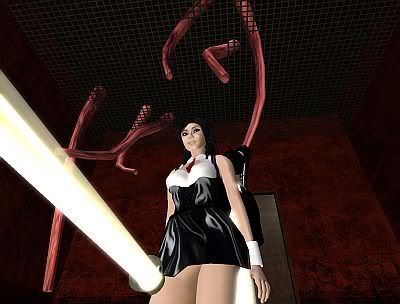 The upper levels of the school are quite creepy on their own. An eternal whispering and scratching sound, like someone crouched next to a blackboard, writing, eternally writing, pervades the upper levels. Occasionally mad giggles sound out, sometimes girlish sobbing, and one has to be fairly creative to explore all the rooms. Don't leave a locker door or a desk drawer unopened--some contain clues, as to who disappeared and why, and in what order--that's important--and other hiding places conceal free event outfits from Miss Ivey Deschanel, SN@TCH's designer.
Down on the lower levels, things changed. A fall down the elevator shaft resulted in a pulsing nightmare of moving, churning flesh that was nauseating to walk through. Pushing through wet, groaning muscle-red strands, gleaming white tendon fibers, to get to a hellish new level, was horrific in the extreme.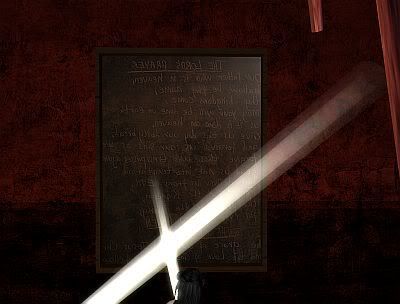 Religion began to play a part, as it often does. Small little bloodsoaked chapels, the Lord's Prayer inscribed on a sheet of metal nailed to the dark bloody wood--carved in backwards.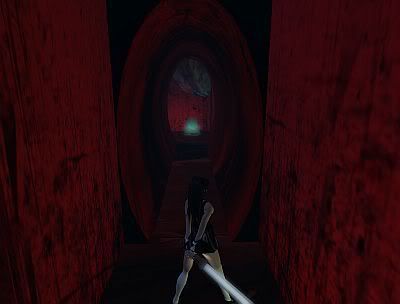 Sometimes the light at the end of the tunnel...comes with glowing tentacles.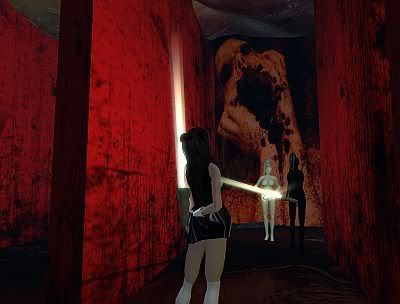 The art grew increasingly disturbing, and the thought wandered through us--was it like this in the beginning? Or did it change, as the school's lower levels had?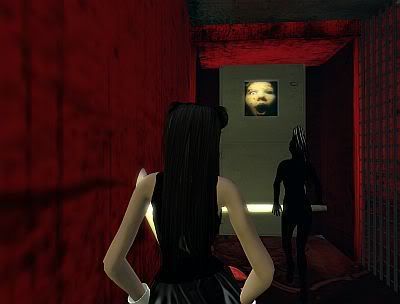 We finally found the one girl presumed missing, not slain--but we were in no position to help her. And she was in no condition to leave the school--if any of us could.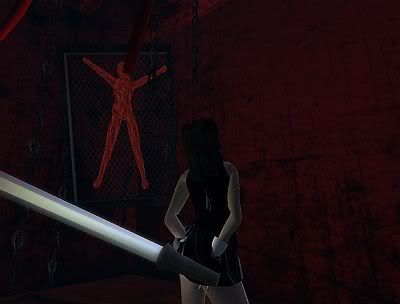 Finally, we started finding the dead girls--only, watching this skin-stripped girl move and writhe, we realized to our terror that they were still
alive
. Somehow.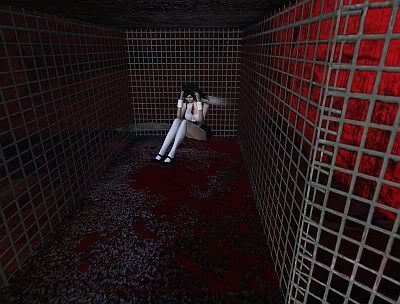 I finally broke utterly, retreating to a half-open cage and moaning in distress. I can admit it now--the hell-basement wall-poster of Shawn Cassidy drove me insane.
If
you live through it, if you solve the puzzle, find out the codes to get upstairs and down, and wend your way through the hell maze to the end--several designers have done their best to reward you for your suffering. A gorgeous group pack of clothes, gems, belts and other fun items awaits, hidden in a clickable tombstone.
Then it's up to you to walk out the exit door...and fall to your death. All in a night's work...or something.
Next up: S.I.C. We'd heard about a hunt in
sick
(That's actually sick2, the start of the Halloween items.)
(The intrepid band of adventurers sets off...and prays not to crash into a building.)
Find your way to the main city center in sick2, pick up an event HUD, and attach it. Then find ten little boxes with glowing blue sides, from clues given in a separate notecard.
(Miss Bohemia experiments with extreme piercing.)
It's pretty easy if you know the set of sims. As we're not all familiar with it, we kept grabbing five-minute rentals on hoversleds, hoping city overflights would reveal some of the hunt locations to us.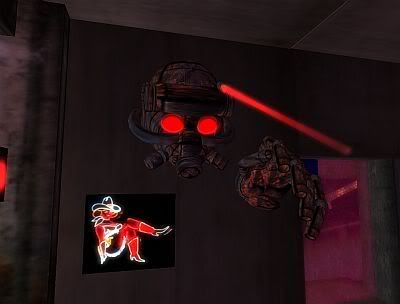 Sometimes the journey is worth more than the destination--there are some sights, tucked away in little roadway bars, or just sitting aimlessly atop buildings--that still blow me away. The level of love and detail in the sick sims is simply amazing.
At any rate, it's a fairly quick hunt, and fun, and it ends--once you have all ten items--in a very interesting hover-vehicle on its own. Yay.
And somewhere in
Intromoto
there is a Lucky Chair that, on and off this month, will be serving up flying vacuum cleaners for winners. I need to put that on the Lucky Chair stalking list.