This one's short, though not sweet:
Primverness
is burning.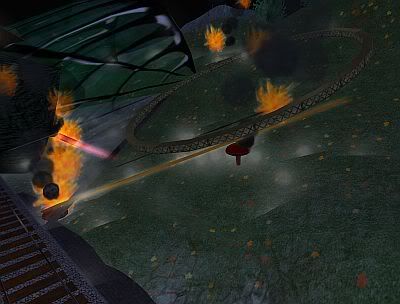 What, you thought I was kidding?
Lady CoyoteAngel Dimsum has set her sims ablaze in protest of the proposed OpenSpace sim price hike.
Further details on that--Desmond Shang has confirmed that at the largest of the protests to date, Linden Labs began forcibly logging out protesting avatars. He saw it happen.
The conflict still rages on
Vryl Valkyrie
's notoriously ridiculous decision to boot three thousand members from the Save Our Sims group.
We now have people virtually
setting themselves ablaze
.
Is it
Second Life's second revolution
?
People, this is now out of hand, officially. The Lindens need to wake up and realize what people will, and will not, put up with.
Because the alternative is not grumbling but paying, as they seem to think. The alternative is...leaving SL.
When SL is really the ghost town the stories paint it, who's going to pay for the game, then?
Unfortunately, the simplest solution is also daunting--because I
like
it here. Others like it here. We have homes, jobs, friends, some have families...we don't want to walk away from what we've made, of ourselves and the game.
I think we're looking at a lose-lose option, any way it goes. And that is the true tragedy in this.