Wandering the wilds of the
Building Block hunt
, and I ran into something which stopped me entirely at
AIDORU
.
What I saw: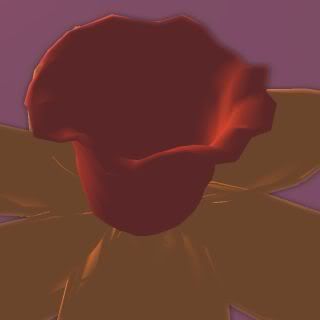 What I read on the notecard inside, once I bought this hunt gift:

cheat sheet? try again hun :P
if not... well try again :)

Cheat sheet? How about store list? Vendor lists from the official blog are now "cheat sheets"? And landmarks from the last store, to the next store, used to port, are now "cheating"? The hell??

I can't find the blasted thing I'm supposed to find here anyway; which was a

hammer

for the record, AIDORU person, not a daffodil in the first place! I found the

daffodil

by camming around your shop!

Tell me camming's not allowed and I will punch you in your pixelated nose.

I swear, hunts are getting more insane

and

more restrictive. It's a rare hunt now that provokes interest. The

Chase of the Beast hunt

, some of the things on the

Twisted hunt

....friend of mine, obsessed with cute mouth things and cupcakes, put together a hunt called the

OmNom hunt

(that links to part one of Schnaeppchen's pics for that hunt; here's

part two

and

part three

). Now, a lot of the gifts

on

that hunt aren't necessarily things I'd wear, but the

concept

of the hunt is what I love. Mouth noms? Food-based poses, okay, that fits too. Food-patterned clothing? (This is a Fawn turned in a really well-shaded hamburger shirt in bright summery colors.) That also works. There are no random gifts in this hunt; people really

thought

about what they were giving out; Sanura Sakai of House of Sanu actually took the time to sculpt sesame seeds.

You heard me. Amazing job, too, she took great

care

with those insane little seeds.

Versus, the lady I just found in

Peerskill

, who, for the builders' blocks hunt (a hunt that is

supposedly

geared towards getting full-perm textures, and full-perm sculpt maps, or full-perm modifiable furnishings, into the hands of makers to make new things) gave out a "Lucky" set of neko ears and tail. No copy. No modify. And there's a sign right next to that one for the "Lucky Charm" hunt, for which that maker is giving out...you guessed it...a "Lucky" set of neko ears and tail. And the Shamrock hunt next to it? Gives you the complete "Lucky" outfit, which also includes the

LUCKY SET OF EARS AND TAIL

.

No copy. No modify.

SAME DAMNED GIFT

.

Meanwhile, the organizer of the Nature's Hunt is up in arms, and she had some things to say on

Schnaeppchen's blog

that I thought were worth addressing (this is from Resje Bailey, the Nature's Hunt organizer):

Now i find that there are several people posting slurls. As organizer and hunter i really dont see the need of posting slurls. We are hunters, doing a hunt, to see more than only a gift. As organizer my goal is to let people see what kind of sims and shops are out there. That you get a gift too is an extra for everyone! I really dont understand the need of posting slurls and lots of vendors agree with me. It takes out the fun for them and the motivation to even build something nice or participate in a hunt. Because people dont get to see the rest or dont get to see their shop at all if they only look at the gifts and decide " Nah, i dont [want] that".

Fair enough. Now, let me tell you the hunters' side of things, Miss Bailey:

First, we all know that when grid-wide hunts started, the model of the new hunt was selectivity, and skill. One had to be a fairly competent builder, and it was--or at least seemed on the outside--an honor to be selected. And people put a

lot

of effort into what they put out.

But then grid-wide hunting proliferated. Last December alone, there were 31 grid-wide hunts.

Thirty-one

. That's

INSANE

. With most of those hunts being at

least

one hundred stores, if not more.

31 x 100 = 3100

.

Over three thousand new inventory items

, and that's counting just

boxes

, not the things we unpack, the notecards with each hunt, the landmarks to those stores, and the folder they come in. For

one month

.

Multiply that by three months. Six months. One year.

Two

years. I tend to hunt more when I'm stressed, because it's something I can do without a ton of emotional weight; any frustration I develop is solely the result of not being able to find the hammer or doll or ghost or pickle jar or

whatever

the hunt item

is

.

My inventory, now, after December, January, February, and this long into March? Not to mention October, which was hell...I have

62,750

items in inventory. And I have over

ninety-three hunts

I've participated in and haven't even

unpacked to see the items

yet! This is insane.

IN. SANE.

Yet you want everyone who decides to participate in your hunt to take the time to go hunt to hunt, using the landmarks found gift to gift. Because you don't "understand the need" to post SLUrls and pictures.

Okay, posit this scenario, Miss Bailey: I am working my way through the Twisted hunt, third year running. First year was unbelievably tragic; I knew without a doubt when we hit the run of wedding planners and baby factories that the organizers had given

no

thought to the theme of their own damned hunt. But the second Twisted hunt was better. So, okay, we decided to do the third.

Found the first hunt gift, with difficulty. This gave us the landmark--from the gift, not from a blog or a "cheat sheet" or asking in any of the myriad and various hunt groups to which we

don't

belong--to go to the second shop.

Wherein we totally failed to find the gift

. Miss Bailey, that

stops

a hunt, stops it

dead

. There is

no way

to get past that, because we do not

have

the landmark to the third store,

if we can't find the second gift

. Do you understand that? Let alone most people on the grid don't have the time I do on occasion--and if

I

spend over an hour trying to find

one

bright green and black,

rotating

box, and

can't do it

--that kills my interest in the hunt.

Let

alone

some of the bastards on the Twisted hunt are hiding their prizes

inside store walls

. I'm not kidding. That is unfair and

stupidly

unrealistic to expect everyone to get that hunt gift, who's not willing to spend two hours camming about a shop, pixel by pixel, inch by inch, to

maybe

track that gift down.

It drains enthusiasm for that hunt; it drains enthusiasm for the concept; and believe me, at this point when I port

anywhere

, no matter

how

interested I might have been in their gift, and see that they're participating in nine hunts? I generally walk away. There will be

zero

care given to that gift; it will generally be a toss-off; and the maker involved is

only

doing it for the traffic, not the love of craft.

Plus, most of the grid-wides now discourage hints being given. Why? Because "it's supposed to be a hunt". Screw you people, and I'll tell you why:

we don't know everything

. Even if it's to stores we like, if we don't have a general

idea

of what we're looking for, and

where

we're going to find it, we have no

clue

how to find things! It is frustrating and irritating and stressful, and more stress on the grid,

no one needs

.

Let's take an example I just found, 'Sweet Misseries' in

Anala

. Beam in on a round circle of stone. There is a a guiding path of blocks and hammers that leads you up the stairs. Once at the top of the stairs, there's another little guiding path of hammers and blocks. And at the end of

that

little path?

IS THE HAMMER FOR THE HUNT

.

OMG RATIONAL PEOPLE!

*faints*

(Not to mention the fact that right now they have an

incredible

deal on their

vardos

--the "Gothic Cross"

vardo

itself, with the sleeping platform and the bed alone, 78 prims of Romani goodness, they're currently selling for L$525; you can get a mod/copy version for L$1050; or you can get the full bells-and-whistles furnished package, with bed, desk, all decorations, stove, chairs, and decor, for L$2500--and everything is packaged separately, not as one single clump of prims. How cool is

that?

)

So I use Schnaeppchen's blog. Because if I got everything on every single hunt I was interested in, I would have no time to build, no time to socialize, no time to spend with online...well, love, singular...AND hey, let's talk about that thing called a first life, since I

have

one of those, and thus

cannot

spend all my goddamned time on the grid!

NO HUNT IS WORTH THIS

. I don't care

how

much you think all your stores are incredibly precious and unique and need to be seen to be fully appreciated, so we will love and treasure and support them as much as you do--

NO

.

HUNT

.

IS WORTH IT

.

I have to gauge my time carefully, and my hunts carefully, because at some point I need to go

through

all of this and throw half of it away. Because I'm maxed on my inventory and it is causing client-side lag issues like you would not believe. So I go by Schnaeppchen's blog, or track down hunt tips--which are never

port to this SLurl and pick up the gift

, they're always "Gift 63: Flowers in rain" or "Hunt prize 40: Jessica has a big smile" type of hints. I keep SLUrls to stores handy. I go through the pics and weed out the ones I think I must have from the ones I can bear to pass by.

Is it better to get the flirty red dress with the sweet shading, and the pair of dark buckled boots, and skip the teddy bear in between? What if I don't have a love for plush animals to hold? Others do. There are going to be people who will bypass the flirty red dress and go in a straight line for the teddy bear! Because people are diverse. Because what appeals to one won't appeal to someone else, and I know this may shock you to your garden shears, Miss Bailey, but

that''s okay.

Just don't

ever

forget that

you

are part of the problem. You get upset and you make people like Schnaeppchen take down their blog entries on your hunt, and people will

bypass your hunt

. And all that great care and your lovely list of stores will go unnoticed.

I will be honest, I have found some amazing things on hunts. And on occasion I've blogged about them, because they are

that

cool--to me. (Witness the above.) But you cannot expect, you

cannot

expect, with an asset server that

already

is bursting at the seams with too many people with too many

things

, that it is at all

fair

to expect people to do the entire hunt, start to finish.

Every

hunt.

Every

time.

Because we may not find all the prizes. Because we may not like all the stores. Because we may not have the

time

. Because maybe we have a set limit in our heads of how much our inventories should

be

at.

It is

grossly

unfair of you to expect us to invest that kind of time on the grid, if we have other things we need or want to do, tracking down each store, spending between ten minutes and

two hours

per place, and compiling that list of fifty, seventy-two, one hundred,

one hundred and eighty-six

items--

and have lives

on top of it.

And if your goal, really,

truly

, is to celebrate those particular stores, and what they do, so people will come see them?

FOR THE LOVE OF ALL GODS

SAY THAT

.

Tell

people on your hunt blog. Most hunt blogs are set up and then forgotten--

use

yours. Post a SLUrl a day, during the month that your hunt exists, and post pictures of that store. Tell people what they do. Show off an outfit, a chair, a pose--

something

. Get people interested in them

THAT

way.

Anything else is stupidly disingenuous, and wholly unfair.

Trouble aplenty at the

Girl Genius comic

, yet they take these things in stride. Kaja Foglio is now

recovering from knee surgery

, and if you've noticed the column's been black and white for a while, that's because Cheyenne Smith, their colorist, spent an

extended stay in the hospital

. He's out now, but may go back in, and in the meantime is staring at all those lovely thousands of dollars in debt that getting really sick in America, without insurance--like most of us--does.

Miss Kaja, wonderful soul that she is, put together some amazing wallpapers for donation. You can see pictures of them

here

, and as they say on that web page, the brightly colored donation buttons

anywhere

on that site will deliver the funds straight to Mr. Wright's PayPal account throughout the month of March. Please help. Because in America, we don't

have

another alternative, most of the time, if we're uninsured. It's rack up that insane debt and then buckle under the pressure of paying it--or

die

.