Currently,
The Secret Shelf
is doing a very amusing camping thing. Fifteen minutes gets you a red silk Archivist outfit, with fourteen separate prim pieces, and some nicely shaded Linden layers.
(Just a note--PhotoBucket, before I published this image, removed it from my stored files on the grounds that it went against their terms of service. She is fully clothed; there is no showing of female genitalia or secondary sexual attributes. So what the hell is their problem?)
Of course, to camp, you'll need to take the teleport up from the main store...and dance on the bar on the roof.
And by "dance", I mean...
...dance. On the bar.
Though I did have fun waiting out my fifteen minutes.
More perspectives on alpha-mesh blocking: Fawkes decided to dance for the outfit, and we're going to start seeing a lot of different techniques on how to block avatars effectively. Boxed Heroes, for instance, chose to block everything, and build their robotic avatar on a base of total invsibility. This does create some good effects, when the robot is standing.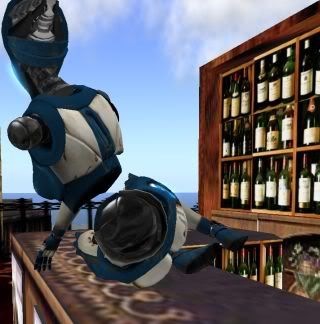 But when the robot is not? She is
completely detached
from upper and lower halves. We don't see it when she's moving like a normal avatar, but when she's in animations designed to rotate with a common spine--
and she doesn't have one
--it gets seriously freaky.
Antigrav robots! What else could be done? Separate slices of avatars that move as one unit? Floating balls that just outline the basic shape? Half-woman, half-prim skeleton? With some creativity, the world could get very, very surreal.
MMORPG article on selfishness in MMOs--
What's Mine Isn't Yours
deplores the tendency of every player for themselves, but it again does bring me up. I haven't played in a ton of MMOs, true, but at least in Runes, the call is
always
going out for X big bad, and groups come in, and form up as one temporary cohesive unit. If it's something
really
big, raiding parties, each moving as their own unit. And loot is distributed.
And, at least in Runes, if someone swans in at the last moment to kill something a raiding party is trying for? There's at least temporary censure--and not from the GMs, from the other
players
. Does this not happen in other MMOs?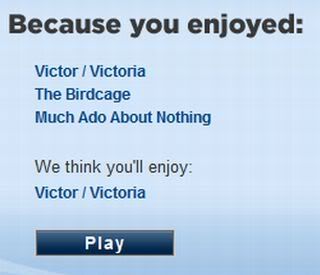 Sometimes, Netflix baffles the hell out of me. I know why a lot of the oddity is--the lady wife, Miss Neome and I are sharing an account now, and the recommendations get abstruse and bizarre at times--but this was a first.
"We figure you like that movie. Therefore, based on our sophisticated scientific movie algorithms, we are predicting you will like...that movie again. Right? Right?"
I'm used to them being off, especially trying to predict amongst the various likes and dislikes of three people, but I do believe this is the first time I've ever been recommended a movie...
because I liked that movie
.
In other meanderings...
"Humankind has been entrusted with power, but if we abuse that power to do away with things that we do not like, then we will
give birth to a sterilized society.
"
Do I agree with everything that Japan puts out for
manga
and anime? No. Do I agree that it's the right
and responsibility
of a free society to keep information unfettered and ideas unrepressed?
Yes
, whether I like it or not.
Yes
, or we have no freedom.
Yes
or we die as an open civilization.
In art news, a very different form of
acrylic body painting
. And yes, you are seeing that right--making
real people
into
acrylic paintings
. Just amazing, amazing photographs.
Cthulhu seen at
ReTox
. ReTox, for their part in the Twisted hunt, did not have decoys, but
did
hide it under a surface. Clever? Possibly. Hard to find? Definitely.
Here's my thing. I appreciate a challenge. But if it's to the point where I'd rather take a fork and remove my eyes, than hunt any longer? It is no longer fun. It doesn't matter how, if I knew that the sim owner's mother's name backwards is the name of the sim, and if I knew
that
, I'd be agog at the cleverness when I discover the hunt prize at the exact coordinates that reflect her birthday...
I don't care
. I really don't. It's a grid-wide hunt, I don't
have
eight hours of my day to spend in
three stores
hunting this thing down. Not cool.
Snow Bound
not only loses points for having a particle puzzle-box poofer, but for hiding the puzzle-box prim
inside another prim
, making it
incredibly
difficult to cam in and actually
access
to
buy the damned thing
. This? Is unfair in the extreme and makes the hunt
suck
.
In radically different news,
Adoration Home
(another stop on the Twisted hunt) has the single scariest freebie I've seen on the grid yet--a prim baby
fatpack
, just chock-full of prim babies in various shades, fur patterns, pallor, and the like for you to...um...what
do
people do with prim babies, anyway? Cuddle them? Stare at them fitfully, wondering if they're going to move in the dead of night to tear out an avatar's throat, splashing the bedroom walls with blood? Coo at them in babytalk?
Above is one of the neko babies, complete with tail, ears, whiskers and tiger-stripes.
She made them out of a genuine desire to help mothers on the grid: I can't necessarily disparage that. And the hands are intricately detailed. And it is an animated cuddle with the babe-in-arms.
Above is the vampire babe in red silk; there's also an option for vampire, complete with wee fangs, in white silk, and black silk-that-looks-like-sweater-fabric.
There are neko, elf, demon, Drow, Vulcan, goblin/Orc, vampire, Lycan, and several shades of "normal" babies included in the pack.
This is one of the elven babies. No, I don't know why the elf is in camo-leaf print.
Anyway, there it is, go get. It's also one big block of two floors of store, and while she's small, she's got some pretty design ideas.
(And this is the Orc. Um...Orcs have babies? I thought they sprang fully-grown from...whatever it is Orcs spring from.)
Also, when you touch them? They make baby noises.
*shrugs* Yeah, I don't have to get everything on the grid.