Canada's trying to draft a
DMCA-like copyright law
to bolster its current looser, freer system. No, Canada! Don't do it! DMCA is bad! It will stunt your grown and grow hair on your palms, NOOOO!
Seriously. Bad idea. Listen to me on this, I live in America. I
know
how bad the DMCA is.
Now. Other topics. Pink Linden is sending around a survey to SL merchants. (Apparently, omitting me. Nice to know I'm completely ignored by all sides...unless they're paying me...and then I'm a big deal and must be fired.
(...Ahem. Sorry. Anyway...)
Friend of mine had completed the survey, but still had the link he was sent, so he sent it my way. What
neither
of us can figure out, how'ver, is the survey coding:
id est
, will the survey credit to him if I take it, or credit to me? Do I need to be sent it with my
own
special little coding?
Instead, I took pictures of the damned thing, because it's on crack, start to finish.
The first and second questions aren't bad: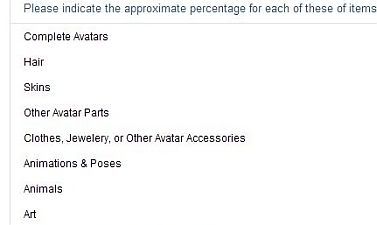 (As always, click for the larger version.)
Standard, even: have you ever taken out a classified ad, what sort of things do you sell? Simple questions.
There's one in the next batch that gets very odd, though.

Do they
really
expect people to answer that honestly? I'm not talking about the ones who
do
personally create everything they sell. But for the ones who don't? If they don't create what they put out, they aren't going to be honest enough to give a percentage accurately.
It's a specious question to ask.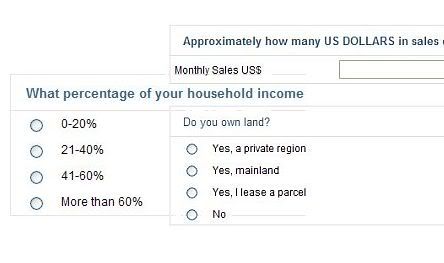 The next couple are again odd--after all the trouble they went to, to all but
ensure
that the Linden view is clearly and unambiguously stated (namely, that this is a
game
, that no profit is guaranteed
or
intended, that anyone using this
game
as a means to increase RL income should
stop)
, to ask first, what percentage of the merchant's given RL household income is provided by SL, and next, how much each merchant makes on average...it seems ridiculous and surreal. What do the Lindens
care
about how much anyone's making...unless the Lindens want a bigger
cut
down the line?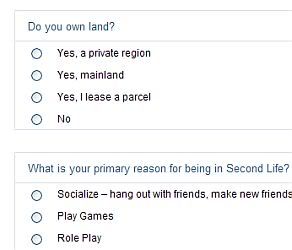 I suppose owning land, or at least renting it, and the main activities we do in SL would apply to a merchant survey...as much as it sounds like Big Brother Linden...Unfortunately, I couldn't figure out the
really
odd questions--the ones about Linden-made vendors (for a fee), and listing things automatically on XStreet (for a fee), and the ones about asking if it would be a good idea to charge five or ten US dollars--you know, what they consider a 'nominal sum', I'm sure--per listing, per item on XStreet...
They're on crack. There's no other word for it. They have completely and utterly lost their minds.
Does
anyone
know a Linden who might be able to confirm why they've suddenly turned into minute-by-minute, charge-by-the-moment types? I mean, this isn't even money on the dresser, thanks, seeya next week--hells, it's not even watch five minutes of porn for free, pay eternally for the rest of the movie.
This is robbery with a smile and a chainsaw strap-on. And not a nice one, either.
What's going on with Pink Linden? And who's telling the insane little bunny to hop out with this survey in the first place?