[Zone] [Tearakudo]: hiya Kiosade *backs away slowly*
Wise words.
Meanwhile, Sidecar Tommy from Beats Antique wanted me to know something:
hello - tommy from beats antique - i appreciate the thorough plug!! thanks!!
just wanted to let you know that 1 day after you posted this, our new self-released EP, contraption EP vol 1 was released for download only from a DIY site that allows the artist to make 100% of the profits!! so if you feel like doing an update, the site is: http://www.beatsantique.bandcamp.com
you get 7 songs - 1 for free...and we also have some new you tube videos under username beatsantiquevideos !
thanks again friend!!
More than welcome to. I'd also add, it's a sliding scale donation--US $5.00 will get you the whole album, all seven new songs--and you can even listen before you buy, if you want to make sure you'll like what you're setting cash down for. I admit, I am heartily liking the new age of music if it brings us this level of accessibility.
But you
can
donate more if you want. Keep the musicians in bread and silk and keep them laying down that antique beat. :)
*counts her pennies*
In the meantime, let's talk about Man Man.
I'm watching
Van Helsing Boombox
, writing this, and they present a
very
serious puzzle. They are and they aren't so many things...not steampunk, but so percussive they
can't
be anything else...not modern music, but not antique, either...and always, always, we come back to the beat, but even the beat is baffling. Pianos are treated as drums, tambourines are treated as maracas, bicycle horns propel the song forward, and the tribal paint on their faces, the white outfits...these have to be affectations, right?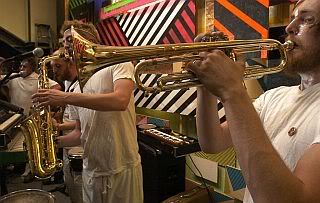 Maybe
.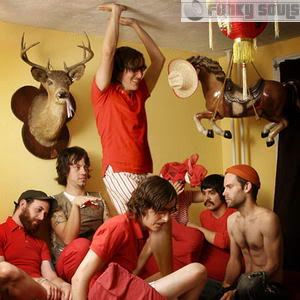 Maybe not.
Feathers and Engrish Bwudd
. You see people twitching in the audience like they're palsied, following the jittering carnival beat.
Art rock? Experimental?
Frank Zappa
's spiritual children?
Maybe
.
Spider Cider
Mr. Jung Stuffed
Their
last.fm
page lists this as biography:
Based in Philadelphia, PA, Man Man is an experimental indie band that incorporates Eastern European and circus-esque styles in their music, creating a unique sound. The band consists of Honus Honus (lead vocals, piano, organ, percussion), Pow Pow (drums and other various percussions), Cougar (trumpet, guitar, percussion), Sergei Sogay (bass, synths, percussion), and Chang Wang (sax, percussion). Their style has been compared to a mixture of Tom Waits, Frank Zappa, and Captain Beefheart. Man Man is known for their distinctive live shows where the members of the band dress in white tennis outfits and don war paint. During their sets the band does not take breaks between songs in order to keep a constant energy level. Man Man has released two LPs with Ace Fu Records: The Man in a Blue Turban With a Face (2004) and Six Demon Bag (2006). In November 2007 they signed with Anti- to release Rabbit Habits (2008).
Prefix Mag
did an interview
with the founder. Covered a lot of questions that popped up for me. Didn't cover a lot of the answers I expected.
Anti- Mag had
this to say
:
"Part swampy juke joint brawlers, part smooth Philly warehouse doo-wop crooners, a sprinkling of wild-eyed, demon-haunted art hustler, and a hint of punky kindergarten playroom Pollyannas, Man Man bring their incomparable vision of 'pop music' to bear with Rabbit Habits, their Anti- Records debut. Having honed their legendarily exuberant live show to hypothalamus-tickling perfection opening for such indie stalwarts as Modest Mouse, Arcade Fire and Cat Power, the band has captured the fiery spirit and essence of a Man Man show and etched it into 45 minutes of the most raucous, weirdly moving, spiritually uplifting music this side of Oppenheimer's great beyond. Stand-out tracks such as 'Top Drawer' and 'Big Trouble' illustrate Man Man's ability to provoke and inspire in a single instance."
Ten Pound Mustache
Top Drawer
Nick Sylvester at Pitchfork had an
uncomfortably honest handful of paragraphs
to add to the mystery; the thing is, I don't think he's entirely
wrong
.
Rabbit Habits
This is what they're doing now. It's less frenetic, more wistful, but there's still that odd whatever's-at-hand sound generation behind it, whatever they can use
to
make noise, they will, they want to...but is it steampunk?
Interview over at
Mocking Music
I minorly adored:
MM:

Critics often compare your sound to Tom Waits and Captain Beefheart, though it's almost always intended as a compliment more than a criticism. Where most other bands are attacked when they sound like anyone else, your similarities to Waits/Zappa/Beefheart are almost universally praised - Why do you think this is?
HONUS:

Lazy rock journalism?
They have a
Wiki page
, they have a
MySpace page
. I'm not going to label them a steampunk band. But they're something, it's compelling. I'll be interested in their next album.