Jhonen Vasquez details the Cult of Rapture
. Along with a
lovely
look at the print he was commissioned to do.
And tipped in an entirely sidewise fashion, what if steampunk persisted into space? Rabbittooth shows us
what it might have been like on the Enterprise
.
Also, tip to all Jagerkin (and others who favor fanciful colors), 42 has
released a set of Galaxy skins
for incredibly reasonable prices. 42's the business; 42 Lindens is also what Miss Imandra Wycliffe, the designer behind the name, is charging. Per skin.
Yes. You heard that right.
Does she have other-than-female skins? That I don't know. But feel free to
stop by
and find out.
On the far site of the DV8 mall area is a small bay, with a floating whale.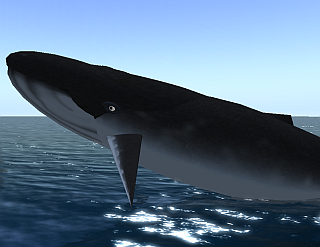 You heard me. A floating whale.
Sadly, this is not the first time we've heard of levitating sealife; it seems to be an especial hazard in Second Life seas. Even so, it's a rather small bay in the first place to hold a baleen, and second, hasn't anyone noticed this before?
With the levitation, the plume of spray and undigested matter frequently reminds one of clouds, dotting the blue sky.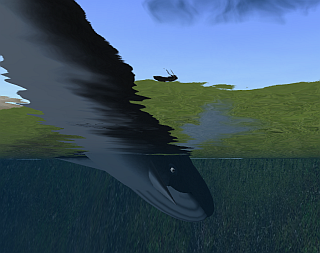 At least it dips under the waves occasionally?