Miss Subversive Vavoom has done it again.
The justifiably famous doll advocate--she owns All Dolled Up in Salutaris--has now opened the
Clockwork Cafe
next to it. A seaside resort--you can sit in the courtyard and listen to the surf--as well as a teahouse, but with one subtle difference: it welcomes all, but it's
designed
for the clockwork set--the dolls, the constructs, the toys, the steampunk souls who wander through.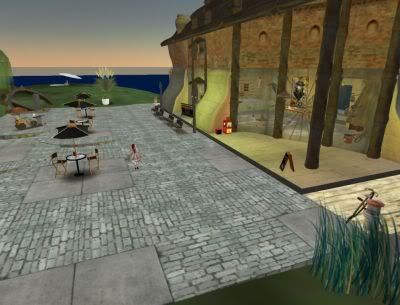 (The exterior and courtyard of the Clockwork Cafe.)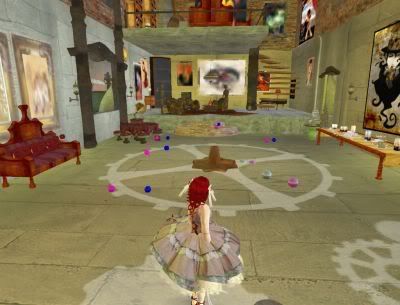 (Bit of difficulty rezzing things in, but that's me--due to the preponderance of sculpts, but one view of the interior of the Cafe.)
Inside, the music is tastefully vintage--one can apparently change it if one touches the table Gramophone, but I saw no need--and there's a selection of teahouse edibles on a table. The art is striking, there's a set of fun free steampunk things under the clockwork tree, and plenty of places to sit
and
to dance.
(The Gramophone in question. Touch for a wonderful selection of preset stations, from baroque to jazz to Radio Akasha.)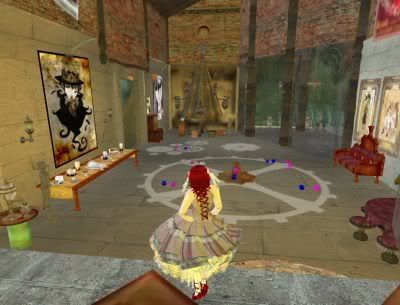 (Far shot of the Cafe, with the clockwork tree, which will be out for a
few
more days, so go check that out now!)
There's a raised area with vintage posters (for sale if desired) and some surprising comfortable seating made from outdated constructs, gears and rusted fabric. A small fire to warm the joints completes the talking area, and leads to a spiral staircase to the second floor.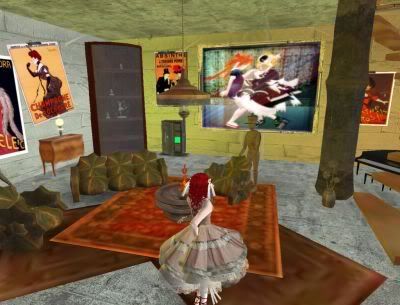 (The platform with extra seating, and the lovely little fire.)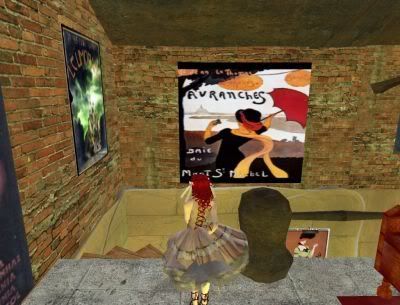 (Shot upstairs of the vintage posters, Toulouse Lautrec and similar lovely offerings.)
Upstairs, you'll find more posters, and a lovely version of mahjongg--not only playable, but if you want your own to take home, click for a copy--to while away the hours. All in all? A wonder, a lovely build, and a beautifully designed space.
(The mahjongg table upstairs.)
I'm quite taken. She's looking to start having events, of an evening, contact her for more information. And do drop by for the freebies under the clockwork tree--soon!
In the meantime...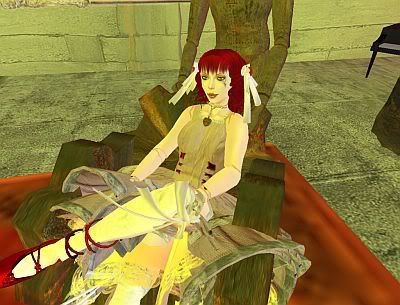 Yes, I quite think I like it here.