There's an odd kink to my love life (and no, I'm not talking anything obvious, shush). This particular one is music adoption. And it's always been a trait of mine, as annoying as it can be at times.
My half-dragon brought me arena rock, and a brief phase again of listening to the big boys, the venue-packing giants--Van Hagar, Van Halen, Rush, Aerosmith--I was already a fan, but now, it was as if listening to Aerosmith brought me closer to understanding the once-fiance, once-pet, once-love...even after we parted, I'd still request Aerosmith tunes while dancing.
He also gave me the guilty pleasure of liking country music again--surprisingly slow sweet pieces that I still, on occasion, sneak off and listen to, remembering dancing with him to slow strains on bluegrass guitars.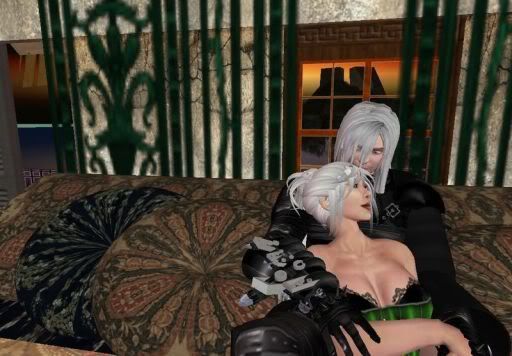 The vampire princeling was specific--
Deftones
, and even more specific,
My Own Summer (Shove It)
. Discovering the Deftones through him also made me realize one of my favorite songs,
Change (In the House of Flies)
, was a Deftones thing. I still occasionally listen to Deftones songs, and watch new videos when they come out.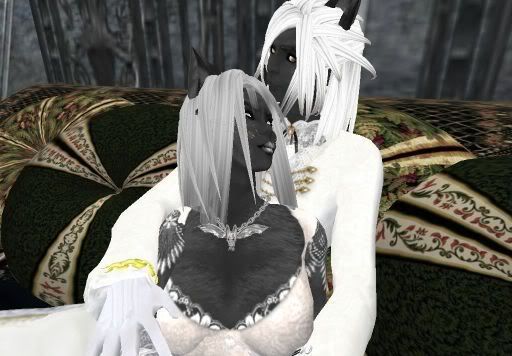 My neko lad reacquainted me with trance, dance trance, electronica and ambient--and specifically,
Goa
, a style of trance that is predominantly deep tones, random repetitions, percussive elements, linked together by ambient sounds, droning, electronic skitters--my neko says it's very hard to listen to, if you're not a fan. Well, I wouldn't call myself a
fan
, but I've developed an appreciation, and now I like the style. Still can't name any
Goa
-derivative bands barring
Infected Mushroom
, but I like listening, discovering what passes me by, what I like, what I can't stand.
The incubus brought me
VNV Nation
, and in particular, their song
Standing
. Still makes me ache, hearing it--and I hear it nearly every Friday, at the Steelhead dances--but it's no longer the sharp twisting pain of loss. I guess that's something. I still listen to a lot of VNV Nation, in particular
Epicentre
and
Rubicon
, and through them discovered
Assemblage 23
, and their evocative piece
Disappoint
.
Both bands are dark, rich, laced with thick ribbons of loss and betrayal, pain and resignation. I still find myself very drawn to their music.
My Raven brought back my high-school adoration for punk music, thrashing, vital, angry, raging at the machinery of existence. When he's not running around the woods threatening random strangers, he wears a human skin, plaid zipper pants and a mohawk, and I'm quite amused. But it's made me dig up a lot of old favorites, like
Flipper
,
Dead Kennedys
,
the Dickies
, and my all-time joy,
FEAR
, in particular my favorite punk song
EVER
,
Let's Have a War
.
I'm
still
trying to find the
FEAR: More Beer
album on CD...
Which brings us to...
...the statue. And I haven't asked him yet. But if I follow true to pattern, whatever he likes, I'm at least going to listen to, and if I like it too, it's going to become a part of my daily musical routine. It's just something in my brain that adopts from those I love--commonly-used expressions, style of dress, music, literature--whatever I can hang off my brain as points of understanding, I suppose.
Should be interesting, but it does point out something that should have been staggeringly obvious--I haven't asked him a lot of "those questions", to date. You know the ones I mean--favorite food; favorite color; favorite book, or style of book; favorite music or artist. Favorite...anything.
And I know he's asked me at least one of "those questions", as he made me a Key last night. And he made it from gleaming steel and purple-anodized metal, because I told him, when he asked, my favorite color--apart from black--is purple.
He listens. I know this. Now I need to, I think. And I need to start with, what he listens to...
...though I already know he likes ambient trance. Hmm...
[Late edit: Red Hot Chili Peppers. Which is no actual surprise. I think I knew this, based on the Toga Formal, among others...]