Sadly, many of our best beloved residents seemed not quite up to the challenge of Comic Book Night at the Kokopelli Stage, in Steelhead. Fortunately for us, we had quite the collection of intriguing concepts
anyway
.
I, of course, defaulted to an outfit I'd last worn last October, that of
Morrigan Aensland
, and apparently caused some small distraction.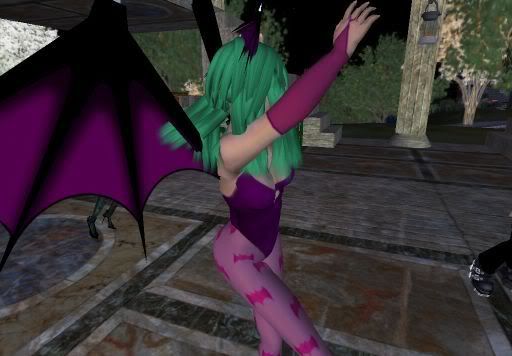 It's the wings.
Mr. Fawkes Allen was perfectly in character as
Nny
from
Johnny the Homicidal Maniac
--to the point that people thought he was
craaazy
.
Heh. Nice touch with
Nailbunny
. (Sorry, that's an in joke...)
Miss Christine came as
Poison Ivy
, which just made sense, really--considering her signature color
is
green, after all. And all that red hair...
Tensai Hilra, evil genius and resident Warrior Goddess of Steelhead, decided to take an hour of her time and create
Master Shake
for the dance.
Wau. And
funny
.
Mr. Ranulph Graves decided to come as
Spider Jerusalem
from
Transmetropolitan
.
Okay, my favorite Spider Jerusalem quote:
So this Zealot comes to my door, all glazed eyes and clean reproductive organs, asking me if I ever think about God.

So I tell him I killed God. I tracked God down like a rabid dog, hacked off his legs with a hedge trimmer, raped him with a corncob, and boiled off his corpse in an acid bath.

So he pulls an alternating-current taser on me and tells me that only the Official Serbian Church of Tesla can save my polyphase intrinsic electric field, known to non-engineers as "the soul."

So I hit him. What would you do?
My second favorite quote:
There's one hole in every revolution, large or small. And it's one word long--

people

.

No matter how big the idea is they all stand under, people are small and weak and cheap and frightened.

It's people that kill every revolution.
Okay, I'll stop.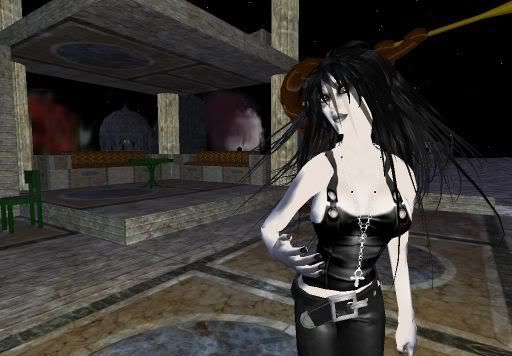 Miss Lumina did an exquisite job as
Death
from the Vertigo series
Sandman
. Ankh, lovely eye spiral, and all. She won for best female, by the way. (Mr. Allen won for best male).
Our Sheriff, Fuzzball Ortega, also does an amazing job on Fridays DJing for the dances. Tonight was no exception, and tonight he came as the
Green Lantern
. His version? Apparently has no problem with gold...heh.
I don't believe there's a comic book surrounding Miss Qlippothic's choice of costume...
...but perhaps Captain Caledon should consider getting one!
Hee. Down to the traditional
Caledon tartan
as a skirt...
Mr. TotalLunar Eclipse came, unsurprisingly enough, as
Sesshomaru
from the series
InuYasha
. Incredible level of detail.
And finally...
Miss Dagger broadened the definition of "comic book" to include favorite personal heroes, and came as Miss
Tensai Hilra
.
This is a joke you only get if you know the Warrior Goddess. :)
And...that's it, I'm off to the art show! I haven't seen a single shot from the Glamour Cats show (upstairs, at the King Has Fallen Gallery, in Sonata), and only seen a few pieces from Volatiles (the show downstairs). I'm
dying
to see them!