[1:39] Emilly Orr: [1:39] Goddess Investment: Emilly Orr assholes
[1:40] Emilly Orr: Now, that's a new Greeter.
I'm talking about Goddess Investments, in
Aftershock
. It used to be a quiet little furniture store, but I haven't been back in months, so I don't know how long the club's been here. All I know is the stage is pretty, but that line coming in completely put me off the place.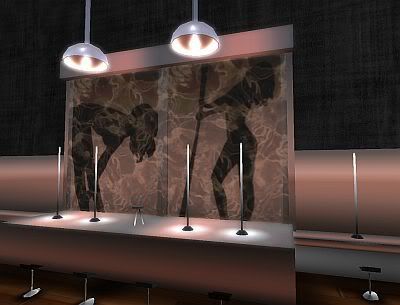 So to sum up? Cute little club. Crappy management. No wonder it's empty.
Oh no! The rise of Dark Penny!
Well, it had to happen with someone. The only down side of this? Miss Neome chasing Miss Fawkes around with knives. And pitchforks. And rocket launchers.
We had to explain Rule 34 to Des tonight. Not entirely sure he was grateful. On the plus side, it reminded me of
Wetriffs.com
, which is no bad thing.
It's been an odd few days. There are things I've wanted to say, and held back from saying; some, because my mood keeps shifting, internal changes reflecting outer ones. Mostly, because I'm yet again in the territory of
not my place to say
. I'm having to find my footing again on a very uneven path, between what I
can
speak on, and what I should not speak on; what I
need
to say, versus what I
want
to say.
Need versus want. It's a very important difference. What I need--life, breath, food, shelter...love...these are intrinsic to my survival. (Though I hate doing so, I must put love last on the list, because deprive me of shelter, I can go on; deprive me of love, I can go on, though not happily. Deprive me of air? Of life? Of water and food? I die, just as anyone else.) What I
want
...well, that's an entirely different story. And nothing on the current "want" list is vital to my continued existence.
So I sit, and hold off on sending, the last entry I've been working on, trying to get through, trying to post. Beyond everything else I say in there...mainly, I tire of the drama. I more than tire of it, I'm faintly appalled by it. So stirring up more drama? It won't make me happy, it won't ease my heart, it won't bring me contentment of any kind.
So why send it out?
That's the current question.