Yesterday was so very busy...It started with a doll/toy show in Lummerland, where many of the best and brightest talents exhibited their creations to the rest of us interested in clockwork life, dolls and playthings, in all venues. The innocent and the arcane, the seductive and the dangerous, all gathered under one banner, that of love of toys.
My camera was insufficient to the task, I'll post pictures if I find them, or links to them...but I can tell you it was astounding, and Miss Doll Box and Miss Subversive Vavoom had a very ingenious way to get information out to the wandering masses--by clicking the "price tags" attached to each display case, one would receive a notecard with a bit of history on the doll's character, and links or at least shop names for hair, shoes, outfits, skins...I now have
so
many new doll shops to see!
I'd newly--and briefly!--enchanted the Temporal Matrix I'd been given, with the unknowing aid of Mssrs. Nux Chaplin and Klink Epsilon, and my back-turning Key attracted quite a bit of comment over the course of the day. I was more enchanted, frankly, with the concept of boxed toys, which is catching on to an amazing degree in the community. Though she was on vacation, with the rest of the Bloodwing Foundation, Miss Qli was there at least in spirit--or, at least, her "Firefightress" action-figure box.
After that, I changed from the dark Victorian Lolita frock I'd worn for the doll show, to something closer in tone to Harajuku Aristocrat, and went from precise dark doll locks to cascading cyberhair. It was, after all, Sysperia Poppy's gallery.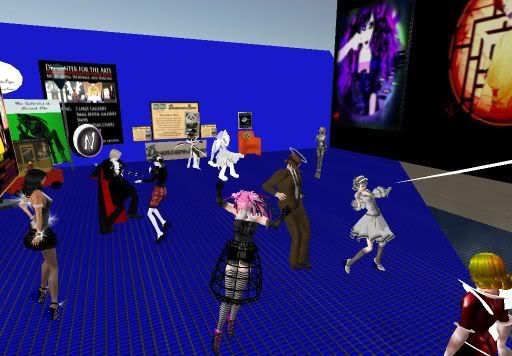 Group shot of attendees to the King has Fallen's gallery showing of Valley of the Dolls--most of whom I'd seen not one hour previous, at the doll show.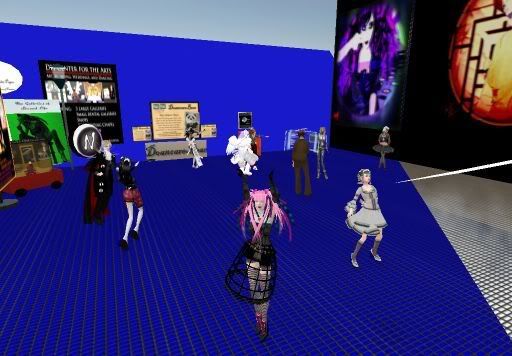 DJ Nova Sakigake spun tunes for us, and I now have a whole list of bands I must track down, that I'd never heard of before and adored tremendously. She's very, very good. The show is also wonderful, oddly vintage in feel, with all faces seen those of dolls.
I ended up spontaneously hosting, for which Sysperia felt she needed to pay me, so I immediately turned around and bought the one piece of mine she had in the show. It's not ego; it's that I wandered around, looking at everything, and didn't realize I was looking at
me
until the little plaque reminded me that was Muse Emilly. Just breathtaking, and Miss Zoe Hartnell's skills as a photographer are astounding as well.
Just for fun, I put together another slideshow. Aheh. Those who don't favor pink do look away now...
Miss Helyanwe Vindaloo of Deviant Kitties made the hair. It color-changes--the base tone remains the same, but the bobbles holding the ponies together, and the solid tube inserts, plus the striped tube inserts, change color on command. I now have it in the candyfloss pink and a white/black. I may get it in pure black, or in a tipped blonde, as well. At $L175, it can't be beat.
(If you look closely? You can see the eye-crossing glitch that so many of us are complaining about. Why the powers that Linden felt they needed to break my
eyes
, I can't say...and I'm still more than irked about. Makes photography trickier than building with micro-prims!)
After that, I was due to host in Steelhead, a replacement for the far-traveling host, and it seemed to be looking like a very small event. We very nearly canceled, but I was already dressed in my vibrant best, still with my turning key--an entire day spent as a doll, it was
very
odd!--so we gathered in the grand ballroom, and I danced with many gentles in turn, my full red skirts sweeping the marble floors. I do love the new hotel, it's impressively elegant.
We ended the evening with a trivia contest, and I think for small events, we may well truck the concept out again, because it was grand, grand fun.
I danced for a bit after the event was over, until my brain could no longer be denied, made my apologies, and nipped off to a sandbox, to wrestle with the current project. There has to be an easier way to do what I want, which is to create a sandbox with the optimal amount of surfaces to hang all the art I now own, but how? I like my basic design--vaguely Middle Eastern, sketch mockup as follows--
--but my problem is each of the small insert 'room' prims is just about the maximum height and width of a standard cube prim. This skybox is HUGE. Linking it? Has to be done in stages, and with a floor
and
ceiling, I keep missing pieces in link.
Plus, to use mega-prims, to drop the floor/ceiling down to one single prim, or even four, as opposed to sixteen each...I have to have something evenly divisible by ten. Right now? Because of the angling, it clocks in just slightly off the base...
It's my current nightmare. I'll work it out.
Also, a note to self I must remember: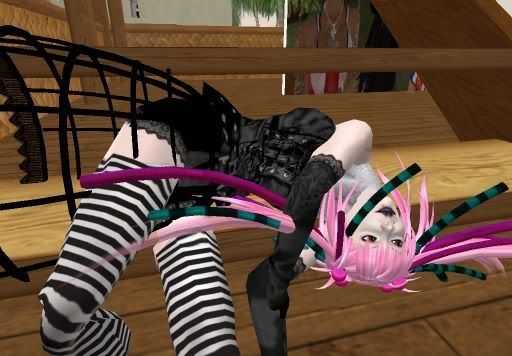 The energy of the zombie in the doll's skin results in some aberrant behavior.
Fun as it was to lurch around and fall over. Hee.