Yesterday, two dear friends joined their lives on the grid. It's been a long time coming, and I was humbled and grateful to be allowed to act as witness.
Of course, the event was not without its little hitches--it was a wedding, after all! I'm still learning how to design clothes, so my plans for a self-designed dress rather fell by the wayside, but when Edward sent me a message--saying, as soon as he'd arrived on the grid, the butterflies were waiting!--he offered his help. Between the two of us--he made the skirt I wore, in the MacPherson tartan that comprised his wedding attire--we got me presentable.
Edward and I surveying the lovely chapel as the guests arrive.
Neither Edward nor Christine asked me to be human, a notable change from other weddings I'd attended. Something about the proceedings made me want to be, though, or as near as I can imitate, because it just seemed to
go
better, if that makes any sense.
The outside of the lovely little chapel.
Coming in from the front side, Edward and I waiting for guests to arrive. I believe I'm reminding him to breathe.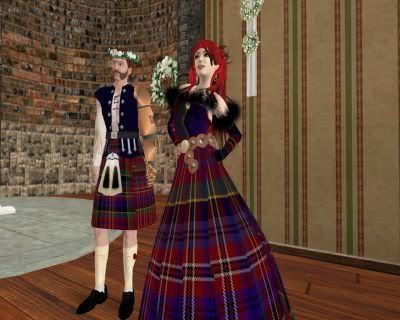 Reminding myself, after reminding Edward, that
I
can breathe, too...why
I
was nervous, I have
no
idea, but I was, as the time wore on.
TotalLunar Eclipse arriving, my opposite witness, looking very elegant indeed.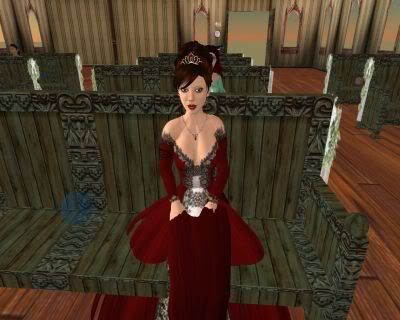 This is where I may get into trouble...I
think
this is Duchess Gabrielle Riel? I may be wrong, though, and have them switched. Do correct me, someone!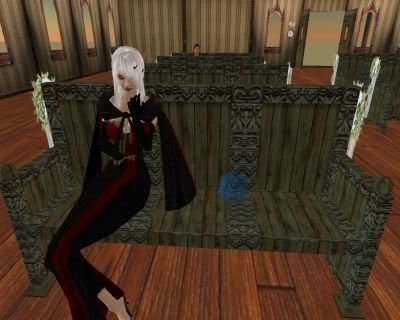 Ms. Tensai Hilra, Steelhead's own Warrior Goddess, managing somehow to look both demure
and
evil. I'd love to know how she does that...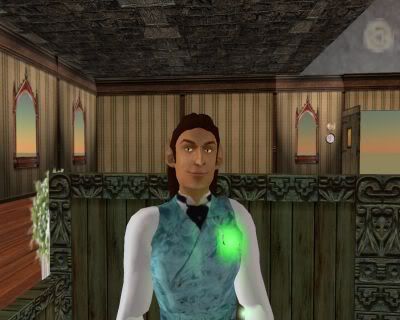 Mr. Amplebeak Tinlegs, looking quite dashing. Whatever that lapel pin was glowed with its own firefly lights.
Ship's Cat of the ETC, Miss Kiralette Kelley, looking very fetching and not a tad nervous herself.
And--again, could well be wrong here--Duchess Eva Bellambi and Mr. Hotspur O'toole. Lag had picked up by this point, making camera focusing a tad difficult. I regret this immensely; for a pink dress, hers was quite lovely.
Wide shot of the handfasting, just as they were beginning vows--Miss Christine with her witness, Lunar; Edward with his witness, me.
The sharing of the vows.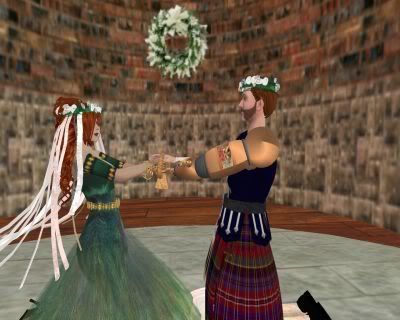 The hands being bound, as with all traditional handfastings, as vows are spoken.
Edward preparing to kiss his lady bride. Drat it all, I missed the kiss itself! Anyone?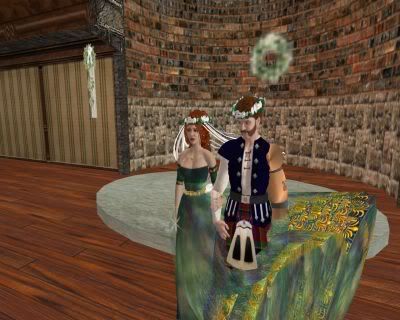 May I present Ms. Christine McAllister and Mr. Edward Pearse, handfasted for this year and day, in the company of dear friends and witnesses to the truth of their vows. May this next year bring all joy they could imagine, all comfort they desire, all passion to warm them.
Bi beannaithe;
blessed be.
After the ceremony, we all departed for Steelhead, some of us having more trouble with the traveling than others, and saw the new hotel. I will post pictures of that
soon
, as it's quite the phenomenal Italianesque structure, that Lunar built in a scant few days, to be ready for the reception. Amazing work. Amazing build.
On a personal note...my neko will be traveling soon. I wish him safety and remembrance of me, but I don't know what will happen, as he will be even less able to find his way to the grid, after he leaves. I told him his picture will remain on my profile, as what bond I could offer, and he told me...
He said, if it was ever time to take it down, he would let me know.
...After that, I crawled into the kitten's skin and spent the night dancing, and trying not to think about it.