The dropdown upon entry, during the Tainted hunt, said:
Greetings Emilly Orr, Welcome to Venom Rahne (ALL HUNTERS IF YOU USE AREA SEARCH,DERENDER MY SHOP,SHOUT OUT THE LOCATION OR ANY OTHER FORM OF CHEATING YOU GET ONE WARNING AFTER THAT YOU WILL BE EJECTED AND BANNED I DO NOT TOLERATE IT.)Happy hunting!
Disregarding the grammar issues and spelling errors, this got to me. Area search? Okay, some non-official viewers come with that, and it may not be playing by the rules to use it. How is it externally detectable by a merchant?
Second, going into wireframe--which I'm making the big assumption he means when he says "derender my shop"--is
not
cheating. It's an option to understand the structure of the world mesh and the mesh of items; it's been in the official viewer for...ever, I think; and
again
, how can a merchant know I'm using that method to find things? First, I could be using it to trace the shape of prims in a sofa, or to understand what's flat and what's sculpt in something I'm seeing.
Though he could mean more direct rendering, like, removing alpha textures, or simple textures, which would partially de-render his shop, yes. Again, I have the same two questions: first, how is a merchant to know when one is doing this, and two, how is it cheating? What I don't render can't lag me. Some hunts get
really
laggy. It's either that or cut out avatars rezzing in, or killing flexi skirts and hair on everyone. Get real.
Third, "any other form of cheating" would assume that the methods listed above
are
cheating. They're not. And it's ludicrous that any merchant thinks they are, and will auto-ban for something that is a) largely indetectible, b) largely silent, and c) helps to find things in laggy sims...
I mean, shouting out locations in main chat or on voice? I totally get why that's a bannable offense. But the rest of the items aren't, or at least shouldn't be. He wants to ban me just because he wants to ban me, fine--it's a jerklife move, but hey, his store, his rules. He wants me to cave to things that aren't against the ToS
or
hunting in general and holds over my head the threat of being banned?
Bite me, fanboy. Unless there is a sure-fire way to detect when I'm "de-rendering" a shop or poking about in wireframe, you're not only not going to know, but I'm not doing anything wrong.
"[S]hutting down the teen grid, then a few weeks later saying they'd let teens access the main grid, then later saying costs are going up. eegads, if that isn't writing on the slowly rezzing texture, [I] don't know what is [...]"
She's not wrong.
Also,
this is beautiful
and everyone should read it. For the funny, if not to make you fans of the show. (But if you become fans, you could do worse than Netflix, domestically at least, because Netflix has all the episodes.)
Now, then. More Minecrafting. This morning, in excavating another long hallway to...nowhere in particular, actually...I discovered one patch where I was hearing a
lot
of zombies. I mean, a
scary
number of zombies. I walked back and forth, and it was
really
localized. And right under my feet.
Dungeon, I thought.
In Team Fortress 2, I'm very reckless. I strap on my flamethrower and charge into the fray. I count it a good fight when I manage to set ablaze two of the opposite side before someone guns me down.
But in Minecraft? I'm very careful. It can be an unnerving game at times, and I don't like the sense of panic when I die, and I have to go back to where I died to pick up my toys.
So...slowly, carefully...I started to dig out the floor. Never straight down, always in small patches, and three cubes down, I finally cracked a corner of the dungeon. And it was packed with zombies. Yeek. I cracked through more of the dungeons and the zombies went crazy trying to get to me. Unnerved and slightly desperate, I started dropping cubes of gravel on the ones I could see. It seemed to kill them, and I went off to make iron swords.
When I came back, I'd created enough of a space to drop into, which I immediately filled with light. Then--carefully, again--I began to dig out the gravel, and put torches around the spawner, flickering with eldritch light, because I had been told that would stop the spawning.
It seemed to; now there was just the zombies already there to deal with. (I should note, I didn't think to take pictures until after it was all over, because I was pretty much fighting for my life!)
I managed to kill seven zombies in a row, a somewhat astounding feat for me, before the eighth one leapt and killed me off. Then it was a race against time to get back to the little dungeon before my stuph went poof; I stopped only long enough to grab a pickaxe before I ran for the opening in the tunnel floor.
I leapt into the far side, turned, fended off the last zombie, lost a few more hearts....but I was safe. It was dead, and the treasure--MUAHAHAHAHA--was mine!
Well...almost. There was the mossy cobblestone. Which I craved like a drug. With more care, and no little trepidation, I began to mine out the blocks. I didn't know if removing the torches to get the stones would start the auto-spawning again. It was mine and patch, mine and patch, mine and replace torch and patch, all the way 'round.
Miss Neome had come in to the computer room by now, and was watching over my shoulder. She swears a zombie was hiding under one of the cobblestones. I don't know how that's even possible, but it wasn't one of the blocks beneath a torch, so...I really don't know how he suddenly manifested and came for me, but he did. And I killed him!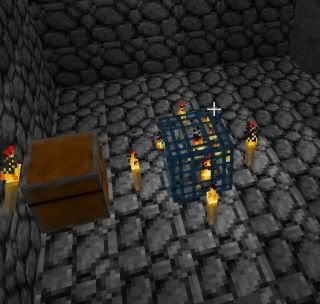 This is the dungeon--and the spawner--after clearing out a few things--like zombies, moss-covered cobblestones, and adding more torches. Also carving a mini-staircase into one wall.
And this is the monster-spawner seen from the same level, looking over to the mini-staircase.
I found the mini-dungeon; I faced down the monsters; I survived (well, sort of.) My treasure (in the little chest)? A loaf of bread; three ingots of iron; 4 piles of gunpowder.
Healing, a new iron pickaxe, and my first chunk of TNT, and all I had to do was die once! That's a good day's work.
I am reasonably proud of myself.