Colleges are
freaking out
over new Facebook pages that seem to deliberately shunt their institutions aside; which isn't that surprising, I suppose, because
Facebook hates them anyway
. Guess it's all part and parcel of the same thing, and Facebook remains evil.
There's apparently now a term for various movie/book tie-ins that spawn off, like Matrix Online for the Matrix films, or the Firefly comics and Serenity spinning off of the original Firefly series (along with an entire album recorded by Marian Call). It's called
transmedia
.
What bothers me about the term is not that it's confusing to people who think it has to do with transsexual films/books/plays/movies, but more that we already
have
terms to describe the process, and it's not a new concept. The buh level is high.
If you ever wondered about the PC game Portal...now you can try it for
free
. They're serious--get a Steam account, then get Portal.
But it's only until May 24th. So press that big red button NOW!
In other news, there's apparently a new scam on the grid. While they maintain they're harming no one, and releasing no information that's not already publically accessible, the entire thing
feels
shady as hell, and highly suspicious. I don't think I'm out of line when I say
Ratemyava.com
is trying to slide one by on us; at the
least
, Freefall Ninetails has managed to invent a new form of sleaze.
Here's the trick: go to a location (so far there's only one, and I am
hoping
this doesn't catch on and spread) that's hosting a Ratemyava board. Just
walking through the door
of the establishment will register you as an avatar to be rated. It essentially appropriates your avatar's image, displays it on a board for people to 'rate' and retransmits the information onto the site and back onto the board, creating an 'account' under your name, that will retain your information on the website.
There is no opt-out feature, according to those who've seen it in action.
I went to the site. It seems a smaller, SL-localized version of
Hot or Not
. They're partnered with
SHX Meta
, which, when their link is clicked, brings me to this screen: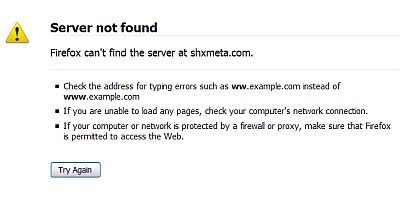 so this entire thing is vaguely worrying me now.
[18:52] Alexiel Magnolia: Does it update when you update your avatar picture?
[18:52] Hazel Kyrgyz: it's things like that that make me never want to leave my cave
[18:52] Riana Eiren: let's all AR him
[18:52] Alexiel Magnolia: Hmm, you know... I have my original art as my profile image
[18:52] Alexiel Magnolia: Could he be DMCA'ed?
Which is another whole angle to this stupid thing--some people
do
have original art, theirs or others, as their profile pic. Is that actionable? Or just deeply tacky?
I may have to talk this over with Miss Kamenev--what are the laws to protect a virtual identity?
Because I think there still aren't any.