This startled me flat this evening as I was wandering the grid:
[16:59] Dauphiness Ceriaptrix: Hey Winterfell! have you pimped your pogo yet?!?! We are starting our pimp your pogo event NOW! http://slurl.com/secondlife/Winterfell%20Laudanum/172/243/3183 Hop on Down!
[17:00] Emilly Orr: Pimp...your...what?
[17:00] Dauphiness Ceriaptrix: Pogo!
[17:00] Emilly Orr blinks
[17:00] Dauphiness Ceriaptrix: do you need the kit to make yours?
[17:00] Emilly Orr: No, thank you.
I really can't add more than that, save for the fact that Lady Serra
did
come on and note that the event
was
slightly out of theme, but it did sound fun at least.
Me, I'm just thinking that "pimping" my
anything
in Winterfell is a bad idea.
Pursuant to
this entry
in the Second Life 24 Hours blog, is this going to become a new thing? Prim..."enhancements"...on underwear layers for guys? Is this
really
necessary?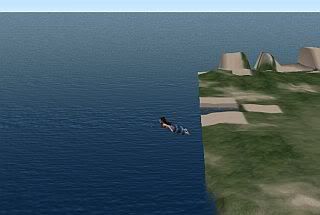 Having problems getting around the grid tonight, rezzing things, changing clothes, changing skins...it's been a nightmare. Part of that is porting places I wasn't intending to go. One side trip proved to be more interesting than expected.
This is
Beloved Designs
in Floyd, the big Starlust sim: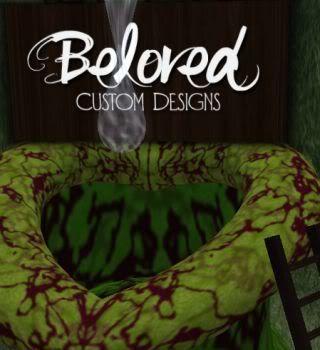 Yes, that is a
pitcher plant
. I didn't want to go in, though you can--in fact, if you do, you find a group of crates for sale at the bottom. One of them is this one: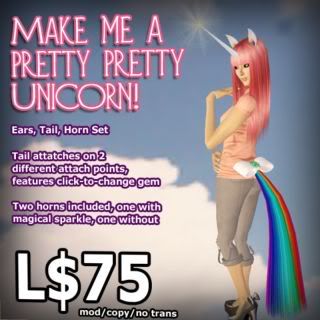 That pretty much speaks for itself...
Just down the hill,
Scribble
built a small satellite store for products entirely out of grey crayons. Definite points for style
and
oddity--I mean, why all grey?
One of the creepiest things I saw wandering around
Elliot
, next door to Floyd. If you touch the head you get a burst of radio static. (Which is only meaningful if you've ever played any of the
Silent Hill
video games, and if you have, well...OH GOD RUN IT'S BEHIND YOU, RUN, RUN RUN
FASTER DAMN IT--)
*coughs* They had a large effect on me.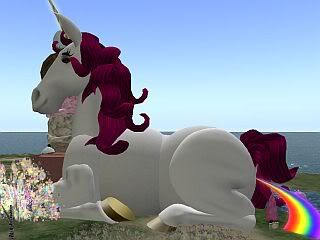 Okay, y'all have an unhealthy fixation with unicorns and rainbows. Let me just say that
RIGHT
the hell now.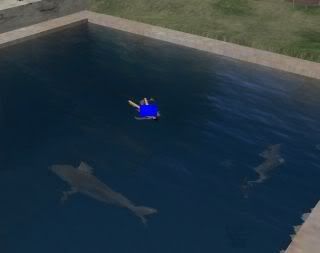 We have finally reached the place where we have realistic blow-up dolls in SL. I'm not convinced this is a good thing. (Btw, clicking on the picture link above? Will bring you to a completely fake, but likely NSFW, depiction of vinyl nudity. Floating in a pool. At the Starlust.)
Oh, did I mention part of the reason I was there was to see if there were any eggs left out at the
Egg Hunt
? At least of this writing, two days past their official 'cut-off', many are still out. Go get 'em while you can! And they're not kidding, they're HUGE.
But while you're there, take the time and wander. You never know what oddity you're going to turn up...