Still no nibbles on
the parcel for sale in Penzance
; I reduced the price (Des may say it's a recovering land economy but even
he
admits Caledon is far from full, and we
still
have a lousy RL economy), but it's looking somewhat grim.
In the meantime I am pledged to pick up a new parcel, which I can't easily afford, but hey, it spurs incentive to get hired someplace not decrepit or sleazy beyond all reason. Because I admit this now, I
have
been wallowing,
and
detaching again,
and
pulling away from people, and...gods, I never realized losing a goddamned
job
would be the equivalent of a breakup.
So, time and more than time to get out there and get things moving. Which includes financial things!
Ill Clan put together a new
machinima
to pimp SL; it's notable for what it
doesn't
feature, more than what it does.
"Millions of real people have joined,"
it begins, but I'm left thinking we still haven't broken eighty thousand in world at one time; we haven't even approached seventy-five thousand without crippling lag, service loss, and sims crashing left and right.
One of the reasons mentioned behind so many people joining SL?
"To connect,"
they say. How very Facebook. And so far, I haven't seen one one fur, one Tiny, or anything non-human. (For the record, I won't, either.)
Another reason given?
"To talk,"
yet I know many, many communities who don't even have voice
enabled
on their land; it's still this huge divide for many people. Not to mention it's still easier for many people to "speak" in text, rather than "speak" in voice. While I have a blind friend who's still very happy voice was developed, there are many folks who play characters who don't approve. I know deaf people who are acutely resentful; one of those actually lists that on the front page of his profile--if people speak in voice, he won't hear them. He keeps voice turned off.
"There are real events to attend,"
they go on, and I'll agree there, but they mention musical events only. They gloss over theatre--the Second Shakespeare Company, I think it is, and their production of
The Tempest
, more than a year ago--but they don't mention art, activism, town meetings, ice skating, education (both college-level and in-world instruction)...maybe I'm expecting too much, but it just seems curiously limited. For a world where Linden Labs trumpets at every opportunity how unlimited Second Life is...to put out something this restricted jars.
"Thousands of groups to join,"
it continues, and there's the first--and only--non-human seen, save it's very
clearly
a robot suit that
contains
a human inside. And "thousands" of groups to join? Sure, but you have to pick twenty-five at a time. You can't
have
more. The Labs won't allow it.
And what does the video end with? Five young urban professionals in business wear and holding briefcases, standing on the SL logo.
What a young office-worker might take away from this
might
be the impression they want to give, yes--a place for stressed people to relax, play, hear live music and dance. Which is fine, a lot of that goes on in SL.
But by ignoring the rest of it, they're effectively saying to
me
, and to many others:
We don't want you here, unless you're human. We don't want you here unless you use voice. We don't want you here unless you look and act like everyone else.
In short, what I really take from that machinima?
We don't want you here.
Runes of Magic is having
another holiday contest
. This one seems a little more involved, in a way. Go to sections of their site, and...well...that's where it gets odd. You can
look
at screenshots, concept art, and wallpaper, but you can't seemingly
download
any of it, so it's confusing just what we're supposed to
do
.
The end goal: redecorate your Twitter homepage to reflect a holiday Runes of Magic theme. I looked about their screenshots, and their wallpaper, and liked rather a lot of it...but as I couldn't download it, I decided to go into the game and take my own shots.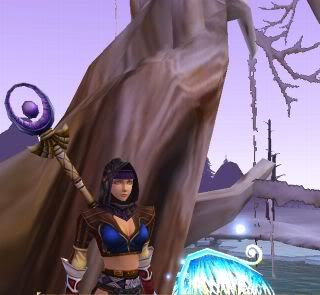 I started off in the Ystra Highlands, of course--home of snow crabs, winter spiders, floating fae ferrets, and snow bears. Dodging them wasn't easy, and yes, at least once, I clicked the wrong thing and ended up drowning in winter spiders, literally--four of them killed me.
I wasn't too thrilled about that.
So, the next shot I took at the resurrection point. It still wasn't right, though. It lacked...majesty. It used a trope that only the people in the game would get, and to be fair, barring
Scrooge
, death and the holidays are uneasy partners at best.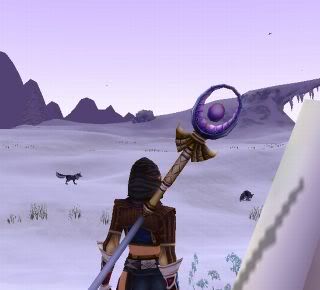 I walked to the skeleton of one of the great dragons--throughout Ystra, Harf, and the Dwarven Stronghold, ancient dragon bones litter the landscape like ruins--watching with a wary eye the blackmane foxes yipping and snarling just a stone's throw away.
I found the shattered remnants of a glowing yew tree, and thought that might be a good image. And while I adore the image, it didn't speak holidays to me as well; and really, as the land darkened to night, it didn't speak 'winter' to me as easily.
Finally, I went to the grand gates of the Khalara Watchtower, frozen and serene. I wanted to include them, but the look as I stood with my back to them was...pretty, and sweeping, and understandable in terms of a holiday shot. So that's my current
Twitter background
for the contest.
I think it didn't come out too badly.